The Film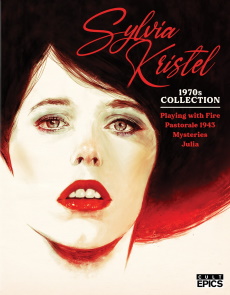 After making her debut in Pim de la Parra's drama Frank & Eva: Living Together Apart – on Blu-ray from Cult Epics individually or as part of the Scorpio Films: The Dutch Sex Wave Collection – and appearing in two other Dutch films, Dutch actress Sylvia Kristel was cast in Emmanuelle , fashion photographer-turned-filmmaker Just Jaeckin's screen adaptation of the scandalous Emmanuelle Arsan novel (reportedy actually written by her French diplomat husband Louis-Jacques Rollet-Andriane). Kristel shot to international stardom and would spend the next four years abroad in various arthouse erotica films including Walerian Borowcyzk's The Streetwalker, Roger Vadim's When a Woman is in Love… (an adaptation of "Les Liaisons Dangerouses"), and Emmanuelle sequels; however, Emmanuelle had not yet been released when she was cast in a supporting role in Alain Robbe-Grillet's Playing with Fire.

The star of the film is actually Philippe Noiret (Cinema Paradiso) as banker Georges de Saxe who is told that his daughter Carolina (Anima Persa's Anicée Alvina) has been kidnapped and will be kept in a brothel and her "economic potential" exploited until he pays a ransom; however, he discovers that his daughter has not been abducted and that the plea for help provided to him in her handwriting the result of a strange ruse by handsome stranger Frantz (Death Laid an Egg's Jean-Louis Trintignant). As much intrigued by the uncertain nature of this game as they are concerned that Carolina may yet be abducted, de Saxe winds up recruiting Frantz himself to hide Carolina at a private clinic that turns out indeed to be the brothel of Erica von Eide (Martine Jouot). Carolina is alternate gaslighted by Frantz and her father into believing that she is either a prisoner and future sex slave of the brothel or a guest in a luxurious hotel; seemingly the helpless pawn in the machinations of Frantz to outmaneuver his own trafficking organization for profit, both of whom themselves may be figures in the sadistic and incestuously erotic fantasies of de Saxe himself.

The highest-budgeted of novelist Robbe-Grillet's arthouse works of erotic game-playing, Playing with Fire looks ravishing with attractive Panavision photography by Yves Lafaye and the sets and costumes of Hilton McConnico (Diva), not to mention a supporting cast as rich in French character actors – including Marc Mazza (Joy House), Serge Marquand (Blood and Roses), Charles Millot (The Train), Vernon Dobtcheff (Catacombs), and Jacques Doniol-Valcroze (star of Robbe-Grillet's L'immortelle) – as beautiful starlets including the aforementioned Kristel, Agostina Belli (Night of the Devils) as the housemaid, Christine Boisson (Flic Story), Nathalie Zeiger (The Red-Headed Corpse), and Joëlle Coeur (Les Démoniaques). What is missing is the imagination of Robbe-Grillet's lower-budgeted works in which the stripped-down settings and characters were given life by the editing of Bob Wade (Trans-Europ-Express) and the manipulated "sound score" of Michel Fano (The Man Who Lies).

Here, those touches seem as much affectations as the various sexual tableaux vivant observed by Carolina which – in spite of threats of bestiality, cannibalism, rape, murder, and incineration – lack the primal sexual danger of the intimations of incest between de Saxe and his daughter. While Trintignant's wits drove the plots of his earlier collaborations with Robbe-Grillet, his amusing performance here seems to make light of the various characters' admitted inability to comprehend the scenario which they acknowledge is guiding their actions. If one subscribes to the notion that the entire thing is an erotic musing of sadist de Saxe, then Michel Lemoine's Seven Women for Satan (which also featured Zeiger and Coeur) might be a good companion piece. The film could be seen as pointing the direction towards the slicker, more accessible Robbe-Grillet works The Blue Villa and Gradiva.

While it is easy to forget why Playing with Fire is included in a Kristel set, so brief is her role and so late in the film it comes, Kristel has an even smaller but pivotal role in Pastorale 1943 from director Wim Verstappen (Blue Movie) who had previous produced Frank & Eva: Living Together Apart for partner Pim de la Parra. Verstappen's first film after his partnership with de la Parra broke up upon the bankruptcy of their company Skorpio Films, Pastorle 1943 is set during the Nazi occupation of Holland in the later years of World War II. Tales of the Dutch Resistance keep hopes alive both for those who openly condemn collaborators as well as intellectuals who believe the Dutch must be above Nazi tactics and fight with their minds. Locally, however, the movement consists of four old men – food office manager Mertens (Amsterdamned's Pieter Lutz), piano tuner Eskens (Leen Jongewaard), Hammer (Coen Flink), and Ballegooyen (Fatal Error's Sacco van der Made) – who have just heisted food stamps to feed the resistance as well as put a dent in the business of national socialist grocer Poerstamper (Bernard Droog). Unaware of and unbeknownst to them, schoolteacher Johan Schults (A Question of Silence's Frederik de Groot) – actually "Schultz" but he has renounced his nationalty in protest and because his elder brother (Blade Runner's Rutger Hauer) is an up-and-coming SS officer – and intellectual Van Dale (Secrets of War's Bram van der Vlugt) have been arranging shelter for Jews and young Dutch men who do not want to work in Germany.

After Van Dale is entrapped by a pretty woman (The Fourth Man's Geert de Jong) and interrogated, Schults helps him go into hiding at a remote farm at the same time that Mertens has also had to go into hiding after being reported by Poerstamper. The situation at the farm is threatened when farmer's daughter Marie (The Cool Lakes of Death's Renée Soutendijk) drops hotheaded Amsteradam refugee Jan (Pim Vosmaer) for Poerstamper's "patriotic" son Kees (Peter Römer). When Marie falls pregnant and Poerstamper – believing the girl to have been impregnated by Jewish refugee Coen (Hein Boele) – arranges for his son to go to the Eastern Front to avoid responsibility, a complex string of events leads to exposure and Schults transforming from protestor to avenger.

Based on the novel by Simon Vestdijk, Pastorale 1943 takes a cue from Schults' headmaster's remark that "we can't all be heroes" in choosing not to tell a heroic adventure of the Dutch resistance movement, focusing instead on the complex interplay of patriotism, posturing, self-interest, neuroses – Schults tells a woman who tries to seduce him that he is – psychologically impotent, and the woman who entraps Van Dale is otherwise regarded as a crank rather than an agent by the Nazis – escapism, and bowel trouble (often used for both comic and dramatic purposes in Dutch cinema); a figurate "pastoral" if you will. Tales of the assault squad cutting communication wires and killing Nazis seem as distant from the film's protagonists as they do Schults' colleagues. What we see is clumsiness and disorganization, with Mertens' colleagues distinguishing what they intend to do as punishment rather than Schults' desire for revenge, requiring proof from him of their target's guilt but then waffling about what to do after they have pronounced him guilty.

Schults' decisive action is botched and leads to more reckless acts that make the outcome of his Kafka-esque detainment at The Hague for a stretch of the third act all the more absurd in its outcome. When we come to the end freeze frame with the text about the war ending two years later, it seems more to be just a cynical way to wrap up the film rather than suggest that anything Schults or the others have done actually contributed to the end of the war. Eschewing nudity, sex, and gore that were becoming more common in Dutch film, Pastorale 1943 could be seen as the more somber companion piece of Paul Verhoeven's thematically-similar but considerably more popular (domestically and internationally) Soldier of Orange which featured a starring role for Hauer. Kristel has a small but important role of one of Schults' colleagues shunned by the faculty and students for being seen in the company of a German soldier. An uncredited Maarten Spanjer would have a larger role in Verhoeven's Spetters.

In Mysteries, wealthy agronomist Johan Nagel (Hauer) arrives in a chilly seaside town and immediately sets about turning it upside down with his odd, even absurd behavior. He calls out authoritarian bullies – among them, the chief constable (Daughters Of Darkness' Fons Rademakers) and Dr. Stensersen (Blue Movie's Kees Brusse) – befriends the victimized dwarf "Minute" (Time Bandits' David Rappaport) and ostracized Martha (Straight on Till Morning's Rita Tushingham) while seeming to go out of his way to repulse the sudden object of his affection: vicar's daughter Dany Kielland (Kristel) whose rejection has already driven a previous suitor (A Woman Like Eve's Peter Faber) to suicide. Is Johan avenging the dead man by trying to make Dany fall for him or is he destined for the same fate.

Based on the novel by Knut Hamsun thought to be a precursor to "stream of consciousness" narratives – indeed, it was a favorite of Charles Bukowski – Mysteries attempts to adapt a novel in which the seeming protagonist remains a mystery. Is he an avenging angel of the dead man or of bourgeois hypocrisy in general a la High Plains Drifter? Does he see Dany as trapped in their ways or as another bully like the ones who torment Minute and – to a subtler degree – Martha? Is he losing his mind – or just given to "overly violent emotions" like those diagnosed by the doctor in the dead man – or is he dying (as Minute conjectures) and has nothing to lose? He draws attention to himself – watching the attendants of the man's funeral in open view with a spyglass while sitting on the family tomb of Dr. Stenersen's wife – and even labels himself aloud as a "walking contradiction" (his known habit of carrying a vial of prussic acid should he decided to commit suicide could be just as much an affectation as young men traveling with rapiers or pistols for dueling). He claims he has not the courage to commit suicide, so might it be that he contrives a triangle with the meek Martha and cruel Dany to give himself a reason (he muses to Minute that it would be "exquisite to be destroyed by her"). The incessant narration by Rappaport's Minute feels like a lazy literary device ported to the screen, however, it actually positions Minute as the main character in that he takes decisive action at the end after observing what he believes to be Johan destroyed by Dany.

The narrative might not answer any of these questions but it possibly captures the aimlessness of the literary "superfluous man" more so than other works that stress the cultural and social reasons for his alienation (a guest appearance by La Grande Bouffe's Andréa Ferréol as Johan's ex-lover indicates just how little Johan's "real" identity matters and how much it too may have been styled for her). The sexual content is rather tame for those expecting a teaming up of the stars of Emmanuelle and Turkish Delight – The Debut's Marina de Graaf as the hotel maid provides additional bare flesh – largely confined to a recollection of a dream "performed" by Johan for Dany.

Hauer and Kristel have difficult roles in that the characters are not only unlikable but enigmas; however, the freedom of interpretation may have been the attraction of the two Dutch stars wanting to venture beyond association with the roles that made them famous. High budget by the standards of Dutch film production of the period, the film exquisitely captures the time period through the use of the Isle of Man to stand in for the novel's Norwegian village, cluttered production design that suggests that ownership of things is the only real distinction between the village's haves and have nots, gorgeous costumes by Yan Tax (Black Book), and the stunning lighting of Wim Wenders' regular cinematographer Robby Müller (Until the End of the World). Scottish actress Vivien Heilbron – who also appeared in Nouchka Von Brakel's The Cool Lakes of Death – appears briefly, as does singer Liesbeth List.

Shot and released before the theatrical release of Emmanuelle, Julia is not the main character, and the name of Kristel's character is not really Julia. Seventeen-year-old Pauli (Secrets of Sweet Sixteen's Ekkehardt Belle) is spending his summer holidays in Switzerland with his father Ralph (Made in U.S.A.'s Jean-Claude Bouillon). He arrives by train only to discover that his father's new girlfriend is Yvonne (Tower of the Screaming Virgins's Teri Tordai), the compartment traveling companion who had a quickie with a stranger (Schoolgirl Report 5: What Parents Should Know's Manfred Spies) in the lavatory after Pauli himself lost his nerve with her. Also joining them for vacation is deceptively dotty granny (Rose Renée Roth), uncle Alex (Enigma Rosso's Peter Berling) who composes his opera "Lesbo Surf" in the nude using his lesbian wife Myriam (Devil Hunter's Gisela Hahn) and the maid Silvana (The Fifth Musketeer's Christine Glasner), Pauli's pudgy best friend Gerhard (The Flying Classroom's Alois Mittermaier) and girl next door Andrea (Kristel) who has blossomed since he last saw her. Rather than admit his own fears of inadequacy, he paints Andrea as frigid and is quickly humiliated. When the summer takes a tragic turn, Ralph thinks he can spark something between his son and Andrea with a trip to Verona to visit the setting of "Romeo and Juliet" but he may be the one who finds virginity irresistible; fortunately, Yvonne is also along for the trip, and she has a bone to pick with both Ralph and his ex-wife (Girl Slaves of Morgana Le Fay's Dominique Delpierre).

Although wrongfully dismissed as an Emmanuelle cash-in – it has more in common with the American teenage sex comedies of the eighties – the film certainly attempted to capitalize on Kristel's success with the original title "It Wasn't the Nightingale" changed in Germany to "Sylvia Kristel: The Niece of O" in reference to Jaeckin's follow-up film The Story of O, and then in English territories as Julia (with Andrea rechristened in the English dub along with Pauli becoming Peter). Belle's Pauli borders on the same kind of unlikability as the protagonist of The Last American Virgin – an American spin-off of the Israeli Lemon Popsicle sex comedy series – going further than disparaging his love interest's virginity and jealously attacking his more confident friend to nearly raping the maid in frustration. The supporting characters are played so broadly and depicted so absurdly – with an emphasis on La Grande Bouffe-like sexualizing of the act of eating – but their exaggerated sexual appetites are not presented as a projection of the young protagonist's sexual frustrations since Yvonne is similarly repulsed while Ralph seems to be at pains to ignore his family's behavior.

Early on, the sex scenes seem rather tame but they get more energetic and sticky in the second half with one coupling rolling smearing and squishing breakfast in bed while another has a pair rolling around in the mud of a tennis court after a rain shower. Julia is rather harmless as a coming-of-age drama but there are some poignant moments including a bittersweet final scene between Pauli and Andrea before a final scene that is not as cynical as it appears. The flagging pacing is buoyed by an upbeat score by Gerhard Heinz who is better known to Euro horror fans for his score for Jess Franco's Bloody Moon. Director Sigi Rothemund helmed a handful of Bavarian sex comedies like 3 Sexy Girls in Tirol, Bathtime in Bangkok, and Love Bavarian Style before pursuing a prolific career in television from 1979 to 2019.

Video


Unreleased theatrically or on home video in the United States, Playing with Fire was previously released in Italy in a 1.66:1 non-anamorphic transfer, followed by a Japanese DVD (reportedly from a newer HD master). Cult Epic's 1080p24 MPEG-4 AVC 2.35:1 widescreen Blu-ray comes from a new 2K scan by rights owner Studio Canal and is easily the best-looking film in the set since it is derived from the negative and has been meticulously cleaned of any archival damage. Colors are vibrant from the reds of fire, blood, and wardrobe accents to the multitude of shades of bare flesh.

Also unreleased in the United States, Pastorale 1943 comes to Cult Epics Blu-ray in a 1080p24 MPEG-4 AVC 1.66:1 widescreen transfer derived from an HD master created by Dutch Film preservationists The Eye Film Institute since the negative is apparently lost. The image is generally clean and crisp with some damage remaining that could not be digitally-erased, and some detail can be swallowed up in the darks and highlights given the use of a projection print rather than the negative or an intermediate element.

Unreleased in the United States or the UK theatrically despite the film's artistic and erotic pedigree, Mysteries first turned upon VHS in the early eighties in the UK uncut and mid-eighties in the US in a version shortened to roughly ninety minutes for pacing (this version was reissued in an unauthorized edition by Edde Entertainment under the title "Evil Mysteries" with the tagline "Blade Runner seduces Emmanuelle"). Cult Epics' 1080p24 MPEG-4 AVC 1.66:1 widescreen Blu-ray is a major improvement on the VHS editions, and the Eye Film Institute restoration of print material seems less of an issue than the diffusion and natural lighting for the most part.

Released theatrically in the US by Focus Films, Julia was a staple of the Private Screenings video line, and that poor video master got a DVD from Twilight Entertainment – whose "Silver Series" line otherwise featured unrated versions of a handful of nineties erotic thrillers that had also been distributed by Platinum Disc Corporation and Artisan Entertainment in R-rated versions under different titles – while the native German DVD utilized an old video master under the "Niece of O" title. Cult Epics' 1080p24 MPEG-4 AVC 1.66:1 widescreen Blu-ray is not as sterling as Playing with Fire but generally looks crisper and more colorful than the two Dutch films – owing a bit to the sunny look of the film – apart from one obvious frame tear that zips across the image.

Audio


Playing with Fire includes the original French track is offered up in DTS-HD Master Audio 2.0 and LPCM 2.0, and there is little difference between the two. Optional English subtitles are free of any noticeable errors.

Pastorale 1943 features Dutch DTS-HD Master Audio and LPCM 2.0 mono tracks with the lossless option seeming to better manage some high end distortion than the uncompressed track. The English subtitles are free of errors although sometimes awkwardly formatted to contend with some rapid delivery.

While Rappaport and Tushingham acted in English – and their voices are heard on the English version – Hauer and Kristel were dubbed, so only the Dutch track is included for Mysteries in DTS-HD Master Audio and LPCM 2.0 mono (Hauer's own voice is heard speaking English in his scenes with Ferréol who also speaks only English in her scenes). It is regrettable that the English dub was not included, but not a deal breaker.

Julia includes German DTS-HD Master Audio and LPCM 2.0 mono tracks as well as the English dub in LPCM 2.0. While the English subtitles are not dubtitles, they do use the Julia and Peter character names even though the original names were not redubbed on the German track.

Extras


Playing with Fire is accompanied by a new audio commentary by Video Watchdog's Tim Lucas who provided commentaries for BFI's earlier British set of Robbe-Grillet films. Lucas notes that Trintignant and Noiret were the chief draws of the film when it was in production in 1974; however, upon the December 1974 release of Emmanuelle, Kristel became the chief draw for Playing with Fire's 1975 release. He reveals that the film's idea originated from one of three scenarios inspired by his reading of Jules Michelet's "La Sorcière", one of the others having been the inspiration for Successive Slidings of Pleasure (also starring Alvina with a cameo by Trintignant), and that Robbe-Grillet wanted that film's Michel Lonsdale for the role of de Saxe but the producers wanted Noiret who was encouraged to take the role by Trintignant (a decision Robbe-Grillet regretted because Noiret balked at the film's sexual content and the atypical script). Lucas also posits some interesting theories about the nature of the story in light of the revelation that Alvina was supposed to play all of the women seen abducted by the organization in various cutaways but that she was terrified of dogs, necessitating and inspiring Robbe-Grillet to cast other actresses, and that the use of other actresses might be a distancing device for a character not ready to acknowledge incestuous desire.

The disc also includes a short but very informative interview with Robbe-Grillet's wife and collaborator Catherine Robbe-Grillet (5:36) who explains the problem with Noiret as him not possessing the same sense of humor as Trintignant and also expounds upon the recurring themes of her husband's work including a narrator who not only takes charge but "projects" a story. Also included is a photo gallery and trailers for Mysteries and Pastorale 1943.

Pastorale 1943 is accompanied by an audio commentary by film professor Peter Verstraten who provides background on the source novel, noting that it was poorly received since it was published just after the war when Dutch audiences wanted to read stirring adventures of the resistance while the cynical take in the film was better received due to the evolution of the Netherlands' particular strain of war films which were few and far between from the forties to the seventies. Verstraten draws parallels between the film and Soldier of Orange, but also provides a case for why Verstappen decided to adapt the novel including a film school teacher who became angered by a classmate who wrote a script about a Jew abused by the farmer hiding him. Verstraten draws from interviews and De Groot's biography to provide a sketch of Verstappen as a director and his methods of eliciting performances from less-experienced actors.

The disc also includes a vintage interview with actors Sylvia Kristel and Frederik De Groot (7:35) in which the actress reveals that Verstappen cast her not to sell the film abroad but because he thought she had the right look for a traitorous character. De Groot discusses the source novel, Verstappen's direction, and the nature of his character's ignorance about the resistance as a larger entity. There is also another interview with actress Sylvia Kristel (11:02) shot around the period of Goodbye Emmanuelle discussing the Emmaneulle phenomena and how limiting it is in the perception of her as an actress and a person. The disc also includes a poster and photo gallery, a promo trailer (0:40), theatrical trailer (2:02), and trailers for Mysteries and Julia.

Mysteries has been afforded two commentary tracks. The first audio commentary by film professor Peter Verstraten discusses the background of director Paul de Lussanet as a painter of erotic subjects that emphasized decay, as well as Lussanet's annoyance with the collaborative nature of film production over his other artistic medium, and his regret in casting Hauer who pursued the role but was reportedly a "tyrant" on set. The second audio commentary by Jeremy Richey, author of "Sylvia Kristel: From Emmanuelle to Chabrol" discusses how Lussanet developed the adaptation with Kristel and her playwright boyfriend Hugo Claus (father of her son Arthur Kristel), Kristel's high hopes for the project and effect on her career of the poor reception of her trio of artier works Mysteries, The Streetwalker, and Claude Chabrol's Alice and her turn towards painting later in life, the contributions of cinematographer Muller and the recollections of locals in the Isle of Man who worked on the film, and also makes comparisons to Wenders' The Scarlet Letter – an adaptation of the Hawthorne novel shot in Spain – and Werner Herzog's Heart of Glass, as well as The Cool Lakes of Death. Also included is are vintage interviews with the director and cast (6:27) on location with some frank remarks from Kristel about wanting to get away from her Emmanuelle persona, as well as a poster and photo gallery, the film's theatrical trailer (2:33), and trailers for Pastorale 1943 and Julia.

Julia also features an audio commentary by Jeremy Richey, author of "Sylvia Kristel: From Emmanuelle to Chabrol" who has plenty of anecdotes about the film from press coverage, pressbooks, and interviews including remarks by playwright-turned-screenwriter Wolfgang Bauer, Kristel's preference for the German style of filming over the French, the cast and crew's enjoyment of the sunny locale, as well as his feelings about the film in the context of Kristel's soon-to-come international fame. Also included is a poster and still gallery, the film's U.S. theatrical trailer (2:26), and trailers for Mysteries and Pastorale 1943.

Packaging


The four discs are housed in a single case with a foldout poster and a forty-page booklet with excerpts from Richey's book text on all four films, drawing parallels between Playing with Fire and the Patty Hearst kidnapping, noting that Pastorale 1943 succeeds due to its overall lack of showiness from performances to directorial style, that Kristel had plenty to say in promoting Mysteries but it rates no mention at all in her autobiography, and a bit more background on the international promotion of Julia in light of Emmanuelle's release. Everything is housed in a nice cardboard slipcase that is attractively designed and sturdier than their earlier slipcovers.

Overall


Although she never escaped the shadow of her Emmanuelle fame, Sylvia Kristel had a much more diverse film career explored here with a quartet of lesser-seen but no less formidable erotic-tinged European offerings in Sylvia Kristel 1970s Collection.

The Blu-ray set is limited to 2,500 numbered copies (the DVD set is limited to 1,000 copies).