Minority Report
R2 - United Kingdom - Twentieth Century Fox Home Entertainment
Review written by and copyright: Mathew Buck (25th April 2004).
The Film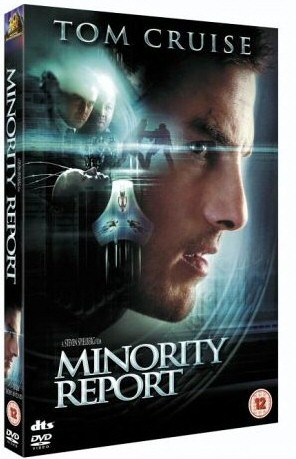 Steven Speilberg directed this film. Any person worth his salt knows that Speilberg is a great director at best, and at worst he can take simple stories and pad them out but at the expence of plotholes and enjoyment.
Minority Report is bang in the middle of these.

In the future, crime rates have led to epidemic levels. A program in L.A. takes place where a group of "gifted" children, who see murders in their dreams before they happen, tell a special team called Pre-Crime where murdrs are gonna happen and stop them before they even happen. The system is considered perfect and is up for election to be spread across America. The lead member, Detective John Anderton (Tom Cruise), is the one who sees the dreams and manipulates them to get the info he wants. One day, he sees something he was never meant to see - him killing a man he doesn't even know. He then tries to escape from the system he helped create and find out who set him up - which he thinks is a C.I.A. agent (Colin Farrell) who only seems to want Anderton's job.

Long winded? You bet. And yet, when it starts, it's so simple. This is a chase movie. Then, as Speilberg begins to devalge the flaws within the perfect system and the sub-plot that seems to disappear for most of the second act, he leaves himself open for many flaws. We have plot-holes including a guy who couldn't be identified because he had his eyes taken out. Hello? Dental records! These can be ignored but as repeated viewing goes, the film is a bit too complicated and the sub-plot becomes the movie's major problem as the breathless pace is killed, and near the end makes you just want Pre-Crime to just capture Cruise. The performaces, though, are spot on and can be entertaining for the one-off viewing. Said, it's nothing more and is vastly overrated (it's on IMDb's Top 250, though I am asking why).

Video


The film has a very gery and monotone look to it. The print is flawness, apart from what appears to be some minor intentional grain to make the film look rough.

Audio


Two English sound tracks, both in 5.1 - Dolby Digital and DTS. Both are explosive and liable to make the neighbours lose sleep. DTS wins due to a bit more clarity.

Extras


This is an exact replica of disc one from the two set (which may be out of print and I will review soon) which had absolutely nothing in the way of extras. Also encoded from Region 4 and 5.

Overall



| | | | | |
| --- | --- | --- | --- | --- |
| The Film: B- | Video: A- | Audio: A+ | Extras: F | Overall: C |

---
DVD Compare is a participant in the Amazon Services LLC Associates Program and the Amazon Europe S.a.r.l. Associates Programme, an affiliate advertising program designed to provide a means for sites to earn advertising fees by advertising and linking to amazon.co.uk, amazon.com, amazon.ca, amazon.fr, amazon.de, amazon.it, amazon.es and amazon.se.