REWIND FEATURE: Interview with Powerhouse Films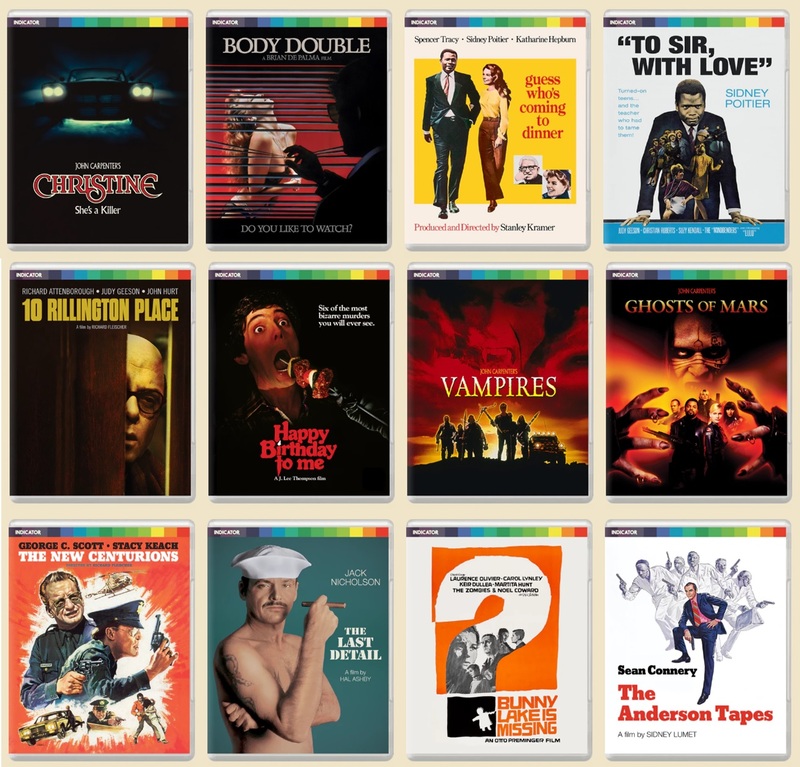 Q: Hi John, first of all many thanks for giving us your time to answer some questions. Can you start off by telling us more about the people behind Powerhouse Films, their experience to date in the industry, and how Powerhouse came about?
A: Hello, and thanks for having us. Powerhouse is a company which I set up in 2016, after over 25 years in the home entertainment industry, working for both Independant Studios such as Vestron Video, and 10 years with Columbia Tri-Star, which then became Sony Pictures. It was something that I've been thinking about for some time, and it became a reality in October with the release of the first two Indicator Dual Format Editions - Christine and Body Double. I wanted the releases to be special, and for the people who bought them to feel rewarded for their purchases and ongoing loyalty, and so I set out to make every aspect of the releases with quality in mind - from the packaging and booklet, to the on-disc extras and enlisting the authoring and encoding expertise. Doing this has involved working with some of the best people in the industry, and Powerhouse is lucky to count the likes of Nick Wrigley, David Mackenzie and Chris Barwick as core members of its extended family.
Q: Moshe Black asks, with so many companies (Powerhouse/Arrow/Criterion etc) releasing and remastering films from the past, do you think the major studios have lost interest in their older catalogue?
A: Thanks for your question, Moshe. I think that the fact that independent labels are releasing studio titles is great news for film fans, and actually reflects very well on the majors, since it's down to their ability to understand that a 'back catalogue' strategy is needed (while they focus on the money-making end of things) that a great many films have been allowed to avoid slipping into obscurity. Of course, there is much more work to be done to 'crack open the vaults' of some studios, and we're extremely keen to play a part in trying to change this, where and whenever we possibly can.
Q: Aiden Higginson wants to know, what companies have you signed deals with to release their titles? Currently, your titles are from Sony, so when can we expect titles from people other than them?
A: I'm genuinely not trying to avoid answering thus question, Aiden, but because there are certain sensitivities involved here I'll just say that there are a few interesting things which we're currently busy working on, some (or maybe all) of which will mature in coming months. Of course, we'll be making announcements when we have news - and we'll be sure that you and DVD Compare are amongst the first to know!
Q: Benedict Keeler asks, will the Indicator Series be the sole label under Powerhouse Films, or will there be sub-labels (similar to Arrow Academy, Eureka Classics, BFI Flipside etc)? He adds; Been thoroughly enjoying your releases so far - I only have Christine and Body Double, but looking at The New Centurions and 10 Rillington Place next - and loving everything from the design of the artwork and menus, the quality of the disc encode and extras, to the packaging and booklets. Some solid selections so far, and I simply cannot wait for some of them - particularly The Last Detail, Fat City, The Lady from Shanghai and The Big Heat.
A: Hi Benedict. If you don't mind, I'm going to answer this one much in the same way as I did Aiden's question: We have exciting plans in motion and a number of irons in fires, so please keep watching this space.
Q: Steve Well states, loving the releases so far. I've been a movie collector for decades now in various formats, and I'm looking forward to a trip down memory lane watching the Super 8 edit of The New Centurions. Will Super 8 cut-downs be an option on more future releases where applicable?
: Hi Steve, I'm so pleased to hear you like to watch these cut-downs! We'll be adding Super 8 versions to a number of future releases, including The Anderson Tapes.
Q: The aptly named Hammer Fanatic says, you have already let slip that a whole bunch of Hammer films are in the pipeline. Can you give us any clues, and will you be producing a box set or new extras?
A: Hello Hammer Fanatic - I do hope there are many more like you out there! We have an exciting mix of well-known and not-so-well-known titles from Hammer. I'll hold back on full details, but they include great early works such as Never Take Sweets from a Stranger and Cash on Demand, as well as more celebrated films like The Revenge of Frankenstein and The Curse of the Mummy's Tomb.
Q: Steve Armstrong asks, although to date you have released only five titles, they have been released to both critical and consumer acclaim and it appears initial pressings are going fast. Did you anticipate such a successful start, and where do you see yourselves a few years from now?
A: Hi Steve. I'll be totally honest and say that we've been taken 100% by surprise by the response and the sales. With three of our first lot of titles pretty much sold out at source now, we've been left asking whether we made enough of the limited editions, we are reviewing this going forward!
Q: Kenneth Black's question is as follows; currently TV is wildly under-represented on Blu-ray. Why do you think this is and will Powerhouse look at releasing some of Sony's massive TV catalogue at any time?
A: Thanks for this, Kenneth. TV is definitely on our radar, and we're pursuing some interesting angles. Stay tuned!
Q: Several people have asked this one. Once initial pressings have sold through, we understand that a second pressing will become available dropping the DVD and booklet. However, some vanilla releases have also appeared in supermarkets. Will each release be clearly marked to avoid confusion, and will you issue warnings on social media when a first pressing is close to selling out?
A: Good question, and obviously an important area to ensure there's clarity. All Limited Dual Format Editions will be released as stand-alone Blu-rays once the limited edition is gone. We'll switch to using a regular Blu-ray case and drop the booklet for these editions, but they will all still carry the Indicator branding. If and when we are approached by supermarkets to produce one-off 'vanilla' editions, we will create a version that will not carry the extras and which will therefore not be branded Indicator.
Q: Of course, like always, we received many requests to ask you about possible titles. This is a list of some of the frequent requests if you are able to shine any light?
- Starman
- The Principal
- Gladiator (1992)
- The Last Run
- The Grissom Gang
- anything non-English
- As Good As It Gets
- Philadelphia
- Those Magnificent Men in Their Flying Machines
- The Blob (1988)
- Jacknife
A: Some great titles here, and many which we get asked about on a regular basis. Rather than saying 'yes' or 'no' here, though, I'd prefer to say that we have plans to introduce a range of types and styles of film and TV content into the Powerhouse range. There are some passion projects amongst the titles, and we're obviously crossing our fingers that we can find a way to make them all come off. Obviously, we're still a new company, and we only have (at the time of writing) six titles under our belt, but we're making sure we have an eye on the future at all times.
Q: Many thanks again for your time John, however, the cheekiest question always comes last! Can you give us an exclusive scoop on any future releases?
A: Thank you and all your contributors, too. Well, we have some 40 titles slated for the coming year, and each one was hand-picked by us and is therefore much-loved, so it's difficult to single titles out. But, picking a few titles at random, I can tell you that Alan Parker's Birdy , Jack Gold's The National Health, and Irvin Kershner's The Eyes of Laura Mars, written by John Carpenter are all forthcoming.
You can support Powerhouse Films by buying their releases direct HERE.