NEWS
ALSO COMING FROM ARROW FILMS
Saturday 24th February 2018 - posted by Samuel
As well as the Last House on the Left detailed below, Arrow will also release the following in May 2018:
- The Bloodthirsty Trilogy
- Dark Blue
- Death Smiles on a Murderer
- Rawhead Rex
LAST HOUSE ON THE LEFT - LIMITED EDITION COMING FROM ARROW
Friday 23rd February 2018 - posted by Samuel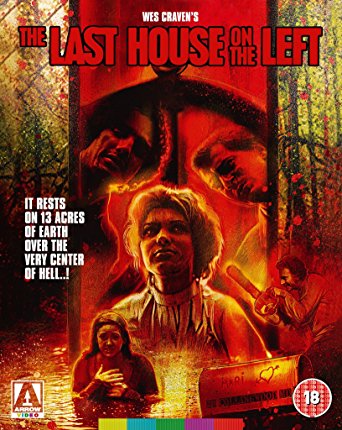 Arrow Films will release a Limited Edition of Last House on the Left in May 2018.
Unleashed on an unsuspecting public in 1972, The Last House on the Left shocked audiences with its graphic and unflinching portrayal of interpersonal violence, paving the way for a whole host of cheap imitators looking to capitalise on its success. It is Wes Craven s original alone, however, that remains one of the true watershed moments in horror (and indeed, film) history.
LIMITED 2 X BLU-RAY EDITION CONTENTS
- Three cuts of the film newly restored in 2K from original film elements
- Original Uncompressed Mono Audio
- Optional English subtitles for the deaf and hard of hearing
- Double-sided poster featuring original and newly commissioned artwork
- 6 x lobby card reproductions
- Limited edition perfect-bound book featuring new writing on the film by author Stephen Thrower
- Reversible sleeve featuring original and newly commissioned artwork by Paul Shipper

DISC ONE THE UNCUT VERSION
- High Definition Blu-ray (1080p) presentation of the Uncut Version
- Brand new audio commentary by podcasters Bill Ackerman and Amanda Reyes
- Archival audio commentary with writer/director Wes Craven and producer Sean S. Cunningham
- Archival audio commentary with stars David Hess, Marc Sheffler and Fred Lincoln
- Junior's Story a brand new interview with actor Marc Sheffler
Marc Sheffler in Conversation at the American Cinematheque
- Brand new interview with wardrobe and make-up artist Anne Paul
- Songs in the Key of Krug never-before-seen archive interview with David Hess
- Celluloid Crime of the Century archival documentary featuring interviews with Wes Craven, Sean S. Cunningham, actors David Hess, Fred Lincoln, Jeramie Rain, Marc Sheffler and Martin Kove
- Still Standing: The Legacy of The Last House on The Left archival interview with Wes Craven
- Scoring Last House on the Left archival interview with actor/composer David Hess
- It's Only a Movie: The Making of The Last House on the Left archival documentary
- Forbidden Footage the cast and crew of Last House on the film s most controversial sequences
- Deleted Scene
- Outtakes and Dailies
- Trailers, TV Spot & Radio Spots
- Image Gallery

DISC TWO THE KRUG & COMPANY & R-RATED CUTS
- High Definition Blu-ray (1080p) presentation of the Krug and Company and R-rated cuts of the film
- The Craven Touch brand new featurette bringing together interviews with a number of Wes Craven's collaborators, including Sean S. Cunningham, composer Charles Bernstein, producer Peter Locke, cinematographer Mark Irwin and actress Amanda Wyss
- Early Days and Night of Vengeance filmmaker Roy Frumkes remembers Wes Craven and Last House on the Left
- Tales That'll Tear Your Heart Out excerpts from an unfinished Wes Craven short

Could this be the release of 2018? Pre-order HERE
WELCOME HOME BROTHER CHARLES - VINEGAR SYNDROME
Thursday 22nd February 2018 - posted by Samuel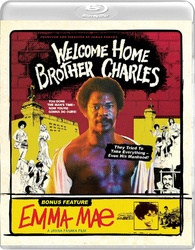 Before directing the legendary PENITENTIARY trilogy, Jamaa Fanaka helmed these two offbeat genre films, which helped catapult him to recognition as one of the most important black filmmakers working in 70s independent cinema.
In Fanaka's debut feature, WELCOME HOME BROTHER CHARLES, a young black man is sent to prison, after being brutalized by a corrupt racist cop. Upon release, he takes deadly revenge against the cops, lawyers, and thugs who got him busted, using a most unusual weapon… As much a parody of exploitation films as it is a proud piece of genre cinema, BROTHER CHARLES combines horror and blaxploitation tropes with stirring social subtext resulting in a drive-in movie unlike any other.
Fanaka's second feature, EMMA MAE, tells the story of a naive young woman who moves from the Deep South to Watts. Initially finding herself at odds with her surroundings, Emma eventually gains acceptance from a local drug addict and dealer. But when he's arrested and jailed, she plans a daring bank robbery to bail him out… Featuring a cast of mostly non-professionals and shot entirely on location in Watts, this uniquely subversive action film is an insider's view of black, working-class LA neighborhoods.
Vinegar Syndrome brings these two landmark films to Blu-ray, newly restored from their original camera negatives.
Extras include:
• Newly scanned and restored in 2k from 35mm original camera negatives
• "The History of the L.A. Rebellion & Jamaa Fanaka" – an appreciation by Jan-Christopher Horak, Director of the UCLA Film & Television Archive
• Post film Q&A with actress Jerri Hayes from a 2017 screening of EMMA MAE at BAMcinématek in Brooklyn, NY
• Trailers, reversible sleeve
Pre-order this title HERE.
TRULY, MADLY, DEEPLY
Thursday 22nd February 2018 - posted by Samuel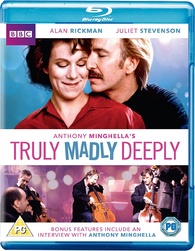 On March 5th, 2 entertain Video will release the Oscar winning movie Truly, Madly, Deeply.
Nina misses her dead lover so much that he returns to her from the Other Side. But when a new relationship starts to blossom, will she betray the ghost she is still Truly, Madly and Deeply in love with? This Oscar winning Anthony Minghella's debut film has become a classic love story of British cinema.
Extras will include:
- Interview with Anthony Minghella
- Introduction by Anthony Minghella
- Trailer

Pre-order this title HERE.
WARNER ARCHIVE ADDITIONS INCLUDE FRITZ LANG TITLES
Thursday 22nd February 2018 - posted by Samuel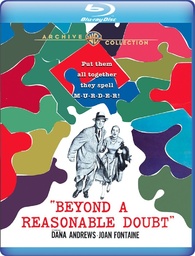 Warner Archive have announced several new titles to their MOD range.
Beyond a Reasonable Doubt - After director Fritz Lang vaulted to prominence with such masterpieces of German cinema as Metropolis and M, he brought his art to Hollywood films, including Fury, Ministry of Fear, The Woman in the Window and more trenchant tales of innocents caught in a web of seeming guilt. His last U.S. movie is this intriguing film noir about a novelist (Dana Andrews) out to expose the injustices of capital punishment. Pre-order.
The Black Scorpion - They're big. They're bad. They scuttle along in caverns miles beneath the Earth – until an earthquake opens paths to the surface. Now, these monsters of genus Arachnida are invading our world with deadly force! With top special effects co-designed by King Kong's Willis O'Brien, The Black Scorpion is horror with a sting more lethal than the king-sized ants that overran Los Angeles' sewers in the classic Them! Can humankind survive these invincible juggernauts? Pre-order.
While the City Sleeps - "Ask mother," says the message scrawled in lipstick at a murder scene, written by an unidentified serial killer who preys on women. It's a sensational story — if it bleeds, it leads — and a news conglomerate offers a big promotion to any high-level company exec who solves the case. So begins the wheeling, dealing and backstabbing of the competing media hotshots as they vie to unmask the so-called Lipstick Killer. Pre-order.
NORTHERN EXPOSURE: COMPLETE SERIES BLU-RAY
Tuesday 20th February 2018 - posted by Samuel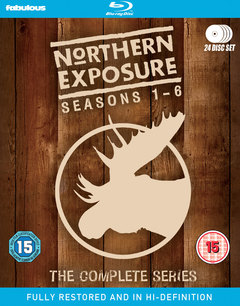 Fabulous Films will release Northern Exposure: The Complete Series on Blu-ray on the 19th March 2018.
Joel Fleischman is a nebbishy Jewish doctor from New York City, and a fresh faced medical school graduate. He's also about to begin the four year service contract he promised to the state of Alaska, who financed his education. But he just happened to forget reading some of the stipulations in his contract, that has assigned him to the small post of Cicely, Alaska. A town of 215 people that welcomes it's newest resident with open arms.
As he contends with the daily lives and rituals of these all too normal and trusting folk, Joel just might realise that Cicely's quieter ways are probably more civilised than the hustle and bustle of Manhattan. Made up of Cicely's various residents, patients and friends of Fleischman include wealthy former astronaut Maurice Minnifield; feisty pilot Maggie O'Connell; mayor and saloon owner Holling Vincoeur; his sweet, naive waitress girlfriend Shelly Tambo (who's old enough to be his daughter); intellectual ex-con and disc jockey Chris Stevens; Joel's far wiser and very quiet receptionist Marilyn Whirlwind; kindly store owner Ruth-Anne Miller, and avid film buff Ed Chigliak.
Enjoy once again, now fully restored and in hi-definition, all 110 episodes, over 6 seasons, with all the original music as you remember it.
There will also be four and a half hours of bonus content including Deleted Scenes, Gag Reels, Promo Reels, and Unexposed Footage.
Pre-order HERE.
BFI DVD ANNOUNCEMENT
Tuesday 20th February 2018 - posted by Samuel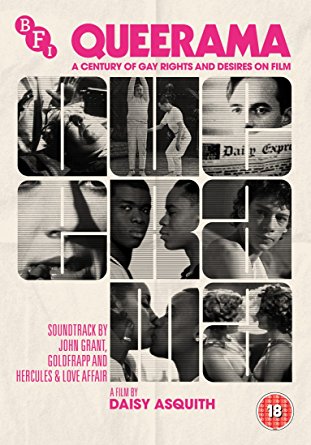 Crafted from the treasure trove that is the BFI National Archive, Queerama travels through a century of gay experience, encompassing persecution and prosecution, injustice, love and desire, identity, secrets, forbidden encounters, sexual liberation and pride. Following numerous festival screenings and a TV broadcast in BBC Four's Storyville strand, Queerama is released on DVD by the BFI on 26 March.
Weaving in the lyrics and music of John Grant, Goldfrapp, and Hercules and Love Affair, director Daisy Asquith guides us intimately through the relationships, desires, fears and expressions of gay men and women against the backdrop of a century of incredible change.
Queerama offers a wealth of unknown newsreel and amateur film, alongside the sub-textual references scattered throughout 20th century cinema, the sexual liberation of the early 21st century queer and transgender scene, and the gay parenting and marriage campaigns of recent years.
Extras include:
- Daisy Asquith Q&A (2017, 8 mins): director Daisy Asquith in conversation with the BFI's Simon McCallum
- This Week: Homosexuals (James Butler, 1964, 23 mins)
- This Week: Lesbians (John Phillips, 1965, 26 mins)
- Ballad of Reading Gaol (Richard Kwietniowski, 1988, 11 mins)
- Rosebud (Cheryl Farthing, 1991, 14 mins)
- Illustrated booklet with full film credits and essays by Daisy Asquith, Simon McCallum, Lucy Robinson, Selena Robertson, Alex Davidson and So Mayer
Pre-order this title HERE.
SPONSORS


Scream Magazine - 100% Horror.



Real Groovy - a New Zealand based DVD retailer.

FULL REVIEWS
TECHNICAL REVIEWS