The Show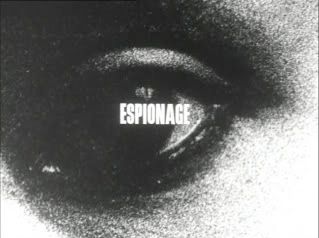 The genre of the espionage drama was very popular throughout the 1950s and 1960s, running the gamut from predominantly fantasy-based shows such as The Avengers (ABC, 1961-9) to more 'gritty' dramas like Patrick McGoohan's Danger Man (ATV/ITC, 1960-1, 1964-7). Many of these British-produced series were made with an eye on the American market; where many more modest homegrown series were still shot on a combination of videotape (for in-studio footage) and film (for location work), ATV (Associated TeleVision) made a concerted effort to shoot their programmes on 35mm film. By bypassing the problem of 'incompatible video transmission line standards' between American NTSC-standard televisions and British PAL-standard formats, the decision to shoot many of these programmes on 35mm film immediately made the shows more 'exportable' and more easy to sell to American network programmers (see Tankel, 1990: 83). Furthermore, the genre of the espionage drama (spearheaded by the success of Danger Man in 1960) was seen as a common ground between British and American tastes: narratives of 'espionage and international intrigue' were the subject of both 'domestic popularity' within Britain and also resulted in 'the greatest volume of sales to the American commercial networks' (ibid.; see also Chapman, 2002: 7).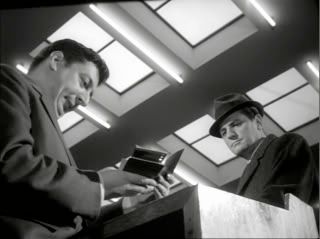 Produced for ATV (Associated TeleVision) in 1963 and distributed by Lew Grade's ITC, Espionage was a more grounded series than many of the other espionage-themed television shows of the era, with many of the episodes being based on allegedly true cases. The show's dramatic and relatively hard-hitting themes were emphasised through its titles sequence, a montage of mostly still images of conflict accompanied by dramatic music. An anthology series, each episode of Espionage featured a different narrative; there were no recurring characters, and the episodes took place in different parts of the world and during different periods in history. Although most of the episodes were set at some point during the early- to mid-Twentieth Century, one episode ('The Whistling Shrimp') was set in 1974 (ten years ahead of the broadcast of the series), and another episode ('The Frantick Rebel') was set in Eighteenth Century France.




The diversity of the stories was also mirrored in the diversity of the cast for each episode, with episodes featuring British performers such as Bernard Lee, Peter Vaughan and Patrick Troughton, alongside American actors including Martin Balsam, David Janssen, Steven Hill and Dennis Hopper. Furthermore, the series featured contributions from an array of notable directors, including Michael Powell, Anton M. Leader, Kenneth Hughes, David Greene, Seth Holt, Herbert Hirschmann, Fielder Cook, Stuart Rosenberg, William T. Kotcheff, James Sheldon and Robert Butler. However, many of the 1960s espionage dramas, including Danger Man and The Saint (ATV, 1962-9), were criticised for being 'mid-Atlantic', evidence of the Americanisation of British televisual tastes (see Tankel, op cit.: 83): for example, in both Danger Man and early episodes of The Saint, John Drake (Pat McGoohan) and Simon Templar (Roger Moore) deliver their lines with a curiously mid-Atlantic accent (see Miller, 2003: 94)—despite one contemporaneous suggestion that The Saint 'is […] a glossy tourist board advertisement for the gin and tonic Englishman on whom the sun never sets' (quoted in Chapman, op cit.: 11). (Screenwriter Dennis Spooner once responded to claims that he was 'pandering to the Americans' with the assertion that 'I'm pandering to the Japanese and the Germans and everybody'; Spooner, quoted in ibid.) Espionage suffers less from this lack of a defined cultural identity thanks to its status as an anthology series: some of the episodes were produced by British personnel (for example, the well-respected team of screenwriter Leo Marks and director Michael Powell) and with British stars, but other episodes feature the exclusive contributions of American filmmaking crew and actors. Thus there are episodes that are predominantly 'British' in their themes and execution, and other episodes that are predominantly 'American', with few episodes that could be described as 'mid-Atlantic' in their preoccupations or delivery.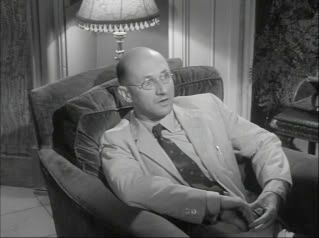 Like many of the ATV series of this era, Espionage has an impressive and expensive-looking aesthetic, thanks to the decision to shoot on film and the use of relatively amply location work. The episodes are well-scripted and dramatic, featuring the contributions of some excellent performers and some respected directors.

Disc One:
9. 'The Incurable One' (48:45)
10. 'Covenant of Death' (48:53)
11. 'The Weakling' (48:46)
12. 'The Gentle Spies' (48:53)
Episodic image gallery (3:39)

Disc Two:
13. 'He Rises on Sunday and We on Monday' (48:47)
14. 'The Dragon Slayer' (48:51)
15. 'To the Very End' (48:53)
16. 'The Light of a Friendly Star' (48:46)
Episodic image gallery (4:30)

Disc Three:
17. 'A Tiny Drop of Poison' (48:45)
18. 'Festival of Pawns' (48:38)
19. 'The Whistling Shrimp' (49:19)
20. 'Never Turn Your Back on a Friend' (48:56)
Episodic image gallery (2:06)

Disc Four:
21. 'Medal for a Turned Coat' (48:59)
22. 'Final Decision' (48:56)
23. 'Do You Remember Leo Winters' (49:46)
24. 'The Frantick Rebel' (48:41)
Episodic image gallery (7:12)

Disc Six:
1. 'Castles in Spain' (48:53)
2. 'Snow on Mount Kama' (48:39)
3. 'Once a Spy…' (48:51)
4. 'We, the Hunted' (48:56)
Episodic image gallery (5:16)
DVD-ROM features: scripts for 'Castles in Spain' and 'Snow on Mount Kama' (as PDF files).

Disc Six:
5. 'The Liberators' (48:42)
6. 'Some Other Kind of World' (49:05)
7. 'A Free Agent' (48:39)
8. 'A Camel to Ride' (48:38)
Episodic image gallery (7:46)

Video


The episodes are presented in their original broadcast screen ratio of 4:3. The presentation of the episodes is handsome; the monochrome image is crisp and detailed.




The original break bumpers (and ad announcements) are intact, and there do not appear to be any cuts to the episodes.

Audio


Audio is presented via a two-channel mono track; like the image this is clear and crisp.

There are no subtitles.

Extras


Animated episodic image galleries are included on every disc in the set.

Disc five also includes two DVD-Rom features: scripts for the episodes 'Castles in Spain' and 'Snow on Mount Kama' are presented as 'PDF' files.

Overall


A real gem of a series, Espionage is a collection of well-crafted and, mostly, carefully-plotted spy dramas. Featuring contributions from an array of much-loved performers and personnel, the series has (to the best of my knowledge) never been repeated on television or distributed on home video in its entirety—prior to this DVD release, at least. This set from Network is a massively welcome addition to the library of classic television series on DVD, and in many ways Espionage is the equal of the majority of the more better-known espionage dramas of the 1960s. The presentation of the series on this DVD set is problem-free, and as such this DVD release comes with a very strong recommendation.


References:
Chapman, James, 2002: Saints and Avengers: British Adventure Series of the 1960s. I. B. Tauris

Miller, Toby, 2003: Spyscreen: Espionage on Film and TV from the 1930s to the 1960s. Oxford University Press

Tankel, Jonathan David, 1990: 'Program Production for Export and the Domestic Market: Authorship in The Avengers'. In: Thompson, Robert J. & Burns, Gary, 1990: Making Television: Authorship and the Production Process. Greenwood Publishing Group: 81-92


For more information, please visit the homepage of Network DVD.
| | | | | |
| --- | --- | --- | --- | --- |
| The Show: | Video: | Audio: | Extras: | Overall: |