The Show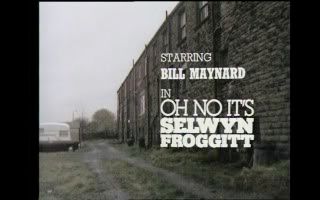 Created by prolific playwright and screenwriter Alan Plater, a key figure in regional television drama who honed his television writing skills on the BBC's long-running Z Cars (1962-5, 1967-78), the situation comedy Oh No, It's Selwyn Froggitt! was produced for Yorkshire Television and ran for three series, between 1975 and 1977. A fine dramatist, as demonstrated through his earlier adaptation of A. J. Cronin's The Stars Look Down for Granada Television (1974), Plater's work for Oh No, It's Selwyn Froggitt! demonstrates Plater's keen sense of humour. Plater's work is known for its focus on the culture of Northern England: this aspect of Plater's talent can be seen in his comedy-drama series The Beiderbecke Affair, The Beiderbecke Tapes and The Beiderbecke Connection (Yorkshire, 1985-7) and its thematic predecessor Get Lost! (Yorkshire, 1981). In Oh No, It's Selwyn Froggitt! , Player demonstrates an ability to take the stereotypes associated with life in the North of England and use them for comic purposes: although each episode has a subtly different theme tune, the titles sequence of each episode features music that alludes to colliery brass bands, whilst the visuals evoke the image of Northern life as made iconic in Ridley Scott's famous and much-loved 1973 advertisement for Hovis bread – directly parodied in The Two Ronnies (BBC, 1971-87) ('Me granddad always used to say it were a bloody long way t'go for a loaf of bread').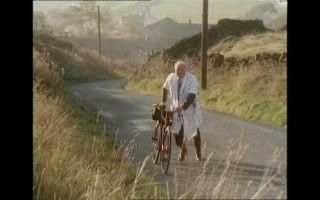 In Oh No, It's Selwyn Froggitt! , Plater's satirical approach to Northern life recalls the work of the sitcom writer Roy Clarke, the creator of The Last of the Summer Wine (BBC, 1973-present) and Open All Hours (BBC, 1976-85). The series contains many of the key elements of Clarke's writing, including its focus on the tropes of life in Yorkshire and its examination of the lives of middle-aged men. In fact, Clarke actually wrote the pilot episode of Oh No, It's Selwyn Froggitt!, which was broadcast in 1974; the similarity between Clarke's comic deconstruction of Northern stereotypes and Plater's affectionate satire of life in the North of England is signified in the seamless transition between Clarke's pilot episode and the rest of the episodes in the first series. Both writers display a very strong ear for regional dialect, and the dialogue is at times exceptionally well-written.

Focusing on the childlike character of Selwyn Froggitt, played by Bill Maynard, the series' title came from the other characters' repeated declaration on seeing Froggitt: 'Oh No, It's Selwyn Froggitt!' Naďve and boisterous, Froggitt is introduced in the pilot episode as he tries to impress the milkman by pretending to ride a motorbike whilst proclaiming 'I can carry this bike above me head [….] I'm more dynamic: I could never stop in bed, you know […] First sound, I'm out of bed, ready for danger. It's me reflexes, you know; comes from spending months behind enemy lines'. As indicated in this exchange of dialogue, Froggitt is a braggard, frequently alluding via flights of fancy – a common device in British sitcoms – to the time he claims to have spent in the Royal Commandos.

Living with his mother (Megs Kenkins) and his brother Maurice (Robert Keegan), for twenty years Froggitt has been working as a labourer for the Public Works department of the Scarsdale town council. Froggitt aspires to a job working on the construction of the Channel Tunnel ('You'd have to be a right prune to [be able to] miss France') and boasts about digging a hole 'in the council yard. It ain't 'alf deep'. However, when asked 'Well, what's it for', Froggitt replies by stating, 'Nothing. I just dug it for practice'.




Froggitt also has intellectual aspirations, which are signified through his insistent declaration that he reads The Times, a fact that he unloads on almost every character with which he converses. The episodes in this first series feature Froggitt standing for the Scarsdale Working Men's Club Committee and, whilst working as the club's secretary, trying to book entertainments for the club's social functions.

In 1978, the series was rebranded: retitled Selwyn, the show was once again produced for Yorkshire Television but proved less popular due to its abandonment of most of the regular cast members besides Bill Maynard; in this series, Selwyn found himself employed as the entertainments manager of a holiday camp.

Episodes
1. 'Pilot: Oh No- It's Selwyn Froggitt!'
2. 'Three Fifths of the World Loves a Lover'
3. 'We are the Masters Now'
4. 'There are Several Businesses Like Show Business'
5. 'The Grand Outing'
6. 'The Master Builder'
7. 'Ladies Desire'

Video


The episodes are presented in their original broadcast screen ratio of 4:3. The original break bumpers are intact, and the episodes do not appear to have suffered any edits. Shot on video, the episodes are well-presented here, with some intermittent examples of tape wear – but nothing too detrimental to one's enjoyment of the series.


Audio


Audio is presented via a two-channel mono track. This is functional and clear. There are no subtitles.

Extras


There are no extra features, aside from the inclusion of the pilot episode. An interview with Maynard or one of the writers would have been commendable; perhaps if Network get around to releasing series two and three, we might see some sort of contextual material.

Overall


Fondly-remembered but little seen since its original broadcast, Oh No, It's Selwyn Froggitt! is a 1970s situation comedy that has much to recommend it. Maynard's performance as Froggitt is full of energy, and the scripts demonstrate an acute deconstruction of Northern life (or rather, the stereotypes associated with Northern life). Despite its absence from television screens, Oh No, It's Selwyn Froggitt! has continued to live on in the public consciousness: in fact, Froggitt's iconic gesture (a double thumbs-up, accompanied with a declaration of 'Magic!') has arguably outlived the series itself, the catchphrase and its associated gesture being aped by those who have never seen the series itself. Whilst it is a shame that the series hasn't been repeated in full, as repeats might have given the series a similar reputation to other similar sitcoms (such as Open All Hours or The Last of the Summer Wine), this DVD release from Network is exceptionally welcome, and hopefully Network will release the second and third series of the show.

References
Plater, Alan, 2005: 'The drama of the North-East'. Colls, Robert et al, 2005 (eds): Geordies: Roots of Regionalism. Northumbria University Press

For more information, please visit the homepage of Network DVD.
| | | | | |
| --- | --- | --- | --- | --- |
| The Show: | Video: | Audio: | Extras: | Overall: |