The Show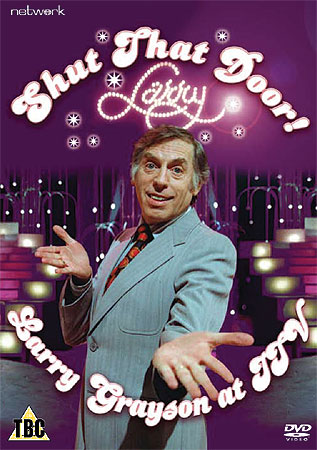 Although Larry Grayson has been absent from British television screens for a significant number of years, his catchphrases 'Shut that door!' and 'What a gay day!' are both still in currency. The risqué names of Grayson's offscreen 'friends' (including 'Slack Alice' and 'Everard') are also part of the popular lexicon. For many people, Grayson is probably best remembered as the successor to Bruce Forsyth on the original run of the BBC's popular game show The Generation Game (1971-82); Grayson's tenure as the show's presenter took place between 1978 and 1982. However, Grayson's first appearance on television was in 1971, on The Leslie Crowther Show (LWT, 1971); prior to this, Grayson had spent a long career working as a stand-up comic on the club circuit. His appearance on The Leslie Crowther Show led to a turn on ITV's Saturday Variety (ATV, 1971); and on the basis of Grayson's appearance on Saturday Variety, Lew Grade commissioned a series for Grayson. Entitled Shut That Door! (ATV, 1972), Grayson's first series featured a music hall mixture of comedy and songs, with Grayson deploying his supremely camp stage persona in both stand-up comedy routines and comic sketches, rounding off each episode with a song. The series also featured Grayson interviewing stars of the day.

This set contains the sole surviving episode of the series Shut That Door!, which also happens to be the final episode of the series. Devised as a vehicle for Grayson's brand of camp humour, Shut That Door! helped to establish many of his catchphrases ('What a gay day!'). This surviving episode features Grayson interviewing Diana Dors and the strongwoman/wrestler Joan Rhodes.




During an interview with Grayson for Anglia News, recorded in 1973, the performer reflects on his career and offers advice for aspiring stage comedians ('don't set out to be a star, because if you do you'll be very miserable and you'll be knocking everyone out of the way to get there').

An LWT show, The Larry Grayson Hour of Stars (1974) features Grayson performing in a range of comic sketches. Here, Grayson also interviews stars such as Michael Crawford and Anna Neagle.




Another LWT show, At Home With Larry Grayson was broadcast in 1983 and features Janet Street Porter interviewing Larry Grayson just prior to his sixtieth birthday. Grayson looks back on his life in Nuneaton, including his childhood in Nuneaton and his early career on the stage.

Produced in 2000 for broadcast on ITV, The Unforgettable… Larry Grayson (Carlton Television) is a look back on Grayson's career, featuring reflections from some of Grayson's family and friends. The documentary includes interviews with Grayson's contemporaries, including Bernard Manning, the actress Liz Dawn and Liz St Clair, Grayson's co-host on The Generation Game. Michael Grade, Grayson's manager, is also interviewed.

Also included on disc one is a montage of Grayson's appearances on ATV's show Saturday Variety (from 1972). Ironically, in light of the way his career developed during the mid-1970s, Grayson begins his first skit by asserting 'Well, I must be in the wrong place for a start [….] I've got a ticket here for The Generation Game'.

The rest of this set includes series one and series two of Grayson's mid-1970s programme Larry Grayson (LWT, 1975-7) – billed on this DVD as The Larry Grayson Show. Made prior to Grayson's stint on The Generation Game, this series features the same mix of stand-up and sketches that made Shut That Door! popular.




Like several other popular comics of the 1970s (for example, Dick Emery and Frankie Howerd), Grayson's stage persona was supremely camp. Shut That Door! offered Grayson delivering both stand-up routines and appearing in sketches, mostly written by Derek Collyer, Neil Shand and Bernie Sharp. The series also features guest appearances, including Bill Pertwee, Rod Hull and Emu and Josephine Tewson.




Disc two also includes Grayson's 1973 appearance on the brief early-1970s revival of Sunday Night at the London Palladium (ATV), where he once again appears with Rod Hull and Emu.

Disc Contents:
Disc One:
Shut That Door! – sole surviving show (24:31)
Anglia News Interview with Larry Grayson 02/07/73 (4:26)
The Larry Grayson Hour of Stars (46:37)
At Home With Larry Grayson (25:36)
The Unforgettable… Larry Grayson (24:30)
Saturday Variety (10:07)

Disc Two:
The Larry Grayson Show: 19/09/1975 (25:52)
26/09/1975 (24:47)
03/10/1975 (25:08)
10/10/1975 (26:12)
17/10/1975 (25:36)
24/10/1975 (24:53)
31/10/1975 (26:05)
Larry Grayson at the London Palladium (19:31)

Disc Three:
The Larry Grayson Show: 09/01/1977 (52:09)
15/01/1977 (25:37)
22/01/1977 (23:11)
29/01/1977 (25:27)
05/02/1977 (25:46)
12/02/1977 (26:14)
19/02/1977 (25:21)
Gallery (3:01)

Video


Containing such a wide variety of shows, this DVD set contains a range of material both shot on videotape and, at times, on film. Filmed material looks particularly good, whilst the archive VT material suffers from the wear and tear that marks most 1970s-era VT-recorded shows. However, there are no major deficiencies here other than the limitations of the source material.




Break bumpers are intact for all of the shows.

Audio


Audio for all of the shows is presented via a two-channel mono track. Once again, this doesn't suffer from any deficiencies that might limit one's enjoyment of the content. Sadly, there are no subtitles.

Extras


Aside from the sheer variety of shows included in this set, disc three includes an image gallery (3:01).

Overall


Grayson is a cult television icon, and Network should be commended for the sheer scope of Larry Grayson-themed material that is included in this set. From shows featuring Grayson at his peak to retrospective discussions of the star's life and work, this set contains a huge variety of material. For fans of Grayson's work, this set comes with a strong recommendation.

For more information, please visit the homepage of Network DVD.
| | | | | |
| --- | --- | --- | --- | --- |
| The Show: | Video: | Audio: | Extras: | Overall: |