The Film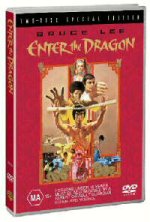 To many kung-fu fans "Enter the Dragon" is the crown jewel of the genre. I wouldn't consider it that good, but thanks to Bruce Lee it is very entertaining to watch.
Lee's character (whose name is Lee) is the best student of the School of Martial Arts taught by Shaolin monks. He is invited by Han (Shih Kien) to join a tournament on his island fortress. Secretly he also is there to investigate Han, who is suspected of drug smuggling. On a personal vendetta, Lee joins to get revenge against Han's bodyguard, Oharra (Robert Wall), who he believes is responsible for his sister's death.
Plot wise there isn't much more to say. Compared to other martial arts movies the story is ok, but it is still obviously tailored to having fights in a set environment. For that, it definitely gives the audience what it wants. It also helps that the dialogue is decent, and not just the fighters using cliches in between their matches.
Lee was easy to like in the role being the consummate hero throughout. He could have easily been a great villain though, because it wasn't his acting, but his fight style that made him a star and keep his memory alive. He was a tremendous athlete who could have been just as lethal in real life with his ability if he chose to.
"Enter the Dragon" doesn't use all the fun props that a Jackie Chan film might, but it also doesn't use the graphic violence of other kung-fu flicks. I think entertainment wise it's somewhere in the middle, but with Bruce Lee and some decent dialogue, overall it proves to be better than average.

Video


Already owning the R2 UK SE (1 disc), and the noticeable amount of edge enhancement surrounding it, I was pleasently surprised to find a nice, clean 2.35:1 anamorphic picture. There are very little signs of grain or artefacting (which is fine as the film is reasonably old now), and the colours are good. Altogether, a sterling effort.

Audio


With plenty of choices in regards to the sound, I obviously went for English Dolby Digital 5.1 (French and Italian DD 2.0 Dual Mono is also present). The 5.1 track is ever present with good use of ALL speakers. The dialogue is clear and again, a sterling effort.

Extras


Audio Commentary
This informative audio commentary comes from producer Paul Heller and screenwriter Michael Allin. Presented in English DD 2.0 Stereo, however, it does come across as being a bit quiet so it did need to be turned up a bit.

Blood And Steel: The Making Of Enter The Dragon documentary
This half hour long documentary, looking at how they made the film is fast paced and enjoyable. It includes interviews with a lot of the cast (including a favourite of mine Sammo Hung) and although it's not exactly in depth, it gives you the feeling that a lot of strenous work went into the feature.

Bruce Lee: In His Own Words
This is an interview with the man himself, Bruce Lee. Unfortunately in black and white the picture is pretty bad. But hey, this is an interview with god for christs sake.

Linda Lee Cadwell Interview Gallery
A selection of interview snippets with Bruce Lee's widow, Linda Lee Cadwell. Doesn't really add much that we haven't seen already.

Lair Of The Dragon: Backyard Workout
Footage of Bruce Lee, practising his stuff. Cool, though barely two minutes.

Curse Of The Dragon documentary
Just short of 90 minutes, this is where the extras really kick into place. This fantastic documentary is from 1993 and features some interviews, behind the scenes footage and plenty more. Full marks to WB for not issuing this as a seperate release.

Bruce Lee: A Warrior's Journey documentary
A 2000 documentary with more of the same plus more. Some great information about the various aspects of Bruce Lee's life, and again, top marks to WB for mnot releasing this has a seperate DVD!

7 TV Spots
We've all seen these before.

Theatrical Trailers
4 of 'em!

Overall


Fantastic disc and an above average film. Nearly comparable to a Hong Kong Legends release.
| | | | | |
| --- | --- | --- | --- | --- |
| The Film: B- | Video: A | Audio: B | Extras: A+ | Overall: A- |