The Film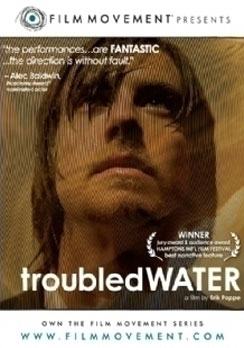 One mistake can change the course of your life forever. Make a big enough boo-boo and your actions send a shockwave through the community and literally disrupt the lives of those around your for years to come.

At the age of sixteen Jan (Pål Sverre Valheim Hagen) made one such mistake. A freak accident – a teenage prank gone horribly wrong – ends with a young boy dead, and serious repercussion for Jan. Fast-forward some years later and the teen is now a grown man; a gifted organist and just about ready to be released on parole. Wanting to start his new life, but haunted by the demons of his past (both figuratively and literally, as many in the town still remember the incident he was involved in), Jan changes his name to Thomas (his legal middle name) and with the help of his prison therapist and a few others, lands a job as an organ player for the local church. While there, he falls for a young priest named Anna (Ellen Dorrit Petersen), who has mutual feelings for him. Jan Thomas falls, hard, even becoming a father figure for Anna's son Jens (Fredrik Grøndahl), a child eerily similar-looking to the boy that died in Jan's care years earlier. All seems perfect for the musician – almost too perfect. But, when Agnes (Trine Dyrholm), the mother of the young boy who died, finds Jan Thomas to be living happily and seemingly without remorse, she hunts him, haunts him and turns his happy new world on end.

"Troubled Water" (titled "DeUsynlige" in it's native language) is the latest film from Norwegian filmmaker Erik Poppe. It's a tale of redemption, regret, loss, music and faith. It's an exceptional piece of work. Shot beautifully by John Christian Rosenlund, and based on a script by Harald Rosenløw-Eeg, the production is a cerebral meditation, on people and ability to forgive. It deals with deep issues and has an emotionally charged core. The acting on screen is outstanding – raw and natural – especially from Pål Sverre Valheim Hagen. Natural, engaging and powerful, he is able to convey so much without uttering a single word; it's really astounding. The greatness of this film is in the performances; tattered, worn-down and broken you see the pain that Jan feels just in the actor's eyes and subtle movements and that is impressive. And as Agnes, a woman on the verge, dangerously clinging to the last fringes of her sanity, Dyrholm is inspired. The photography, the story, the score and the acting – all of it – just perfectly mesh to create something truly special.

A twist at the hour-ten mark takes the story down a predictable, rather obvious path, and for that I do have to deduct points. But, the film nearly makes up for the contrivance of it all by treating said twist wisely and with care; unraveling the intertwined nature of a sudden second narrative with skilled precision. Could the film be called pretentious? Maybe at little bit, but I don't care; I still think that the tale and how it's told is backed up by perfection in all the key areas that it need be. Of the four Film Movement discs I've reviewed over the past week and a half, "Troubled Water", as a film, is my favorite. It's an approachable, resonant, well-told and often handsome film. Easily recommended.

Video


"Troubled Water" has been granted a rather nice looking 2.35:1 anamorphic widescreen transfer. Film grain is surprisingly clean, but well rendered for standard definition, keeping a filmic 35mm like appearance. The film favors earthy colors including a wide range of browns, which gives the image an eye-catching, warmer appearance. Contrast is exceptional, with crisp edges and a strong, sustained black level. A touch of edge enhancement in some scenes knocks down the rating a bit as the sharpening makes the film look slightly artificial, but overall this is a good-looking disc (in standard definition terms anyway) that won't wow with bright colors and sharp detail, but nonetheless will impress those who appreciate organic film-like transfers.

Audio


Film Movement keeps in line with their practice of including a Dolby Digital 2.0 stereo track (48kHz/224kbps) in the films native language, which in the case of "Troubled Water" is Norwegian. Slight, front focused (obviously, as it lacks discrete surround channels) and a little thin, I can't say that this mix impressed me a whole lot. Opposite of the visuals, which are natural and cinematic, the sound design feels small and ineffective, which I think may stem from the anemic 2-channel Dolby track and, in this case, not be source related. "Troubled Waters" could have been something praiseworthy but as it is, it's not. I seriously doubt that the film was produced in stereo, so why is it presented that way on DVD? It's even more disappointing because I really liked the score.
Optional English subtitles appear inside the image, above the lower letterbox bar.

Extras


"Troubled Water" includes just the bare essentials for a Film Movement disc – a short film, skimpy text extras and a few promotional bonuses in the form of trailers and such that help sell the DVD series.

Four text-based biographies are included for the films main cast and director:
- Erik Poppe (Writer/Director); 2 pages
- Pål Sverre Valheim Hagen (Jan Thomas)
- Trine Dyrholm (Agnes)
- Ellen Dorrit Petersen (Anna)

A theatrical trailer for "Troubled Waters" runs 2 minute 5 seconds, in 2.35:1 anamorphic widescreen.

"Also from Film Movement" is a text-based feature that simply lists a few of their recent DVD titles including such films as Shane Meadows' "Somers Town" (2008) and Kenneth Bi's "The Drummer" (2007).

"This Month's Short Film…." – every month Film Movement includes a short film with each main feature. Accompanying "Troubled Waters" is "The Kolaborator" (2007), a film by Chris Bessounian, from the United States. In it, Goran, a young, up and coming soccer player is forced to put his life on hold when he's forced into the Yugoslavian army. All's well and good for the one-time athlete (relatively speaking; as good as it can be for a drafted soldier), until one day he's ordered to kill someone from his past. 1.85:1 window-boxed widescreen with 2.0 Dolby Digital sound. English subtitles are included. 14 minutes 41 seconds.

"About Film Movement" includes a short text-based description of the DVD series.

Bonus trailers for:

- "For My Father" runs for 2 minutes 4 seconds.
- "Gigante" runs for 1 minute 29 seconds.
- "Somers Town" runs for 2 minutes.
- "Film Movement" spot runs for 30 seconds.

Packaging


A clear plastic amaray case houses a single disc. The interior of the case also includes two short essays – one from the filmmaker and one from the disc publisher. "Troubled Waters" is film eleven of year seven.

Overall


An exceptional film receives a mixed DVD release. Strong visuals are mated with a weak native-language stereo track and extras that are essentially non-existent. I recommend this one on the film alone, but I wish the DVD had been given better treatment. More so than any other title from Film Movement, "Troubled Water" makes me wish the distributor would embrace Blu-ray, because I imagine that the film would look exquisite in high definition.
| | | | | |
| --- | --- | --- | --- | --- |
| The Film: A- | Video: B- | Audio: C- | Extras: F | Overall: C |