The Film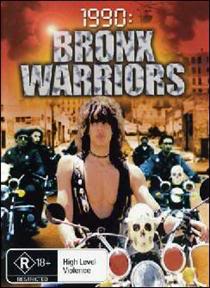 Essentially set in a post-apocalyptic future (1990, as this was filmed in the early '80s), the main characters of this film are Trash (looking like a dying rock star on a motorbike) and Anne (the daughter of a power-hungry arms company - the Manhattan Corporation). The beginning of the film sees Anne running away from the clutches of the company to the 'less bad' area of the Bronx, where she meets Trash and his cronies, who rescue her from a set of roller-skaters (self-proclaimed 'The Zombies'). Anne finds in Trash something to keep her going in life, and Trash latches onto this too. Trash and his gang fight the Manhattan Coporation for all they're worth, and lots of people are killed along the way. What a nightmare.

I began this film with averagely good expectations, and sadly it didn't disappoint. Certainly not a great film, and not amazingly written, there were many elements of previous films such as John Carpenter's "Escape From New York" - but Bronx Warriors misses something that Escape.. contained, that in my mind was vital to it's success and enjoyment. There are some redeeming features to Bronx Warriors though, and it has some good visual effects in terms of blood and guts (sadly the fighting scenes themselves are a bit weak though). Some of the violence is also funny for the wrong reasons, namely the cheesy dialogue it is paired with.

The acting in the film is nothing spectacular either, and the lead Trash (Mark Gregory) is particularly bland, although looking the part. The actors portraying the Manhattan Corporation figures are also rather bad, but then I did take into account that this film is more about the action than the dramatic performances by the cast etc. The look of the films is probably it's strongest aspect and I was pleased to see a very good transfer on the DVD. Colours reflect the post-apocalyptic nature of the film and range from some fairly bright colours to some depressing and 'earthy' looks and all work well on the whole. Also, importantly, the blood colour looks realistic, which made the violence more 'real' in my mind.

Altogether a mixed bag of sorts, a watchable film but not one that comes recommended, especially given the previous (and better) types of film in this genre. Definitely not one of Enzo G. Castelleri's finest.

Video


Stomp Entertainment have provided us with a very good transfer. Sure, there are hints of grain and other problems in it, but for the most part this is a very clean look, and I was more than satisfied with the picture. Colours are presented well in my opinion, and the (1.85:1) Anamorphic transfer was a bonus. Best feature of the disc as a whole.

Audio


An English audio track is presented here in 2.0 mono. To begin with I was impressed with this, as the synchronisation worked well, but soon it all went to pieces. The track goes in and out of sync with the movie as it goes along, which sadly makes it more difficult to understand (really didn't need to be)... Some parts of the English audio seem to match lips to words, so I wonder if the filmed version contained part in English, but either way this audio track is not great, and not one I'd recommend.

Extras


A couple of Bonus Trailers for "New York Ripper" (3:19) and "Manhattan Baby" (3:04) - both are very interesting, and I am interested in checking them out, although hopefully they will be better than this film. Only other extra is a Slideshow (3:05) which has some good bits to it, including original Italian posters, but nothing particularly amazing on offer here.

Overall


Despite the fact the film is not especially good in my mind, the DVD presentation has been done well (in terms of visuals) and the sound is sufficient. Sadly none of the extras from the R1 US version made it to this Australian disc - so if you're a fan of the film you'll probably want to check out that edition. The two Bonus Trailers are mildly interesting, however, although the Slideshow is nothing much. Perhaps worth a rental.
| | | | | |
| --- | --- | --- | --- | --- |
| The Film: D+ | Video: B- | Audio: D | Extras: F | Overall: D+ |