The Film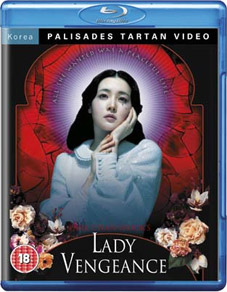 "Lady Vengeance" (AKA "Sympathy for Lady Vengeance") is a very difficult film for me to review. I love it, but I also see its many problems, most of which are due to its lineage rather than its content. Taken as part of the "Vengeance Trilogy" (2002-2005) somehow detracts from the voice that director Chan-wook Park has given this the third film in the so called trilogy. "Lady Vengeance" is quite a different beast form the previous to films. Itís more esoteric, slower burning and far more focused on the personal turmoil caused by events rather than the events themselves. Itís also a bit of head trip (which considering the previous works in this series is saying something).

"Lady Vengeance" is put simply a character piece. We follow the life of Lee Geum-ja (Yeong-ae Lee), who has spent several years in jail for the killing of a young boy. A crime she has confessed to but may not have actually committed. As a result her daughter has been taken away form her. Eventually she is reunited with her daughter and certain disturbing revelations are made that lead Lee down a dark path.

Like the previous Vengeance films the less you know before going in the better, and if you enjoyed the previous films then this one is sure to please just as well. However while both "Sympathy for Mr. Vengeance" (2002) and "Oldboy" (2003) focused on the catharsis of externalising your anger, and the motivations that lead people to do what previously would have been inconceivable. "Lady Vengeance" offers a different perspective. It is a very introspective film and being touted as part three of the series can lead to certain misconceptions. This isn't another bombastic revenge film. It by comparison is quite sedate, and while the tone is still very dark, and the humour still very black this film doesn't focus on the act of revenge itself, but on how Lee digests events and the personal journey she undertakes to find resolution within herself. The act of revenge here is secondary.

"Lady Vengeance" is a beautiful film. Wonderfully shot, framed and edited. The film has at times an ethereal quality that is very hard to present to an audience without seeming trite or forced. Here though it seems natural. If anything "Lady Vengeance" feels natural throughout. Every event flows seamlessly, and despite the proliferation of secondary characters and numerous flashbacks it never become bogged down with such a dense (and potentially confusing) narrative.

The contrasts from scene to scene highlight Lee's state of mind, and do it so effectively that you don't realise on a conscious level just how evocative the effect really is. Upon re-watching the film the tonal shifts, fluctuating light textures, subtle contrast differences and even the motion of the camera become more apparent, but watching the film for the first couple of times itís just affecting rather than an effect. The subtlety used here is awe-inspiring, and something the current generation of jump cut MTV trained ADHD filmmakers should take heed of. When I say beautiful it is just that.

This is not "Oldboy 2" if however you have enjoyed the previous (or subsequent) work Park has done then by all means buy/rent this film. Is it a wonderful movie made by the best film maker in Korea today.

Video


Presented in its original aspect ratio of 2.39:1 in HD 1080p 24/fps and encoded with AVC MPEG-4 compression. The picture in this Blu-ray is brilliant, contrast is terrific. A clear and concise transfer with a high level of fine detail. There is an amazing colour separation and the pallet is given the very best treatment to be fully expressed. Primary colours are bold and well defined, bright whites, and deep rich blacks make this disc a joy to watch. No artefacts or any visual noise were apparent throughout the entire film. Nor did I detect any scratches, dirt, or smudging. Palisades Tartan have once again released a Disc of exceptional visual quality, and any film fan will be more than happy with the transfer. It is always gratifying to see a company release a quality product despite the limited appeal of foreign language films. This is truly a beautiful transfer of a beautiful film.

Audio


"Lady Vengeance" is offered in Korean DTS-HD Master Audio 5.1 surround mixed at 48kHz/24-bit. Once again the quality of audio from Palisades Tartan is beyond reproach. A dynamic mix given full uncompressed reign to express itself. A clear top end and mid range are equally impressive, and while not overly active, the bass is very deep and suitably punchy. The dialogue is crisp, clear and very easy to follow. There are no noticeable pops, cracks, or hisses.
Overall the DTS-HD Master Audio 5.1 track by itself is a good enough reason to consider upgrading from the DVD.
English subtitles are also clean, clear, and always easily readable.

Extras


Unfortunately the extras on this release (much like many of Palisades released) are sparse. There's an audio commentary, a 5-part making-of documentary, some interview segments and a collection of teaser and theatrical trailers. Below is a closer look at these supplements.

There's an audio commentary by director Chan-wook Park and cast members Yeong-ae Lee and Choi Min-sik discuss the film. A fairly average at best commentary in their native Korean with English subtitles. While it offers some insight it doesnít even scrape the surface of the motivation of the film, and it mostly a discussion of the technical aspects of the film.


"The Style of Lady Vengeance" 5-part making-of documentary, it's mostly stock standard making of offers some insight, but is really just a filler, the segments include:

- "Visualisation" which runs for 6 minutes 24 seconds and look at the aesthetic style and visuals of the film.
- "Production Design" which runs for 8 minutes 17 seconds, takes a look at the sets and locations.
- "Costume and Make-up" runs for 8 minutes 5 seconds, takes a look at the intricate costumes and the make-up work.
- "Art" runs for 7 minutes 2 seconds, is a look at the art design.
- "CG" runs for 6 minutes 58 seconds, takes a look at the visual effects.

"The characters of Lady Vengeance" interviews, are background pieces on the core characters. It's a mildly interesting feature, but it so easily could have been so much more. The clips included are:

- "Yeong-ae Lee" runs for 6 minutes 30 seconds.
- "Choi Min-sik" runs for 6 minutes 40 seconds.
- "The Prisoner" runs for 5 minutes 22 seconds.
- "The Bereaved" runs for 7 minutes 38 seconds.

The disc also features the original Korean teaser trailer that runs for 1 minute 52 seconds, the Korean theatrical trailer that runs for 1 minute 54 seconds, the English teaser trailer runs for 46 seconds and the English theatrical trailer that runs for 1 minute 41 seconds.

Overall


An impressive film given an equally impressive presentation. Fans of the film will love the quality of the transfer and should in my opinion buy this disc as soon as possible. For those who have yet to experience this wonderful movie this Blu-Ray disc offers the best possible medium to experience it for the first time.
| | | | | |
| --- | --- | --- | --- | --- |
| The Film: A | Video: A+ | Audio: A+ | Extras: C+ | Overall: A |