The Film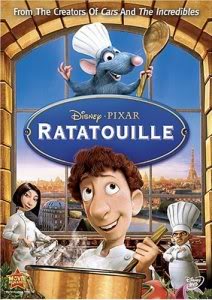 Over the years, with thanks to many an animated film, I have learnt many things about the world that were previously unknown to me. It's quite humorous to me that it took so long to find out that cars could talk, penguins could surf, the world had Incredibles, and...I've run out of examples. There were toys as well, right? Buzz Lightyear and a cowboy? The world contains many wonders, it's true. "Ratatouille" is one such wonder.
From Disney & Pixar, the minds behind "Cars" (2006) and "The Incredibles" (2004), comes this classic rat out of water tale. Well, that's not quite the phrase, but then "Ratatouille" is not quite so easily pigeon-holed either. It is one of the finer CG-animated features to come down the pipeline in recent memory. And as much as there is a glut of these movies around, ever since the first CG film made much moolah for film studios, like the saying goes 'the cream will rise to the top'. This cream rose, and deservedly so. Top notch effects, appropriate voicing, and a strong script all combined to make quite the pleasurable experience for all viewers.
The plot concerns Remy (comedian Patton Oswalt), a young rat living in Paris that tires of the garbage that rats are forced to eat and dreams of becoming a chef. Through a series of bizarre events, including finding out that his favorite chef Gusteau (Brad Garrett) is now dead and sort of in spirit form talking to him, Remy ends up in Gusteau's restaurant. He befriends Linguini (Lou Romano), a clumsy garbage boy and a worse cook, and together they team up to cook using Remy's natural talent and Linguini's ability to stand in public places without being broomed in the face. Naturally the film sort of glosses over how Remy can read...but a bit of lip service is thrown as to why he acts so un-rat-like in general. However the fact that Remy yanks on Linguini's hair in order to control his cooking actions is just plain silly. But it is forgivable as a necessary plot device that does elicit many laughs throughout.
Things don't go smoothly for our boys though, and the crack one-man-one-rat cooking team find themselves under the scrutiny of the sous chef Skinner (Ian Holm) who wants to push Gusteau's restaurant as a lowest common denominator franchise. But he also harbors a secret about Linguini that would take everything away from him. Combined with the attention of France's top food critic, Anton Ego (Peter O'Toole~!) who always had it in for Gusteau, Remy and Linguini have their work cut out for them...
Despite the usage of talking animals I'd have to say this is the most adult of films to come from Pixar. Featuring more drama than straight comedy it will appeal to adults far longer than it will to children, a friend who saw it at the cinema and still raves about it to this day. I was pretty unsure beforehand but can now admit that my skepticism was completely unfounded. You can tell the effort that director Brad Bird and the rest of the Pixar team put into this. The film is vibrant in animation, action, and imagination. It is easy to recommend for the simple reason that I don't believe there are many CG-animated features that are better than this one. There is no reliance on tired clichés or tired bathroom humor. It's just a good yet bizarre story that fires on all cylinders the entire way through. Pick it up and enjoy.

Video


Presented in the film's original theatrical widescreen ratio of 2.39:1 this anamorphic transfer is as expected reference quality stuff. True to form as all previous Pixar films simply look brilliant and "Ratatouille" is no exception. The animation appears smooth and image works well to balance the action and with control so no blurring is seen (which can be a problem with some animated film transfers). The image is sharp and displays the total range of detail in which the filmmaker's painstakingly rendered in backgrounds and manly character detail. The colors are rich, lush and vibrant with skin tones that look real enough but still look a bit plastic (although the character's retain a neat cartoon-like look to them). Blacks are deep and I spotted no flaws what-so-ever from this transfer taken direct from the original digital source.

Audio


This film includes two audio tracks in English Dolby Digital 5.1 EX as well as an English Dolby Digital 2.0 Surround track. For the purposes of this review I chose to view the film with its 5.1 EX track and found it a wonderful accompaniment to the spectacular image transfer. The track is active and vibrant, with activity all around the 5.1 space. The kitchen comes alive with directional effects that add a rich ambiance to the sound track. Dialogue is clear and distortion free and the film's score provides a richness that adds further depth to this track.
Optional subtitles are included in English only.

Extras


Buena Vista Home Entertainment has released this film with two short films, a featurette, deleted scenes and bonus trailers. Below is a closer look at these supplements.

First up is "Lifted" a new Pixar short film which runs for 5 minutes 6 seconds, this is a humorous little film about a young alien being trained to abduct humans out of their houses with a tractor beam. Expect it's easier said than done. This film is another excellent example of why Pixar continues to deliver wonderful entertainment as they clearly foster the talent of their animators with these short films and eventually they'll make the leap to producing a feature. I look forward to what director Gary Rydstrom has in-store for us in the future.

Following that is "Your Friend the Rat" a second short film which runs for 11 minutes 19 seconds. In this film Remy and Brother Emile take us through a history of rats and where they came from, the types of rats and also covers some of the good things about rats versus the bad. This film tries to make rats more appealing to people. It's a funny clip that features some very neat retro-styled animation.

Next up is "Fine Food and Film: A Conversation with Brad Bird and Thomas Keller" a featurette that runs for 13 minutes 57 seconds. This clip shows the level of attention, artistry and passion behind both men and their professions. Bird comments on the idea for the film and inspirations, creating the feeling of spontaneity while Chef Keller takes us through his culinary inspirations and on creating dishes. The clip covers their backgrounds, in developing their craft as well as a brief look at Bird's directing style and how he strives for the best from his team and on how demanding he can be at times. The two men draw comparisons in their vision and passion and although the clip was short it was a welcomed addition to this DVD.

Also featured are 3 deleted scenes that include some intros and outros from director Brad Bird, the scenes can be viewed individually or with a 'play all' option and include:

- "Chez Gusteau" which runs for 4 minutes, is an incomplete scene (rough storyboard animation), of a panning shot that spans the entire Paris skyline all the way into Gusteau's restaurant and through the kitchen. This shot sets-up the entire environment.
- "Meet Gusteau" runs for 6 minutes 1 second, Gasteau argues with Skinner about the over-marketing of his restaurant and microwave food while Linguini is on his first day on the job and looks for inspiration.
- "First Day" runs for 5 minutes 16 seconds. This covers Remy's first day cooking with Linguini, the characters get right into it without a set-up of the two learning to work with each other.

Rounding out the extras are a collection of bonus trailers for:

- "101 Dalmatians: Platinum Edition" which runs for 51 seconds.
- "Snow Buddies" which runs for 2 minutes 13 seconds.
- "Pixar Short Film Collection" which runs for 1 minute 55 seconds.
- "Wall-E" which runs for 1 minute 38 seconds.
- "Disney Features" which runs for 55 seconds.
- "Disney Movie Rewards" which runs for 25 seconds.

For cinephiles and home theater enthusiasts the disc also features an A/V calibration test for appropriate settings to view this film.

Overall


The only downside to this release is that there weren't more extras, I miss the days when Pixar releases were 2-discs loaded with making-of material...
| | | | | |
| --- | --- | --- | --- | --- |
| The Film: A- | Video: A+ | Audio: A | Extras: B- | Overall: A- |