Renaissance
R1 - America - Buena Vista Home Entertainment
Review written by and copyright: Noor Razzak (1st August 2007).
The Film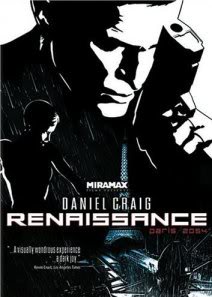 Adult themed animations have been gaining popularity for many years now; mainly they take the form of Anime or Japanese animation. Such films as "Akira" (1988), "Ninja Scroll" (1993) are two classic examples. In recent years other entries have been made into the genre from sources outside Japan, Richard Linklater used rotoscope animation to bring to life his pretentiously lucid film "Waking Life" (2001) and the adaptation of Philip K. Dick's drugged out futuristic paranoia-piece "A Scanner Darkly" (2006), but Linklater isn't the only one taking current techniques to a new level, French filmmaker Christian Volckman has taken motion capture (as used to bring the characters Gollum in "The Lord of the Rings" Trilogy (2001-2003) and Kong in Peter Jackson's remake of "King Kong" (2005) to life). The process takes actors covered in reflective balls covering their bodies, their actions are caught on special cameras that track their movements. Then a computer effects crew can take those movements and build a fully rendered CG character based on a real-life performance (the video game industry also uses this technology for sports games among others). Volckman was then able to create the film's unique black and white motifs that ground the tone of the film squarely in the realms of noir, or to be more specific 'tech-noir'. Heavily influenced by such things as George Orwell's "1984" and compared to "Blade Runner" (1982), "Renaissance" took six years to complete because of the demanding and complicated animation process. The result is an interesting exercise that often makes way for impressive shots and production design but very little in terms of substance.
"Renaissance" Takes place in Paris in the year 2054, Avalon, a cosmetics company has hired a Section K Inspector Barthélémy Karas (Daniel Craig) to find Ilona Tasuiev (Romola Garai), a scientist employed by Avalon has been kidnapped outside of a popular club. Barthélémy is told to find her at all costs, and suspects that her kidnapping has something to do with her work at Avalon but her work may have grave consequences.
For sci-fi buffs this film has a lot going for it, the slick animation is beautifully rendered, the black and white creates a harsh contrast that mirrors the tone of the world in which the characters reside in. The unforgiving future is appropriately dark, this is where the similarities to "Blade Runner" begin, that and Inspector Barthélémy Karas is very similar to the character Rick Deckard. Similarities aside the true star of this piece is the animation, offering a unique and interesting way of presenting this futuristic tech-noir entry into the genre. However, the animation can and is a burden as well, the dark tones make it often confusing in keeping up with what's going on and the slickness of the shots isn't always consistent.
One of the major downsides to this film is its unoriginal plot, filled with futuristic mainstay clichés such as a dark future run by corporate giants, themes of big brother surveillance taking a page right out of Orwell's novel and the villain ultimately being science and technology and how it has taken over our lives. "Renaissance" comes across as a 105 minute homage to the classics of the genre but packaged in a cool-new-look that tries to shine over the limitations of its script. It's very much a live comic book that will likely appeal to fans of independent hard boiled comics and noir-themed detective pot boilers with a penchant for the animated.

Video


Presented in the film's original theatrical ratio of 2.35:1 this anamorphic transfer presents the film in near-pristine form. The image is sharp, although there are some minor instances of jagged lines around the animated shapes. The contrast is brilliant with deep bold blacks and bright solid whites; little is used by way of grey shades. Other than that the image is clean and crisp without any major compression related problems.

Audio


Two audio tracks are included in English Dolby Digital 5.1 and also in French Dolby Digital 5.1. For the purposes of this review I chose to view the film with its English soundtrack. A lot of this film is centered on the dialogue with some well mixed activity making up the majority of the tracks depth. Dialogue is clean and clear without any distortion, the surround effects sound natural with ambient noise used effectively to create an atmosphere. Range is excellent and the score is given ample breathing room throughout the 5.1 sound space.
Optional subtitles are included in English for the hearing impaired, French and Spanish.

Extras


The main supplement on this disc is "The Making-of Renaissance" a featurette that runs for 26 minutes 8 seconds. This clip is in French with English subtitles, the clip takes a look at the original product which includes the demanding motion-capture process with the performers as well as the long and complex CG animation process in creating the film's look. Like a lot of featurettes this one also has interviews with key cast and crew (only French, the English language cast is not actually mentioned in this piece) and also features some fascinating behind-the-scenes footage from the production as the filmmakers take us through the development and design process allowing the viewer a better understanding of what they were trying to achieve.

Rounding out the extras are a series of bonus trailers for:
- "The Invisible" which runs for 2 minutes 31 seconds.
- "The Hoax" which runs for 2 minutes 30 seconds.
- "Neverwas" which runs for 2 minutes 10 seconds.
- "The Lookout" which runs for 2 minutes 28 seconds.
- "The Roger Corman Collection" which runs for 1 minute 12 seconds.

Overall



| | | | | |
| --- | --- | --- | --- | --- |
| The Film: C+ | Video: A | Audio: A | Extras: C- | Overall: B- |

---
DVD Compare is a participant in the Amazon Services LLC Associates Program and the Amazon Europe S.a.r.l. Associates Programme, an affiliate advertising program designed to provide a means for sites to earn advertising fees by advertising and linking to amazon.co.uk, amazon.com, amazon.ca, amazon.fr, amazon.de, amazon.it, amazon.es and amazon.se.