The Film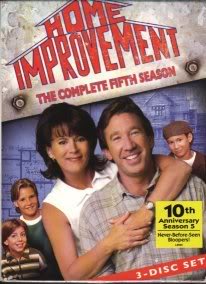 I had fond memories of "Home Improvement" as a child. I think it was just the fact that it was on right before the news, which is dinner time. It was a thing that we did at school, that Tim "The Tool Man" Taylor monkey noise. Man, kids will like anything.
"Home Improvement" featured Tim Allen (who the DVD case refers to as 'comedy superstar') as the host of the TV show Tool Time who says 'more power' a lot. He is joined by his loving wife Jill (Patricia Richardson), his three children , Dumb ass (Zachery Ty Bryan), Smart ass (Jonathan Taylor Thomas), and Whiny (Taran Noah Smith) and his plaid shirt wearing co-host Al Borland (Richard Karn). Oh, and who could forget his neighbour, Wilson (Earl Hindman), whose face you never saw because things like that seemed to be funny in the nineties.
The main thing that "Home Improvement" had going for it was the fact that, unlike most 'sitcoms' today, they didn't rely on smutty comedy to get the job done. No, all you needed was an adult male who likes to grunt because he's a man and men are apes, and a laugh track. It's so simple that I wish I'd thought of it. I bet Tim Allen was thrilled; he is one of the few convicted drug dealers to get a job working at Disney. Seriously, yeahokaybutwuh?! If I sell crack, can I get a career that peaks with making animal noises and that hits rock bottom when I complete the change and turn into an animal for an atrocious remake? Meh, I'm sure it's going to beat his "Sky High" (2005) rip-off, "Zoom" (2005) or "Big Trouble" (2002), or most of his films that I looked up on IMDB. Did you know that he's sometimes credited as Timothy Dick? Now you do.
This is the fifth season of the show. There is a thread on the aforementioned IMDB that asks "Which is the funniest season of Home Improvement?" As of yet, nobody has replied. It's been a few months. That pretty much sums up Home Improvement as a whole. Still, this season does have a few bright sparks. But they are too few and far between, as the show continues to just meander on with it's stock formula of Tim doing something wrong, Wilson says something smart, Tim repeats it but OMG he says it wrong! It is teh funny~! And sometimes Al goes "I don't think so, Tim." It's not genius but I guess it gets the job done. The job, I guess is to fill half an hour with something with colors that move. And to create a brief launching pad for Jonathan Taylor Thomas, who was without a doubt the only saving grace of the show. It did also provide a platform for the oldest brother played by Zachery Ty Bryan to start what would be the basis for his entire career: playing a high school jock. Off the top of my head I can name at least six shows or movies where that has been his role. Seriously, off the top of my head, there's "Smallville" (2001-Present", "Veronica Mars" (2004-Present", "The Rage: Carrie 2" (1999), "The Fast And The Furious: Tokyo Drift" (2006), "Boston Public" (2000-2004) and "Buffy the Vampire Slayer" (1997-2003). I'm pretty sure he wears the same varsity sports jacket in all of them.
"Home Improvement" would continue on for another four seasons or so, which means it at least held up its popularity over that time, and has a place in the hearts of some. And for light-hearted fun, I guess it's an okay time-filler. Or, in the words of the only review on Amazon (which is reprinted here word for word, and mistake for mistake) by "Daveomatic", entitled "You don't have to be dirty to be funny":
"Home Improvement was a show that has set the standard for ethical and humorous family style entertainment. This is what Disney should still be doing today! It would be hard to believe that most everyone hasn't seen at least a couple of episodes of this classic comedy. The quality shines through as the bumbling antic's of the show's star, Tim Allen are as funny today as they were 10 years ago. Its good clean FUN! without the boring sexual innuendos and outright disgusting dialog that plague today's "family" TV shows." Indeed. So everybody listen to Daveomatic and rush out and buy this. Alternately, you could go and buy season two of the BBC series "Extras" (2005-Present), and thereby watch something good. Whatever floats your boat.


Video


Presented in the show's original broadcast ratio of 1.33:1 this full screen transfer is average at best and only slightly better than broadcast quality, the problem is that the image occasionally appears soft and condensing 9 episodes on a disc also causes some minor compression artefacts as noise is visible at times. Otherwise there are times when sharpness is fine, colors are natural and I did not find any evidence of bleeding. Aside from the problems addressed above there isn't much wrong with these transfers.


Audio


A single English Dolby Digital 2.0 Stereo track accompanies each episode, these are the original broadcast soundtracks complete with laugh track. The show doesn't really require full 5.1 and these Stereo tracks deliver the audio clearly and without distortion. The dialogue is nice and clear and with a show such as this that's welcomed. As far as Stereo tracks go these are run-of-the-mill but suit the show well.
Optional subtitles are also included in English for the hearing impaired.


Extras


Buena Vista has included a only a bloopers reel and a collection of bonus trailers for this release, below is a closer look at these supplements broken down per disc.

DISC ONE:

The only extras (if you can call them that) you'll find on this disc are a collection of bonus trailers that include:

- "The Santa Clause 3: The Escape Clause" which runs for 2 minutes 32 seconds.
- "Pirates Of The Caribbean: Dead Man's Chest" which runs for 2 minutes 14 seconds.
- "Alias: Season 5" which runs for 1 minute 14 seconds.
- "Scrubs: Season 4" which runs for 1 minute 27 seconds.
- "Invincible" which runs for 2 minutes 32 seconds.
- "Grey's Anatomy: Season 2" which runs for 1 minute 46 seconds.
- "Grey's Anatomy ABC Spot" which runs for 31 seconds.
- "Lost: Season 2" which runs for 1 minute 27 seconds.
- "Desperate Housewives: Season 2" which runs for 56 seconds.

DISC TWO:

There are no extras featured on this disc.

DISC THREE:

The only major supplement on this disc is a blooper reel that runs for 7 minutes 28 seconds, this is your usual collection of clips featuring the cast forgetting lines, flubbing lines, breaking out into laughter during a take and generally acting silly on camera, the footage included here ranges from monotonous and unfunny to mildly amusing.


Packaging


This 3-disc includes all 26 episodes from the fifth season of this TV series and is packaged in a digi-pack case with a cardboard slip-cover.


Overall


For a season set it's disappointing that there aren't more substantial extras such as episode commentaries, but if you've already collected the four previous seasons then there's no reason why you shouldn't pick this one up.

| | | | | |
| --- | --- | --- | --- | --- |
| The Film: C- | Video: B+ | Audio: B | Extras: D+ | Overall: C- |