The Film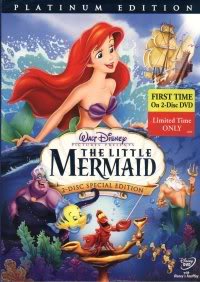 In the early 1980's The Walt Disney company was going through some tough times. It was years since they had a decent hit with their animation department. With film costs rising and more emphasis on live action production the obvious choice was to close down animation for good. In fact that was the general feeling around the company at the time, until a major shift occurred in management in the mid 1980's with a new CEO appointed, Michael Eisner with his team that included Jeffrey Katzenberg as head of animation brought their live action savvy and applied it to animation and developed it into what it has become today, a power house money maker for the company and it all started with a mermaid. Originally "The Little Mermaid" was a fairly tale book written by author Hans Christian Andersen which was published in 1836. The original book had a much darker tone, the mermaid goes through a great deal of pain in order to be with her prince and at the end of the story dies. The story was developed in the 1940's by Disney as a short vignette but the project never got off the ground. It was later re-introduced to the development team and would eventually be the tent pole holiday film for Disney in 1989.
"The Little Mermaid" was adapted for a more kid friendly audience so some changes were made between the original book and this feature film. The film would have a happy ending as with most Disney films and Ariel (Jodi Benson) doesn't go through a lot of physical pain in order to be with her Prince (in the book when she was granted legs, and the price of which was that she found it painful to walk). In this version the basic elements are similar, a mermaid, Ariel saves a Prince, Eric (Christopher Daniel Barnes), from a shipwreck and falls in love with him. The Prince becomes infatuated with his savior. Ariel decides to make a deal with an underwater witch, Ursula (Pat Carroll), in exchange for her voice Ursula will give Ariel legs so that she can be with her Prince. She accepts but has three days to make the Prince fall in love with her and kiss her to break the spell and she can have her voice back otherwise she will forever be mute. The film also includes a bevy of other creatures that are loyal to Ariel such as the fish Flounder (Jason Marin) and the Jamaican crab Sebastian (Samuel E. Wright).
The film was a groundbreaking feature for Disney at the time, employing the traditional hand-drawn animation method but also having to create the most intricate and many special effects for the film such as the elements of water, bubbles, rain effects, fog, lightening among other things. The film included some inspiring and beautifully rendered animation that is a Disney tradition mixed with an upbeat musical score and characters that are not only interesting and amusing but also relatable. The combination of great storytelling, well developed characters, stunning imagery, incredible music that moved the narrative and a lot of blood, sweat and tears with a little bit of heart created a memorable film experience that is hard to top. The film connects with audiences and involves you in the story, each scene is memorable and powerful. It's not hard to see why the film was a huge success for the company and saved them from near closure and open the gates for what would become a golden run for Disney that included "Beauty and the Beast" (1991), "Aladdin" (1994) and "The Lion King" (1994).
Kids and adult will love this film, it has everything you could possibly want, a wonderful story with magic and wonder. "The Little Mermaid" is a timeless classic that can be enjoyed on many levels.


Video


Presented in a widescreen ratio of 1.78:1, this anamorphic transfer is newly created and restored. I have not seen the previously released limited issue DVD released 7 years ago so I cannot compare the differences, but this version is sharp, the lines are clean and do not show any pixalation, the colors are rich, vibrant and virtually pop off the screen. Blacks are also deep and bold as they should be. I found little to no imperfections in this print, some shots look a little soft, otherwise I could not spot any major issues with compression, the print itself was free of grain, dirt or sparkle. Otherwise it's a near perfect transfer for this film and continues the high level of quality we've come to expect from the Platinum Edition banner.


Audio


Three audio tracks are included on this disc, an all new English Dolby Digital 5.1 "Enhanced Home Theatre mix" plus a French Dolby Digital 5.1 as well as a Spanish Dolby Digital 5.1 surround track. Again I have not heard the original DVD soundtrack so I cannot compare it to this new enhanced mix. I can see that this may cause a bit of a problem for purists but otherwise it's a rather engaging and immersive track. Dialogue is clear and is distortion free, the music is beautifully spaced throughout the 5.1 environment. Directional effects feel natural especially weather effects such as rain and wind are impressive and make for an impressive experience. Optional subtitles are included in English for the hearing impaired.


Extras


Buena Vista Home Entertainment has included a wealth of extras for this 2-disc release, this includes an in-depth documentary, a series of featurettes, a short film, a music video, deleted scenes, galleries, games and activities, a collection of bonus trailers among other things. Below is a closer look at these supplements broken down per disc.

DISC ONE:

The first extra on this disc is the feature-length audio commentary with co-writers/directors Ron Clements and John Musker, and composer Alan Menken. This is a scene-specific track as the participants discuss the gensis of the scenes, creating a color theme that suits the tone of the film, how certain shots were achieved for example some shots were planned in the computer before they were painted over. Menken discusses the musical cues and writing the score for the film as well as working with lyricist Howard Ashman in developing the songs. The directors provide a vast amount of background information as well as reveal a few secrets and point out some hidden tidbits for the fans. They also reflect on the voice talent and what they brought to the characters, the staging and layout of the animation, the effects animation such as bubble, light refractions etc. which, at the time was the most effects used in a Disney animated film.
This track is an excellently produced reference for the film, it includes just about everything you needed top know about this film and more. It's compulsory listening for fans.

A music video follows for an updated pop-rock version of the song "Kiss The Girl" performed by Ashley Tisdale that runs for 3 minutes 30 seconds and it's obvisouly aimed at a tween audience but she totally butchers the song in my opinion.

Next up is the Disney Song Selection section that features instant access to 4 of the musical performances from the film with optional lyrics also included on-screen, the songs included in this feature are "Part of Your World", "Under The Sea", "Les Poissons" and "Kiss The Girl".

Rounding out the first disc are a series of bonus trailers for:

- "The Little Mermaid III" which runs for 59 seconds.
- "Meet the Robinsons" which runs for 52 seconds.
- "Cinderella III: A Twist in Time" which runs for 1 minute 9 seconds.
- "Cars" which runs for 1 minute 7 seconds.
- "The Fox and the Hound: 25th Anniversary Edition" which runs for 54 seconds.
- "Peter Pan: Platinum Edition" which runs for 1 minute 34 seconds.
- "Robin Hood: Special Edition" which runs for 42 seconds.
- "Disney Princess Enchanted Tales: A Kingdom of Kindness" which runs for 1 minute 11 seconds.
- "Tinker Bell" which runs for 1 minute 28 seconds.
- "The Disney Cruise Line" promo spot which runs for 31 seconds.

Also on the disc is a DISC TWO Preview which is a trailer for the contents of the second disc which runs for 43 seconds and is a completely useless feature.

DISC TWO:

This is were we bulk of the extras are kept, this disc is split into three sections, "Backstage Disney", "Deleted Scenes" and "Games & Activities".

Backstage Disney

First up is the comprehensive "Treasures Untold: The Making Of The Little Mermaid" documentary which runs for 45 minutes 30 seconds. This feature is split into 6 sections that detail various aspects of the production. These sections can be viewed individually or with the option to 'play all'.
The first section is entitled "Prologue: Flower Street" co-writers/directors of this film revisit the Flower Street studio were the film was made, they talk of their experience at the studio and cover the background of the Animation department's move to that location from the Burbank studio during the slump which almost led to closure of the animation business at Disney.
The second section is entitled "Renaissance Men" this is about the new guys that moved in Michael Eisner, Jeffrey Katzenberg et al during the management change in 1984. These guys managed to turn the company around and focused on creative-based projects that led to some of the biggest and most successful films Disney has seen starting with "The Little Mermaid".
The next part is entitled "A Symphony of Talent" that looks at the process of coming up with the story ideas, the development of the pitch which was originally declined but later green lit. This section also looks at the talented people brought into the project.
The following section "Broadway come to Burbank (Adjacent)" is next and takes a look at the making of a successful musical, and includes an in-depth look at what lyricists Howard Ashman brought to the project and how songs can define a story and character. The songs added a new level to the film and really defined an entire picture. This section also focuses on what the voice talent brought to bringing the characters to life.
The next section "Setting Sail" deals with the marathon process of making an animated film and the challenges that it posed for the animation team. The character design of Ariel is touched on including the decision to make her hair color red. Also the real-life inspiration for Ursula is actually cross-dressing performer Divine. Plus we get a look at the process from storyboard to final animation but of course there were numerous road blocks.
Finally "A Mermaid Sings" caps of the documentary and looks at the preview screenings and the audience reaction, the marketing strategy and the film's subsequent release and success. A box-office hit that one one in the industry has seen before for a animated film.
This documentary is a valuable asset to this DVD release and makes for interesting and informative viewing.

Next up we have the "Storm Warning: The Little Mermaid Special Effects Unit" featurette which runs for 8 minutes 40 seconds. This takes a look at the complicated special effects created for the film, primarily the shipwreck sequence. The team reassemble after years apart to talk about the film and their work on it which includes the research that was undertaken and how they created many of the film's effects elements.

Following that is "The Little Mermaid: The Story Behind The Story" featurette and runs for 11 minutes 30 seconds. This is a look at the original source material as written by Hans Christian Andersen and how it differs between that and the Disney film.

A short film follows entitled "The Little Matchgirl" a 2-D animation that runs for 6 minutes 39 seconds and includes an introduction by the film's director Roger Allers. This is a short adaptation of another Hans Christian Andersen story that is set to music. The film is quite enjoyable and is beautifully realized.

6 "The Little Mermaid" Art Galleries are also included and cover the following:

-"Visual Development" which includes 50 images of artwork.
- "Kay Nielsen Artwork which includes 38 images of the work he created for the 1940's version that was never completed.
- "Character Design" which includes 6 sub-sections:
1) Ariel: which includes 43 images of concept art.
2) Ursula: which includes 50 images of concept art.
3) Prince Eric: which includes 28 images of concept art.
4) King Triton: which includes 17 images of concept art.
5) Sebastian: which includes 19 images of concept art.
6) Miscellaneous Characters: which includes 33 images of concept art.
- "Storyboard Art" includes 52 images of original storyboards for the film.
- "Backgrounds" includes 25 images of undersea background designed.
- "Production Photos" includes 25 images of the cast and crew at work.

These galleries provide a look inside the Disney vault of all the wonderful creative designs that were commissioned for this film and is a fantastic reference for fans and illustrators.

Next up is "An Early Presentation" reel which runs for 2 minutes 34 seconds. This was most likely made to show management and potential exhibitors what they are working on and gives the viewer a rough idea what the animators are trying to achieve.

The film's original theatrical trailer is also included and runs for 2 minutes 15 seconds and is the final extra in this section of the DVD.

Deleted Scenes

This section section of the DVD includes all of the deleted scenes from the film. These are all incomplete scenes. You can view them individually or with the option of a 'play all' button. Each scene includes a brief introduction from either one of the directors providing some background and why it was cut. The scenes included are:

- Alternate version of "Fathoms Below" which runs for 2 minutes 30 seconds, this extension includes the complete song and some exposition.

- "Alternate Version of "Poor Unfortunate Souls" which runs for 8 minutes 34 seconds. This is an extended version of the song that includes a middle verse and also some past history on Ursula is revealed.

- "Backstage with Sebastian" runs for 1 minute 40 seconds. Ariel's sisters discover that she is missing.

- "Sebastian Lost in the Castle" runs for 1 minute 50 seconds. This is an elaborate version of the scene in the film with Sebastian exploring the Prince's castle.

- "Advice From Sebastian" runs for 1 minute 30 seconds, this is earlier version of the scene with Ariel and Sebastian at night.

- "Fight with Ursula/Alternate Ending" runs for 6 minutes 50 seconds. This is a slightly longer version of the scene and with different dialogue.

- "Silence is Golden" a song demo that runs for 3 minutes is an audio only clip that is of an unused song.

Games & Activities

In this section is expected some interactive games but instead I got something entirely different, here are three features based on a theme park ride that was never realized and finally has been created in 3-D here. Also included is an educational clip.

"Under the Sea Adventure: A Virtual Ride Inspired By Disney Imagineers" includes three sub-sections:

1) "Ride the Attraction" which runs for 4 minutes 15 seconds and is a 3-D virtual theme park ride through various scenes that take place in "The Little Mermaid" film. This can be viewed with optional commentary by Senior Vice President of Imagineering Tony Baxter as he describes the development of the ride.

2) "Ride with the Imagineers" this feature runs for 5 minutes 15 seconds and you can view different parts of the ride's development stages from storyboards to models as well as a progress tracker that tells you how far in the ride you've progressed. This can also be viewed with commentary Senior Vice President of Imagineering Tony Baxter.

3) "Behind The Ride That Almost Was with Disney Imagineers" is a featurette that runs for 5 minutes 53 seconds and takes a look at the difference between the film and the ride and it's development which was ultimately dropped.

Also featured in this section is "DisneyPedia: Life Under the Sea" featurette that runs for 8 minutes 24 seconds and is an educational look at the real life seas animals that are featured in the film.

Rounding out all the extras is a booklet that provides background on the extras, a disc breakdown and chapter listing.


Packaging


This 2-disc Platinum Edition DVD is packaged in a amaray case housed in a cardboard slip-case.


Overall


As far as Platinum Editions go this carries on the tradition of high quality extras produced for an equally excellent film.
| | | | | |
| --- | --- | --- | --- | --- |
| The Film: A+ | Video: A | Audio: A | Extras: A+ | Overall: A |