Koko, A Talking Gorilla
R1 - America - Criterion Collection
Review written by and copyright: Noor Razzak (26th July 2006).
The Film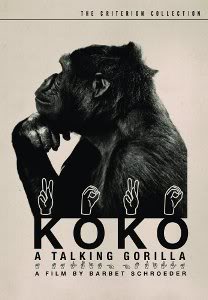 Filmmaker Barbet Schroeder is probably better known (if you know him at all) for his thrillers than documentary filmmaking, films such as Single White Female (1992), Kiss of Death (1995), Before and After (1996), Desperate Measures (1998) and the god awful Sandra Bullock vehicle Murder by Numbers (2002). All of which range from average to awful, these thrillers epitomize the paint-by-numbers structure, adding nothing new while being moderately entertaining. I prefer Schroeder as a documentary filmmaker than one sticking to fictional narrative, his 1974 film following Ugandaís military dictator Idi Amin Dada was not only interesting but the filmmaker probed the very essence of his subject and as a result created an insightful and sometimes disturbing portrait. His second documentary film would be Koko, A Talking Gorilla which focused on the animal the title references and the research being conducted to teach gorillaís American Sign Language. The film not only sheds light on this extraordinary research but the animals are capable to creating words and actually thinking about what they are saying or about to say.
Koko was born in captivity in 1971, and chosen for a controversial Stanford University study to teach the animal 1,000 signs to communicate. Previously it was proven that chimps could learn and utilize the language, it was doubtful whether gorillas could too, considering they are not as intelligent as chimps (as scientific research indicates). Under the guidance of Dr. Francine 'Penny' Patterson, Koko would progress in language and communication skills, although the process was not entirely easy, the learning process took years and constant repetition of the language in use everyday. Whether Koko actually understands what she has learned or if itís a result of operant conditioning is a debate which continues today and is something that the film briefly touches on as well as the concept that considering Koko can communicate she should be considered an individual and not property. Whether Koko is conscious of what she is signing or whether itís indeed a result of operant conditioning will have to be left up to you to decide. The film certainly opens those possibilities for discussion among viewers; the door is virtually open for debates that range in topic from animal rights to religious arguments regarding evolution.
The film invites you to make your own assessment, however there are times were Schroeder canít help but interject his own opinions. The film is fairly straight forward and follows the progress of Koko during her seventh year of life and features comments and insights from not only Dr. Patterson but other professionals in the field.
Koko, A Talking Gorilla can be seen as a entertaining film for young viewers (this was shown in schools for years) or can be utilized as a tool to spur dialogue about the concept of individualism and conscious thought among apes and monkeys. Either way itís certainly worth a look.

Video


Presented in the filmís original theatrical ratio of 1.33:1, this full screen transfer has been created with the filmís original elements and although Criterion tends to have a strong track record in delivering stunning presentations of film I was a little disappointed with this particular effort. To begin with the transfer is not progressive and visible combing can be seen, the image is also quite soft and film grain is evident throughout the print. On the upside itís relatively clean and display little to no cosmetic damage. Colors are a little muted but this most likely due to the age of the film elements; overall it could use some improvement.

Audio


The Criterion Collection presents the film with its original English Dolby Digital 2.0 mono track as well as a French Dolby Digital 2.0 mono track. I chose to view the film with its English track and found it to be quite good for a documentary of its age. The dialogue is clear and distortion free, this is about as much as one could ask for on a documentary.
Optional subtitles are also included in English.

Extras


First up is a new video interview with the filmís director Barbet Schroeder, running at 11 minutes 4 seconds Schroeder informs us of the reasoning behind making this film and the importance of it. He believes this is one of his best films and comments on a possible feature film version of the story heís wanted to make. There are some insights to be had with this piece but I found it entirely too short, I would have loved to hear from some of the participants in the original documentary now even Koko herself would have been nice. But alas all we get is this brief clip with the director.

Rounding out the extras is a 16-page booklet with liner notes essay by author Gary Indiana entitled Barbet and Koko: An Equivocal Love Affair and an essay by Marguerite Duras entitled This Large, Black Animal which will provide the viewer with additional background and understanding of Koko. The booklet, much like other Criterion editions also includes a chapter listing, credits, information about the transfer, special thanks, acknowledgements and DVD production credits.

Extras-wise this is not the best Criterion release, I would have loved an audio commentary or even a retrospective documentary that shows us what Koko and Dr. Patterson are up to today and their thoughts on the film.

Overall



| | | | | |
| --- | --- | --- | --- | --- |
| The Film: B | Video: C | Audio: B- | Extras: E | Overall: C |

---
DVD Compare is a participant in the Amazon Services LLC Associates Program and the Amazon Europe S.a.r.l. Associates Programme, an affiliate advertising program designed to provide a means for sites to earn advertising fees by advertising and linking to amazon.co.uk, amazon.com, amazon.ca, amazon.fr, and amazon.de.