The Film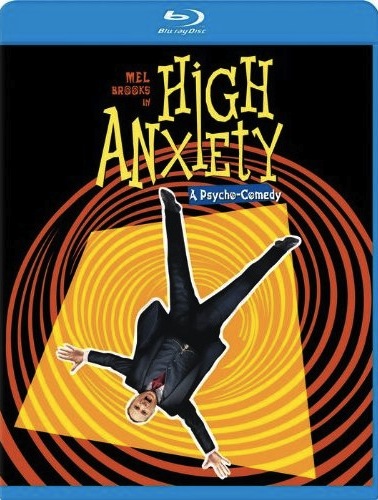 Mel Brooks and Alfred Hitchcock: a match made in heaven? Apparently so.

Yes folks, that like contains a video of none other than the Master of Suspense himself, Mr. Alfred Hitchcock, on the set of "Blackmail" (1929) doing his best Michael Scott impersonation. And that slip of a "that's what she said" joke (in his version the saying is actually "as the girl said [to the soldier]", but whatever), makes me think that if Hitch himself could appreciate the childish humor of a "that's what she said…" joke, that Brooks, with his similarly witty but ultimately tasteless sense of humor, was anything but the wrong man to tackle the daunting task of a Hitchcock parody.

Truth be told, Mel Brooks is probably the only man, or certainly one of the select few, who could properly send up one of the greatest directors of all time. Where more recent parodying fare has taken to making fun of the cinematic greats, often not realizing why the films they parody were good too begin with, Brooks actually has (or had) a great appreciation for the medium of film, and would lovingly homage any original works that he deems worthy to be a basis for his films. Brooks never so much made the original works look stupid, as he did note that, in the wrong context, some films could be hilariously silly. And that is what Brooks does with "High Anxiety"; he pokes holes in Hitchcock's filmography, making obscure, often crooked references to "The Birds" (1963), "Psycho" (1960), "North by Northwest" (1959) and more, but not without care and not without a smart and knowingness to the entire production. As if to prove to his detractors that Brooks respects the source material, "High Anxiety" even has a dedication to Hitch in it's opening titles, and Brooks expressly pursued a blessing from the man before he set out to write and direct the picture.

The plot goes like this: Richard H. Thorndyke (Mel Brooks), the newly appointed director of The Psychoneurotic Institute for the Very, Very Nervous, suffers from high anxiety, an irrational fear of high places. Thorndyke accepts the position under unusual circumstances, namely the sudden death of his predecessor. Upon arriving at the airport, the Good Doctor is met by his driver (and apparently self-appointed sidekick) Brophy (Ron Carey), who quickly reveals in general chitchat, his theory that there is something very, very wrong at the Institute for the Very, Very Nervous. Brophy believes that the previous Hospital Administrator might have been murdered by Dr. Charles Montague (Harvey Korman), his second in command, and the sadistic Nurse Diesel (Cloris Leachman), who rules the institution with an iron fist. Thorndyke originally waves the possibility aside, asserting that Brophy's imagination is simply getting the best of him, but he soon realizes that something mysterious is definitely afoot; well-to-do patients who haven't presented symptoms for months remain committed, the thinly-mustached Diesel has all the staff cowering at her every word, and a wealthy local business man, Arthur Brisbane (Albert Whitlock), is locked away in the most protected ward, and Montague is hesitant to let Thorndyke see him.

Various oddities occur at the hospital, but soon Thorndyke is whisked away to a psychiatric conference in San Francisco where he's been asked too be the keynote speaker. While he and Brophy are away, Montague and Diesel hatch a plan to frame him for murder, but only after Thorndyke meets Victoria Brisbane (Madeline Kahn), daughter of Arthur Brisbane, the peculiar industrialist that is being held at The Psychoneurotic Institute behind closed doors. Once framed, in pure Hitchcock fashion the wrong-man must prove his innocence, while on the run from police, only with the help of the shapely, blonde-haired Ms. Brisbane, with whom Thorndyke slowly falls in love with.

Part of the reason that I love "High Anxiety" is that it hits all the Hitchcock trademarks with just the right amount of cynicism, yet exists perfectly well without all of the references. It's its own story, self-contained, linear and well constructed, and is only enhanced by, but not dependant on, homage after homage. Another strong suit of the picture is it's odd cast of uniquely twisted characters which reference, either some Hitchcock staple (Kahn's breathy Brisbane) or another iconic personality from cinema, such as Nurse Diesel, who is obviously a takeoff of Nurse Ratched from "One Flew of the Cuckoo's Nest" (1975), but are still ultimately their own creation. The cast also includes Brooks-favorite Dick Van Patten, as well as Rudy De Luca, Ron Clark, Barry Levinson (the last three also co-wrote the screenplay with Brooks), and Howard Morris, as Thorndyke's mentor, Professor Lillolman (or, as most of the characters pronounce it, Little Old Man). But, really, although the film can be enjoyed without them, it's the jokes and gags, from shot-for-shot parody's of notable sequences in Hitchcock lore, such as what I deem to be the film's biggest and best laugh – a take on the infamous shower scene from "Psycho" (1960), involving a newspaper, Brooks in the Janet Leigh role, and Barry Levinson as a bellboy pushed too far – to twists on patented Hitchcock camera moves, including a scene involving a camera tracking into… er, through a solid window, and the less referential material that involves word play, puns and the typical Brooksian oddball humor, that makes such a rewarding, quirky, but well made parody.

Video


To say that the "High Anxiety's" 1080p 24/fps 1.85:1 high definition widescreen transfer, encoded via the AVC MPEG-4 codec, is borderline ugly is probably an understatement. I say this because of the film's drab color palate, flat contrast, soft-focus cinematography, prevalence of fakey matte paintings, questionable optical effects and continually dense grain levels. Nevertheless, I can't say that this is a bad transfer, because the above aesthetic is wholly intentional, and believe it or not, the new Blu-ray accurately reflects the look Brooks and his cinematographer Paul Lohmann were shooting for. Brooks' parodies and homage's extend beyond the page in "High Anxiety", and the overall style of the film reflects on Hitchcock's late 50's and early 60's films, which were soft, usually drab, sometimes nearly colorless, or even black and white, and of course had an extensive use of matte paintings and optical composites.

So why the "C+?" Well, because if I gave "High Anxiety" an "A" – or even a "B" – due to the fact that it was a faithful representation of the theatrical (and more importantly, originally photographed) look, said rating would be misleading. With any of the high grades, I feel like I would be misrepresenting the disc, no matter if it were a sizable upgrade over the DVD (which, truly, it is), because the film is far too soft, muddy and dull to actually look "above average" or "excellent." I would imagine that many would take a look at my "B" (or higher) grade and then sit down and watch the Blu-ray and think that I was nuts. However, conversely, I can't give this a flat "C", and wouldn't even dare with a lower score, because the Blu-ray is so faithful to the original source, and Fox hasn't done a single thing wrong here. There's no evidence of DNR, edge enhancement, or bit-starved blocking. There's not a single trance of color banding, not one second of noise. Heck, even the print is in fine shape, with the few bits of dirt and grime that do make an appearance forever trapped behind the layers of optical composites (which means that they've been there since the film was completed). Sharpness, colors and contrast may all be severely understated, if not downright second-rate, but, well, that's just the purposefully crummy look of this film and I can't really fault the Blu-ray for that.

Audio


"High Anxiety" was first released to theaters in 1977 in stereo. The DVD maintained that 2-channel via a Dolby mix, but in the 10 or so years since that standard-def disc hit the street, Fox has redone the film with an English DTS-HD Master Audio 5.1 mastered at 48kHz/24-bit track for it's Blu-ray debut. It's a fairly adequate remix, and again, like the video, is only harmed by the limitations of the original production: there's a bit of expected narrowness in the sound design, absolutely zero LFE and very, very little surround use. The track remains faithful to the stereo, with dialog, effects and basically everything except John Morris' score funneled through the three front speakers. Use of the left and right fronts is nicely balanced, maintaining the original pans. Dialogue is occasionally a little soft, or a little tiny, and proves to be the tracks one major flaw (which itself can be pretty damning). Expectantly, Morris' score sees the biggest improvement with greater depth, fidelity and clarity thanks to its new lossless delivery (not to mention that it does make subtle use of the rear channels.) Unfortunately, the rest of the track sort of plods along, but I guess it's a good thing then that the remix doesn't try to compete with the latest and greatest soundtracks by artificially boosting bass or surround activity, because those types of remixes rarely sound good.
The disc includes the original English Dolby Digital 2.0 stereo mix (48kHz/224 kbps), and Dolby Digital 5.1 dub mixes in Spanish, French and Portuguese, and subtitles in English, Spanish, Cantonese, Korean, Mandarin and Portuguese.

Extras


All of the Brooks Blu-rays have some form of supplemental material, including at least one featurette (in high definition), an isolated score, interactive quiz and trivia track as well as a theatrical trailer plus a gallery bonus trailers of Mel's other movies. Aside from a few text-based extras, the DVD of "High Anxiety" was as barebones as they came. Not so on Blu-ray, which includes arguably the best of the newly produced extras.

This disc's featurette, "Hitchcock and Mel: Spoofing the Master of Suspense" (1080p, 29 minutes 20 seconds) is probably the best of the new Mel Brooks mini-documentaries created specifically for Blu-ray (not counting anything on the "Young Frankenstein" release, which is packed to the brim with excellent stuff). Brooks talks about actually meeting Hitchcock and sharing ideas on the script and story with him, including telling a story about a very funny, but ultimately unfilmed suggestion by Hitchcock himself involving a man fleeing from police via ferry, as well as the troubles with casting (Gene Wilder was set to star but had too drop out at the last minute), Brooks' eventual role as Thorndyke, and more. This piece also includes new cast and crew interviews, plus a discussion with Hitch's granddaughter.

"The Am I Very, Very Nervous Test" is a sort-of-clever quiz game that plays along with the film prompting viewers for their answers to gage their saneness. It's fun for a while, but I can't imagine watching the whole film like this – I tired of it pretty quickly. But, the gag-track is humorous enough to warrant at least a look.

"Don't Get Anxious! The Trivia of Hitchcock" is an old-school pop-up trivia track that consists of facts about the production, notes references and comments on homage's to classic Hitchcock cinema. This is perhaps not as good as a full-blown audio commentary but certainly better than nothing.

John Morris' original score is also included via an isolated score track, encoded in DTS-HD Master Audio 5.1 surround. Although "High Anxiety", outside of its main theme (not the title song), is hardly indicative of Morris' best work this track is still a treat, if only because isolated scores are such a rarity these days. Off the top of my head, I can count the number of Blu-ray discs with isolated scores on my fingers and toes, not counting these Brooks discs (all of which feature the option), and those that do usually fail to offer them in lossless. The only down side is that this is a simply the score sans other audio; it does not include commentary from the composer between tracks or offer an expanded version of the soundtrack, and that's sort of disappointing.

A high definition version of the film's original theatrical trailer (1080p, 2 minutes 41 seconds) rounds off the film-centric extras.

Finally, Fox provides bookmarks and a series of bonus trailers (all in 1080p) for Brooks' other films currently available on Blu-ray, including:

- "Robin Hood: Men in Tights." 1 minute 14 seconds.
- "History of the World, Part I." 2 minutes 48 seconds.
- "Silent Movie." 1 minute 53 seconds.
- "To Be or Not to Be." 2 minutes.
- "Young Frankenstein." 2 minutes 39 seconds.

Packaging


A majority of the Mel Brooks catalog was first released on Blu-ray as part of the 9-disc, 9-film "Mel Brooks Collection" late last year. Now, three of the films previously exclusive to that set – "High Anxiety" (1977), "Robin Hood: Men in Tights" (1993) and "History of the World, Part I" (1981) – join three of their companions already available in high definition – "Blazing Saddles" (1974), "Young Frankenstein" (1974) and "Spaceballs" (1987) – as standalone discs. Each film arrives in an Elite Eco case, with box art that usually replicates the previous DVD cover. For each standalone release, film content and bonus features are identical to what was included in the box set. The elaborate book from the "Collection" fails to make the transition in any form. "High Anxiety" arrives on a dual layer BD-50 and is region free.

Overall


I know I'm probably alone in thinking that "High Anxiety" is one of Brooks' better films, but so be it. It's not as good as his "big three" – "The Producers" (1968), "Blazing Saddles" (1974) and "Young Frankenstein"(1974) – but it's definitely one of his most underrated, I think. It's not as uproariously outrageous as some of his other productions, true, and the film is probably most enjoyed by Hitchcock fans, because they'll get something more from the film's numerous references and shot-for-shot spoofs (all with a Brooksian twist, of course). Nevertheless, the new Blu-ray has fairly average video and audio and a few extras, but is still recommended.
| | | | | |
| --- | --- | --- | --- | --- |
| The Film: B | Video: C+ | Audio: C+ | Extras: C- | Overall: B- |