The Film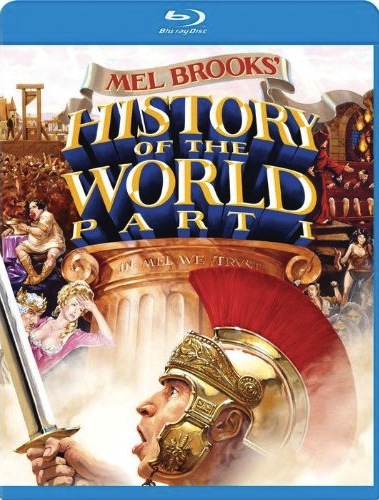 "History of the World, Part I" is probably Mel Brooks' most ambitious project – a proposed retelling of human history from the dawn of man, up until the French revolution. (Presumably, if a "History of the World, Part II" were ever made, it would pick up with the death of the French Monarchy and continue to the present). It's certainly Brooks at his most unhinged, and in some ways I look at this film as his last hurrah, a ruthless hard "R" flick, before he delved into "PG-13" rated fair. It's also Brooks at his most crude, his most rude and his most unsophisticated, not just in humor, but also in the film's structure and script. And "History" is also, perhaps, my least favorite Brooks film – not counting, "Twelve Chairs" (1969) which is so different to anything else he's ever done that it can't really be compared, or "Dracula: Dead and Loving it" (1996) which I refuse to believe exists.

That's not to say that there aren't parts of "History of the World" that I enjoy. In fact, there are many, many segments of the film that I find hilarious. The opening skit – a parody of "2001: A Space Odyssey's" (1968) dawn of man sequence – in which a group of apes, upon evolving into "man" immediately begin masturbating, is nothing if not apt social commentary. Indeed almost all of the film's first ten minutes, which includes the great Fifteen Commandments gag, early man's understanding of fire, death, the beginnings of relationships between homo sapiens (and not much later homosexuals), is incredibly smart. The largely dialogue-free prologue is also greatly improved by the narration of Orson Welles, who delivers, in his almost poetic prose, such wisdoms as, "with the birth of the artist, came the inevitable afterbirth – the critic."

But then the film moves to Ancient Rome, and stays there for nearly half the film, and it's here that the film dies for me. Again, some of the scenes aren't terrible – parts of this section of the film can be hilariously funny at times (Dom DeLuise's overly effeminate Emperor Nero and his gluttonous hedonism is pitch perfect comedy, and pretty sharp) – but Brooks does little with the premise and world of ancient Rome, or not nearly as much as he could have, given the absurdity of the opulent Roman society. He plays it, not necessarily safe, but lazily – and the segment drags on for far too long. It's too convoluted (he tries to condense a two-hour movie into 35 minutes), has too many characters (including Comicus, a stand-up philosopher (har-har), played by himself to great detriment), and just plain doesn't hold your interest, or at least my interest.

However, as the Rome segment comes to a close, bookended by a quick little skit about The Last Supper (in which a post-"Elephant Man" (1980) John Hurt plays Jesus Christ) that I admittedly do find funny, the film begins to redeem itself, only before again slipping into an overlong segment, this time focusing on The French Revolution. The redemption comes fast and quick: in the form of a few of the jokes that are tacked onto Comicus' flee from Rome, like Moses' parting of a small river so that Comicus and friends can cross, only it's revealed that Moses wasn't raising his hands to make waves, but was being robbed at knife point. And of course, my favorite part of the film, the Spanish Inquisition set to an incredibly inappropriate, but extremely well done musical number, which makes the entire wishy-washy nature of "History of the World" moot – if for no other reason that the musical number, in it's disgusting magnificence, is made up to look like something out of "Singin' in the Rain" (1952).

Brooks again takes the reins playing Louis XVI (and his look-alike, Jacques the piss-boy) in the French Revolution segment, which again stretched out too long and is dreadfully unfunny in parts. Brooks also begins his most heinous of crimes – reusing jokes from his older movies, simply because he knows that they worked, and will elicit an easy laugh. Here, he twists the Heady Lamar joke from "Blazing Saddles" (1974) into a strikingly similar mispronounce-the-name gag; again it's involves a character played by Harvey Korman, and again he loudly protests, correcting the person who makes the mistake with an exasperated, angry reiteration of the proper way to say his name. Korman plays Count de Monet, but each peasant and even the King refers to him as "Count the Money." Brooks confidently walks around as the idiot King, ignorant to the plight of his people, arrogantly playing chess with real people (okay, that's sort of witty), but with each passing oddity allowed to occur, Brooks mugs at the camera and spouts his catchphrase, "It's good to be the king!"

It should go without saying that the comedy of one Mr. Mel Brooks is an acquired taste. So much so that even hardcore fans of the man may not like a few of his movies. At least I hope that's true for others out there, because it's certainly true in my case. I'd like to think that I'm a pretty big fan, even if I don't like all of the parts of all of Brooks' movies, in particular "History of the World, Part I." I think most of my issues with his 92-minute "epic" stem from the fact that I prefer a singular story to go with my Brooksian humor – the segmented nature of "History of the World" only showcases the weaknesses of some of his jokes, and in quite a few cases those weaknesses run on for far too long. "History" isn't a bad movie, but it's terribly uneven – and sometimes maddeningly so.

Video


It would seem that Brooks' lavish ultra-wide Panavision productions are his best looking films. I guess that's not really all that surprising, but nevertheless, I was kind of surprised that "History of the World, Part I" looks as good as it does. As one of the two films that he shot on anamorphic 35mm (the other being "Blazing Saddles" (1974)), 1981's "The History of the World, Part I" is every bit as impressive with it's AVC MPEG-4 encoded 1080p 24/fps transfer as the big budget epics that it parodies. Perhaps more so, if only because by the 1980's Panavision had largely perfected anamorphic lenses, ridding their 2.40:1 framed productions of the processes most nefarious issues, such as mild focal distortion, which caused slightly stretched faces and oblong objects even when in focus (evidence of this can be seen in some very early Cinemascope films, like "The Robe" (1953) and "A Star is Born" (1955)).

The picture is sharp, fine detail is fairly impressive, and the image remains almost consistently clear throughout (there is occasionally a bit of softness present, but nothing too serious). Colors are bright, if largely limited to basic pastels, and the black level is inky. The film, like most Brooks productions, is a little flat, without much in the way of modern 3D-like depth, but that's only because it's not supposed to have the type of "pop" seen in more recent films. The print is startlingly clean, with rarely a single speck to be found in even one second of film, and this is even more remarkable due to the fact that Fox hasn't touched a single frame with nasty noise reduction (thank god) or applied any unneeded edge enhancement. Thankfully, film grain is accurately preserved and finely rendered; it's hardly bothersome, because the film is so finely grained anyway, but there's just enough present to remind us that this was shot on 35mm. Someone really took care of "History's" negative, or cared enough to meticulously restore it at some point… perhaps both. Needless to say that this Blu-ray looks pretty dang good; maybe, even, a bit too good, because some of the sets and matte work seem a little too artificial these days (then again, they always kind of have, and the Blu-ray just intensifies the glaring "issues" with the production values.)

Audio


The film was first released in theaters with mono sound, and the DVD replicated that arrangement. Now, "History of the World" comes to Blu-ray with several audio options, most of them sourced from a new multi-channel remix, including an English DTS-HD Master Audio 5.1 track (48kHz/24-bit/3.2 Mbps). The film opens with an excellent rendition of "Also Sprach Zarathustra" (aka the theme from "2001: A Space Odyssey"), which sports powerful room-filling authority, but the track quickly slips into a sort of dull (but mostly adequate) front heavy mix. On one hand, I'm glad that so much of the film stays true to the original mono. But, on the other, it's mildly disappointing just how much of the film is sonically inert simply because the mix stays so true to it's original single channel format. There are a couple of moments that return the film to great brilliance – like the Spanish Inquisition musical number – but those are few and far in-between. Overall clarity and dialog reproduction is nicely done, but there are more than a few moments that the film's sound feels a little brittle… a little aged.
The original English mono is offered via 2.0 Dolby Digital (48kHz/224 kbps), plus dubs are available in French Dolby Digital 5.1 surround (48kHz/448 kbps), Spanish Dolby Digital 5.1 surround (48kHz/448 kbps), and Portuguese Dolby Digital 5.1 surround (48kHz/448 kbps). Optional English, Cantonese, Chinese, Korean, Portuguese and Spanish subtitles are included.

Extras


All of the Brooks Blu-ray's have some form of supplemental material, including at least one featurette (in high definition), an isolated score, and a bonus trailer gallery of Mel's other movies. "History of the World, Part I" was another near barebones DVD; this Blu-ray edition hopes to correct that oversight with a pair of interesting featurettes and a trivia track among other extras.

The first of the two new featurettes is "Musical Mel: Inventing 'The Inquisition'" (1080p, 10 minutes 40 seconds). Composer John Morris and Brooks discuss the comedian's talent for writing Broadway-style musical numbers. The first part of this featurette doesn't have so much to do with "World" itself as it does with Mel's career in film. However, the cast and crew quickly switch gears to discuss the translation of the Spanish Inquisition into song form for "History of the World, Part I", a decision Brooks made because he believes that you can be as over-the-top and offensive as you want in a song, and nobody will care (because it's done in a sing-song fashion).

"Making History: Mel Brooks on Creating the World" (1080p, 10 minutes 4 seconds) is the second, more broadly focused featurette included here. In it Brooks and more discuss, through new cast and crew interviews, the making of the movie. Not at all a bad mini-doc, just way too short.

"The Real History of the World Trivia Track" is, as the title plainly spells out, a trivia track. The pop-up feature presents notes, facts and anecdotes pertaining to real world history and the making of the film. The track also does a good job pointing out some of the homage's that Brooks makes to many of the biblical and historical epics that his film parody.

John Morris' original score is also included via an isolated track, encoded in DTS-HD Master Audio 5.1 surround. Off the top of my head, I can count the number of Blu-ray discs with isolated scores on my fingers and toes, not counting these Brooks discs (all of which feature the option), and those that do usually fail to offer them in lossless, so the extra is special if only for the simple fact that it's included. The only down side is that this is a simply the score sans other audio; it does not include commentary from the composer between tracks or offer an expanded version of the soundtrack, and that's sort of disappointing.

A high definition version of the film's original theatrical trailer (1080p, 3 minutes 4 seconds) rounds off the film-centric extras.

Finally, Fox provides bookmarks and a series of bonus trailers (all in 1080p) for Brooks' other films currently available on Blu-ray, including:

- "Robin Hood: Men in Tights." 1 minute 14 seconds.
- "High Anxiety." 2 minutes 43 seconds.
- "Silent Movie." 1 minute 53 seconds.
- "To Be or Not to Be." 2 minutes.
- "Young Frankenstein." 2 minutes 39 seconds.

Packaging


A majority of the Mel Brooks catalog was first released on blu-ray as part of the 9-disc, 9-film "Mel Brooks Collection" late last year. Now, three of the films previously exclusive to that set – "High Anxiety", "Robin Hood: Men in Tights" and "History of the World, Part I" – join three of their companions already available in high definition – "Blazing Saddles", "Young Frankenstein" and "Spaceballs" – as standalone discs. Each film arrives in an Elite Eco case, with box art that usually replicates the previous DVD cover. For each standalone release, film content and bonus features are identical to what was included in the box set. The elaborate book from the "Collection" fails to make the transition in any form. "History of the World, Part I" arrives on a dual layer BD-50 and is region free.

Overall


Well, I still haven't quite warmed to "History of the World, Part I" like I hoped I eventually would, but I will admit that it has some great gags, very funny sequences and an outrageously inappropriate musical number that might just be one of my favorite things ever put on film by Mel Brooks. In some ways "History" is the man's worst picture: I particularly really dislike the lack of a singular narrative, because I think, unlike, say, the guys who made up Monty Python, Brooks is best when he frames his jokes inside a traditional plot (see: "Blazing Saddles" (1974), "Young Frankenstein" (1974), and hell, even the mediocre "Spaceballs" (1987)). Brooks fans should certainly consider picking this Blu-ray edition up, thanks in part to a surprisingly strong video transfer, a fairly decent DTS-HD Master Audio track and some newly produced, high-def exclusive, extras. Cautiously recommended.
| | | | | |
| --- | --- | --- | --- | --- |
| The Film: C+ | Video: B+ | Audio: B- | Extras: C- | Overall: B- |