The Show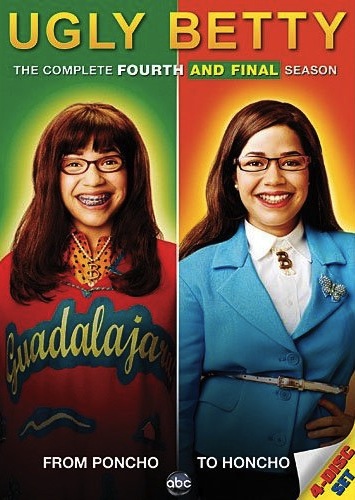 Let me preface this review with a confession: with the exception of a few scrambled minutes here and there when my DVR caught fringes of the series as part of a recording for "Lost" (2004-2010), "Pushing Daisies" (2007-2009), or "Modern Family" (2009-Present) – I'm not sure which, but it was one of those, because they are the only shows I've watched on ABC with any regularity in the past three years – I've never actually seen an episode of "Ugly Betty." And yet here I am reviewing the series' fourth (and apparently final) season. Weird, huh?

I think it's rather amusing – if not downright funny – that, looking back over the reviews of "Betty" here on the site (Season 1 review, Season 2 review and Season 3 review), most of the intros start the same way. Or they start similarly anyway, if lacking my particular phrasing and sharp wit (or, maybe, just missing my douchey sarcasm). Anyway, I'm not actually surprised that this is the case. When "Betty" premiered it was one of the critical darlings from the 2006-2007 TV seasons. It had pretty decent ratings for it's time slot, but I never actually knew anyone who watched the show, which doesn't seem all that usual (two of the three reviewers before me were new to the show when they reviewed it). I know for certain that over the course of the last three years "Betty's" ratings dwindled and the audience – except for a very loyal fanbase – just about disappeared, especially during the later half of the third season, which is understandable as that run of episodes was supposedly pretty dreadful. Low numbers continued into the fourth season and as a result, ABC and the "Ugly Betty" producers decided it was best to end the series before it started costing the network too much. Luckily, this decision came early enough into the production cycle that the show was able to end on it's own terms, with a completely planned ending arc and little fluff in-between, and benefits greatly for it.

For those who don't know, "Ugly Betty" was adapted for American television by Silvio Horta, and is based in part on a Columbian telenovella called "Yo Soy Betty, La Fea" (1999-2001). The show follows Betty Suarez (America Ferrera), an up-and-comer working at MODE magazine – a publication that focuses on fashion. Betty's boss, Daniel (Eric Mabius), is the son of CEO of Meade Publications Claire Meade (Judith Light), and, despite not having the credentials, he serves as Editor-in-Chief of MODE… much to the chagrin of Wilhelmina Slater (Vanessa Williams), the magazines bitchy co-Editor-in-Chief who takes on the role of the show's primary villain. Also at MODE are Betty's "frenemies" Marc (Michael Urie), who is Wilhelmina's assistant, and Amanda (Becki Newton), the magazine's airhead of a receptionist. Betty's family also makes up a large portion of the cast, and they are actually quite well-developed as characters, which is surprising considering that they serve little purpose to the actual A-plot (I'm not complaining; the series' superb characterization is among it's strongest attributes). These important family members include Betty's father Ignacio, aka Poppi, (Tony Plana), her sister Hilda (Ana Ortiz), and her nephew Justin (Mark Indelicato). A slew of guest stars and recurring characters appear throughout the show too, and season four is no exception… for instance, Betty has at least three different love interests, each of which have at least a two episode arc, during the course of the 20 episodes I was charged to review.

As season four begins Betty has been promoted, over her colleague Marc, to Junior Features Editor. It's something she's always wanted – or so she thought. Instead of being able to write about what ever she wants, what interests her, and what she deems important (an article on malaria in Africa, for example) she is shot down. In the first week as a features editor she has every idea turned down, in part because Matt, her angry ex-boyfriend is directly above her running the entire features department and is playing childish games with her. In the second hour of the season premiere Betty's malaria idea is actually given some thought – but only after the triumphant return of Daniel, who's been away grieving the loss of his young wife – and with a little reworking, her piece on malaria become a fashion shoot at the UN. It goes disastrously. Unfortunately for Betty, over the course of the 20 episodes, her fortunes don't exactly improve. Not at work anyway. The UN catastrophe gives way to an uncomfortable dinner interview with a renowned designer, and an article that involves "research" which ends with Betty in a hotdog costume.

Each character and their subsequent stories basically exist in separate genres and subgenres. "Betty" is a mix of comedy (including quite a few laugh-track-free sitcom moments), serious character drama, and deliciously over the top soap opera (which I actually didn't hate for a reason I'll talk about in a second). Part of what made "Ugly Betty" so good, or at least what made this particular season of the show good – again I'll state that I have a limited knowledge of what happened in previous chapters (what I do know comes from a brief ABC starter pack that plays at the beginning of the season) – is that it balances these various stories, and the numerous interconnected genres, so well. Broad comedy runs throughout the series, but the writers intermix that with a dose of unfunny seriousness now and again; this season sees Daniel's downward spiral after his wife's death – which culminates in his unknowing joining of a brainwashing cult – is truthful and real, at least in the beginning (as in, until the too insane cult subplot, which is soapy to its very core), and the character's depression and emotional problems offer a nice parallel to the trivial job-related drama that Betty faces day-in and day-out. Betty's nephew Justin also offers the writers a chance to delve into less comedic territory, as they take the characters through a rather compelling arc this season as he deals with – and finally accepts – his homosexuality. True to form, they twist this by the end with a bit of sweet humor, having his Mom, grandfather and aunt Betty throw him a "coming out party" that is so incredibly misguided (but heartfelt and in the right place). And then there are the elements of the plot which supplements as the required soap opera storylines; usually the two characters saddled with the over the top plots are the series two tenured actresses, Vanessa Williams and Judith Light, both of whom have had their fair share of play on daytime TV. Williams' Wilhelmina Slater must deal with such soapy plots as having her daughter Nico (YaYa DaCoasta), which Willie locked away at French boarding school until she was of age, show up on her doorstep with, quite literally, blood on her hands, having just murdered her ultra-rich-but-abusive boyfriend. Slater also searches for her con-artist lover, Connor Owens (Grant Bowler), who, in a previous season posed as CFO of MODE and made off with millions of the Meade family's money. Light's Claire Meade on the other hand, tries to reconnect with a long-lost son named Tyler (Neal Bledsoe), whom she discovers is a raging alcoholic. When Tyler discovers that the mother he never knew is a rich billionaire, he decides (with a little help from the conniving Wilhelmina) that he wants to claim his share of the company – and more.

The often-outlandish plots could have brought the series to its knees but, because the writers (and actors) have produced such strong characters, the plots often work. Even the soap stuff isn't terrible; it's downright entertaining sometimes, but only because Williams plays her part with such unabashed, venomous glee, living it up in the over-dramatic silliness of it all. I can't say this enough; the characterization is why "Betty" works. It's also why, even though I came into the final season blind, by the end I'll be damned if I didn't experience one of the most fulfilling character journey's I've seen on TV in quite some time. The season is about rebirth. Betty's rebirth from ugly duckling to beautiful swan; from her superficial exterior, as she cuts her hair, gets new specks, dons less ridiculous attire, and, yes, even loses those damn hideous braces, to a more fulfilling, internal growth. She starts out as meek, but nice, assistant, and ends up a powerful, although still loving, editor, not at a fashion magazine, but writing about real world news like she always wanted to. Justin too sees the sort of rebirth (vis-à-vis his coming out), as does Daniel (who shucks-off his easy life at his family's company, to make it in the publishing world on his own terms), and Marc, Amanda, Hilda, and even Wilhelmina do too.

As I put my notes together I began to think of "Ugly Betty" like this: "Betty" wasn't a great show, but it was definitely pretty-damn entertaining. Its fourth season is like a deliciously sweet snack or indulgent dessert. It doesn't have the nutritional value of some the other choices out there, but who cares when it "tastes" so good?

"Ugly Betty: the Complete Fourth (and Final) Season" includes all 20 episodes of the series' last outing, on four discs. The two-part season premiere "The Butterfly Effect" originally aired as a 2-hour event with a single set of credits; for the DVD release it has been split into two parts, each with their own end credits and opening titles. A play all option is included on all the discs for marathon viewing:

- "The Butterfly Effect, Part I"
- "The Butterfly Effect, Part II"
- "Blue on Blue"
- "The Wiener, the Bun, and the Boob"
- "Plus None"
- "Backseat Betty"
- "Level (7) with Me"
- "The Bahamas Triangle"
- "Be-Shure"
- "The Passion of the Betty"
- "Back in Her Place"
- "Blackout!"
- "Chica and the Man"
- "Smokin' Hot"
- "Fire and Nice"
- "All the World's a Stage"
- "Million Dollar Smile"
- "London Calling"
- "The Past Presents the Future"
- "Hello Goodbye"

Video


There is absolutely nothing "ugly" about this video presentation that's for sure. Colors pop with almost garish authority, contrast is pitch perfect, and every inch of the native 1.78:1 anamorphic widescreen frame is packed with sumptuous fabric and texture detail. I'd say that "Betty" has a visual style which combined the look of Tim Burton's "Big Fish" (2003), Bryan Fuller's "Pushing Daisies" (2007-2009) and Paul McGuigan's "Lucky # Slevin" (2006); "Fish" for it's bright colors and soft-focused photography, "Daisies" for, again, the bright colors but also because of it's sort of modern, yet vintage style, and "Slevin", because, well, the last time I saw this much use of such intricate and almost nauseating patterns as seen in "Ugly Betty" was that film. There's a mild softness due to the use of diffusion filters in many scenes, especially concerning shots of Vanessa Williams and Judith Light, and quite a few scenes employ some form of digital airbrushing to smooth over faces. The results in both cases mean that revealing facial detail is a rarity, but not to worry because the bold color choices and otherwise exceptional rendering of clothing and fine object inaccuracies distract from the frequently used softening tools. The production design is bright, colorful and full of patterns, but it's also surprisingly high quality. Production value is astonishingly high; from the authenticity of the exteriors (the show was shot on location in New York from the third season on do to tax reasons, but it also lends a surprising amount of realism to the series.) to the seemingly endless, vast MODE offices. This season also benefits from episode eights trip to the Bahamas, which was almost unbelievably, with the exception of two or three matte shots featuring Shakira and the opening five or so minutes, was shot on location at the Atlantis Bahamas Hotel (some of the beach scenery is breath-taking).

Shot digitally in high definition primarily on Sony's CineAlta F35, the image is absolutely grain free, slick, sharp and clean. Any faults that lie within this disc – primarily shoddy-but-not-terrible clarity in medium and especially wide shots – is caused by the resolution limitations of the standard def format, and even then, this is still, without a doubt, one of the strongest DVD's I've seen in sometime. It up-converts beautifully on either of my home theater setups (and is even better looking than some native HD at times). I can only imagine if ABC had released a Blu-ray too (and they really should have; "Betty" has the perfect style, almost tailor-made, for viewing in 1080p). All things considered this is a gorgeous presentation.

Audio


"Betty" contains an English Dolby Digital 5.1 surround mix that is quite pleasing, and a little more than expected considering the type program. That's not to say that the series is still largely a talky, front-heavy experience (cause it is), but surround activity and general depth improve any time the show flips into montage mode – which is often. Each episode, or at least most of them, contains a montage set to some sort of poppy, alternarock or dance tune. A wide variety of artists and their music appear throughout the fourth season including Ingrid Michelson, Billy Idol, Shakira (who actually guest stars in one episode), La Roux, Coldplay, Edward Sharpe and the Magnetic Zeros, The New Pornographers, Kylie Minogue, Macy Gray, Correatown, Freelance Whales, Melanie Fiona, Hall & Oates, Beck and Jasmine Ash. Each of these sequences is lively, "big" and much improved over the usually understated mix. Composer Jeff Beal deserves recognition for his quirky score, which fills in the gaps when the montages aren't happening. Still, this is far from a perfect track – ambience is near nonexistent, which is a shame because the MODE offices should be rife with excitement and chatter; the same should be true of the New York City streets which frequently serve as a backdrop. "Ugly Betty" sounds good – not great – and is above average (for a TV show) in terms of audio but at the same time not reference.
Subtitles are available in English, Spanish and French.

Extras


Looking through the reviews of the other "Betty" seasons it seems that ABC has, comparatively speaking cut down on special features for season four's DVD release. Spread over the four discs, fans will find deleted and extended scenes, a series of webisodes, a blooper reel, and a single audio commentary. A couple of bonus trailers are included as well. Pretty tame stuff considering that this is the last season of a supposedly beloved series. The lack of more audio commentaries is unfortunate. I would have liked to hear insight into a few of the key episodes this season – the 2-part season premiere and the finale especially. On the bright side, all video based extras are presented in 1.78:1 anamorphic widescreen.

DISC ONE:

2 deleted scenes are included on the first disc, both of which were cut from the 2-part premiere episode "The Butterfly Effect". They are:

- "Connor Checked Out." Wilhelmina and her bounty hunter burst into Connor's hotel room expecting to find him, but instead walk in on a maid who tells them that the conman checked out that morning. Funny what a couple of lines of dialog said over a phone (as this scene appears in the final cut) can do. 1 minute 5 seconds.
- "The Steam Room." Betty is told that one of her new perks, as a junior editor is access to the company steam room. 21 seconds.

Upon disc start-up, a series of bonus trailers are loaded. These previews include:

- "Disney TV on DVD (and Blu-ray) promo running 1 minute 33 seconds.
- "Scrubs: The Complete Ninth and Final Season" on DVD running 1 minute 21 seconds.
- "Cougar Town: Season One" on DVD running 58 seconds.
- "The Last Song" running 1 minute 59 seconds.

DISC TWO:

The second disc includes 3 deleted scenes. They can be viewed via a play all or individually:

- "I'm Available." Marc talks some sense into Amanda who is dangerously close to slobbering all over the newly single (and Betty's ex) Matt. 52 seconds.
- "What is Level 5?" A deleted bit involving the creepy cult that Daniel joins early in the season. 44 seconds.
- "Breathe." Another deletion involving that cult. Daniel "sees" his dead wife. 24 seconds.

DISC THREE:

During the series' original run, "Ugly Betty" also spun off a somewhat popular webisodes featuring the shows dynamic duo, Marc (Michael Urie) and Amanda (Becki Newton), and their late-night high jinks at the Meade Publications building. The webisodes, dubbed "MODE: After Hours", follow Marc and Amanda as they gossip, pay dress up and battle a security guard named Sander. The third season of the web series apparently included six episodes but for whatever reason (rights and royalties I'll assume) only four of their escapades appear on this DVD. The mini-adventures are available individually or in play all formats. They include:

- "Stress-Orcism." Amada tries out her workplace stress exercises on Marc. 3 minutes 34 seconds.
- "Role-Playing." Amanda asks Marc to plead with Wilhelmina for a raise. 3 minutes 25 seconds.
- "Queenseeker." Amanda creates a profile for Marc on an online dating website. 5 minutes 15 seconds.
- "Harassment of a Sexual Nature." Marc and Amanda act out scenarios from a sexual harassment in the workplace video. 3 minutes 38 seconds.

Still more deleted scenes can be found on disc three. These include:

- "Elevator Chatter." Wilhelmina and Betty have a "chat" about Betty's blog in the elevator. 1 minute 5 seconds.
- "Male Models." Daniel and Wilhelmina talk the use of male models in their fashion show; Daniel shoots the idea down. 1 minute 3 seconds.

DISC FOUR:

The only audio commentary included with the fourth season appears along side the disc four episode "All the World's a Stage" and features comments with stars Michael Urie and Mark Indelicato. Unfortunately the two are pretty reserved– in stark contrast to the two flamboyantly loud characters they play on the show – and don't say much. I had hoped that the track would be a little more insightful; especially considering the "history-making" scene towards the end of the episode and what it means for Justin's character arc.

"Betty Goes Bahamas" is a kitschy, cringe-worthy featurette in which Becki Newton and Michael Urie search the Atlantis Resort (the location for the shows mid-season extravaganza) for their other co-stars, only to find them enjoying plenty of touristy activities like swimming with dauphins, getting a massage at the hotel spa and preparing sushi at NOBU. 8 minutes 29 seconds.

"Betty Bloops" is a blooper reel of the various slip ups, flubs and goofs the cast made during the fourth season. I've certainly seen worse – some the segments are funny without being annoying – but like most gag-related extras runs too long at 6 minutes 31 seconds. Weirdly, the blooper reel is really drab and dull; I wonder if it the look of the footage here is what the show looks before all of the post-production color correction, or if the colors were purposefully dialed down to create a contrast between the final product and the goofs.

As with all of the discs in this season four set, a few of deleted scenes are included on disc four. They can be viewed via a play all or individually:

- "Guy Talk." Marc and Bobby talk over a shared pizza. Marc wallows in self-pity – after he was dumped – and Bobby wonders how he can get Justin on his good side before he marries Justin's Mom. Marc's morning after (pizza) joke and Bobby's sudden Beyoncé tickets make more sense now, but I'd hardly can the scene important. 1 minute 12 seconds.
- "Wedding Planning." An Alternate opening to one of the disc four episodes – I assume the actual wedding episode, "Past Presents the Future" – in which Betty, Hilda and Bobby address wedding invitations and Justin as urged to bring his new "friend", Austin, along. 1 minute 46 seconds.
- "Going Too Far." Marc warns Wilhelmina about Tyler's violent past and mentions that she may be "going too far" to get revenge on Claire Meade this time. 43 seconds.

Finally, a couple of additional bonus trailers are found under a separate menu marked "Sneak Peeks". The trailers include:

- "You Again" (2010) running 2 minutes 31 seconds.
- "Castle: The Complete Second Season" on DVD running 34 seconds.
- "Desperate Housewives: The Compete Sixth Season" on DVD running 1 minute 6 seconds.
- "Grey's Anatomy: The Complete Sixth Season" on DVD running 1 minute.
- "Brothers and Sisters: the Complete Fourth Season" on DVD running 1 minute.
- "Private Practice: the Compete Third Season" on DVD running 1 minute 2 seconds.
- "ABC: Great Stories Start Here" promo running 1 minute 6 seconds.

Packaging


"Ugly Betty: The Fourth and Final Season" comes to DVD via ABC Studios Home Entertainment, and is packaged inside a 4-disc keepcase, dubbed the "From Poncho to Honcho" edition, complete with a cardboard slipcover. Inside the keepcase you'll find a rundown of disc contents – basically, which episodes are on which disc – as well as an insert for Disney Blu-ray (again, why no "Betty" in high def?) and a coupon for $10 off one of the distributor's 2010 TV on DVD products (sadly, the only discounted Blu-ray is "LOST: Final Season" [sad face]).

Overall


I was pleasantly surprised by "Ugly Betty: The Complete Fourth (and Final) Season". The show is, surprisingly, pretty entertaining, and has a better finale than most other programs could hope for. I can't say I'll be revisiting the series anytime soon from the beginning (knowing how it ends kind of killed any curiosity) but I can see the appeal of it – strong characterization certainly helps a lot. I might see the follow-up movie in theaters if it ever gets off the ground. Might. With stupidly bright, pretty and damn-detailed video and solid audio this DVD set should find it's way into any serious fan's collection.
| | | | | |
| --- | --- | --- | --- | --- |
| The Show: B | Video: B+ | Audio: B- | Extras: D | Overall: B |