The Film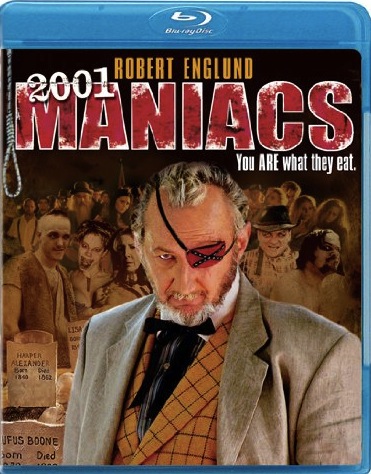 There was a time that I used to genuinely have some affection for "2001 Maniacs" (2005). I remember my initial viewing left me satisfied with the liberal amount of gore which dripped from every corner of the screen, as well as the ample "assets" of the female cast members that were on display with much-appreciated frequency. I filed it in my collection and there it sat collecting dust for the better part of the last 5 years. More recently, during the festive month of October, I decided to pull it out for a repeat viewing. I was hoping that the mix of gore, gallows humor and constant nudity would fill many a niche for me that October night, but I almost immediately had a difficult time getting past the first 20 minutes. It was like I had seen a different film the first time because what I watched that night was a fetid mix of terrible acting, shoddy FX work and cringe-worthy dialogue. I shut it off and promptly chucked it into my pile of unwanted titles that were about to find a new home at the local used video store. I figured that was the end of my relationship with the film, but then it appeared again, on my doorstep, in a shiny new Blu-ray casing. Maybe I was in the wrong frame of mind last time, maybe I was thinking clearly… either way, I felt it deserved one last go-round in my player. It's far from perfect, and most of the apparent problems were still glaringly obvious, but I had more fun with the film than I was expecting. Director Tim Sullivan set out to make a film that was very tongue-in-cheek – something representative of the legacy of Herschell Gordon Lewis, the godfather of gore, laid out when he made "Two Thousand Maniacs!" in 1964. And, on that level, I feel that Sullivan has mostly succeeded.

A bunch of stereotypical college students – the gay kid, the token black guy, the hot chick, the douchebag, etc. – are all on their way to Daytona Beach, FL for spring break when they wind up getting lost in the woods of Georgia. They stumble across the small town of Pleasant Valley (population: 2001), led by the honorable, one-eyed Mayor Buckman (Robert Englund), which is full of people recreating an actual town circa the Civil War. The townsfolk display such hospitality that the group can't possibly say no to staying the night, but they'll soon wish they'd left when they're all killed in gruesome (an occasionally ironic) ways before the big town festival is held – and everyone is going to be served as the main course!

I don't think it was intentional, but the acting here is glaringly terrible across the board. I think the only person who can get away without much derision is Robert Englund, since it's obvious he's having a damn fun time playing the role of a warped town mayor who loves the South more than anything. Everyone knows Englund – he's been working steady in the horror genre for the better part of 25 years. Whenever he isn't under the latex playing Freddy Krueger (something that, sadly, isn't likely to ever happen again) he usually takes roles like this, one with a lot of dark humor that looks like he's having far too much fun playing. He's fittingly over-the-top and devilishly slick, making Buckman the film's one true beacon of entertainment. Well, acting-wise, at least. The other beacons belong to almost every female cast member who wears a top too small or none at all. I can't remember their names or faces for the life of me, but I can assure horror fans that are upset that the boob-a-licious heydays of the 80's have gone away that they're very much back in full-force here. Sullivan said in the commentary track that he made this film for his 16-year-old self, and I can't disagree that this is exactly what I'd want to see when I was that old, too.

As for the gore, it's just about all practical effects work here. And that makes me very happy. Too many horror films rely solely on CGI to get their gore these days, and while it might allow for you to do things that are physically impossible otherwise, the bottom line is that 99% of it looks like crap. Do some of these practical effects look much better? Probably not, but they have a tangible quality that can't be reproduced by a computer. I've got to applaud the writers for coming up with some deaths that are both horrific and hilarious. Just about every nasty, vile, repugnant thing that could be done to the human body is done here, but I think my favorite might have to be a black man being killed by a large cotton press. The irony should be lost on no one, but it's gallows humor like this that makes watching some of the horrid acting a little more fun. There are few times when the film takes itself seriously, however, so even that can be somewhat overlooked. Just like Lewis' version back in the 60's, this is meant to be a gore-soaked dark comedy with minimal production values (the budget was around $3 million) and a lot of outrageous moments. Sullivan completely succeeds in that regard, making a film that probably isn't destined to become a cult classic, but will likely be fun to watch for those who haven't seen it. With what Hollywood has been putting out for these last few years, "2001 Maniacs" is a welcomed change of pace from the norm.

Video


Remember, this is a low-budget horror film, so don't expect anything more than minimal satisfaction from the transfer. The 1.78:1 1080p 24/fps AVC MPEG-4 encoded image is probably the best the film will ever look, but it looks far from great. The opening scenes in the daylight look best, featuring some solid colors, greater clarity and much more detail in focused images as well as backgrounds. Once night falls, though, the picture starts to show its limited roots. Black levels are often hazy and a bit purple, occasionally appearing washed out and weak. The image detail takes a bit hit, looking little better than an upconverted DVD. In fact, I think that's quite possibly the best comparison for this release in regard to the scenes at night. Some shots are a bit soft and out of focus, while others have a good deal of background noise which distracts from the image. Surprisingly, this didn't bother me so much and that's because I think it's in keeping with the lineage the film carries on. Lewis' films were never known for having great effects or a professional production, so it seems fitting that Sullivan's film looks the same in some ways. I wouldn't complain at all if the image was much more defined and sharp, more befitting of a Blu-ray release, but this murky aesthetic works well for a film like this. I can't say it's a recommended upgrade over the current DVD, but if you don't already own the film this is a better presentation in a few respects.

Audio


The audio comes in the form of an English DTS-HD Master Audio 5.1 surround sound track mixed at 48kHz/24-bit. I came into my viewing expecting a more frontloaded affair, but this is a fairly dynamic track. Surrounds are put to use a great deal of the time, allowing the town of Pleasant Valley to come to life with lots of ambient sounds among townspeople and in the surrounding woods. There are some musical numbers played throughout, and they come through clean and well-pitched through all available speakers. There wasn't much life to the LFE track, though without any real gunfire, explosions or otherwise I don't see what use it would have been. This movie does a lot of screaming, and your neighbors are likely to think you've got people going through a meat grinder in your house when this is cranked up. The production may have limited how good the film's image can look, but they appear to have spared no expense in giving the audio a great polish.
There are also optional English and Spanish subtitles available.

Extras


There's nothing new here, but thankfully Lionsgate did port over all of the bonus features from the previous DVD. We get two audio commentaries, a lengthy documentary, 27 (!) deleted/alternate/outtake scenes and an audition reel.

The audio commentary with director Tim Sullivan and Robert Englund is the best track of the two. Both of these guys are high energy and full of production notes, anecdotes, hilarious stories, and they share a great camaraderie that makes this track sometimes even more fun than the film itself. Englund is never at a loss for words, and he's got lots of stories from his films that pop up.

The second audio commentary track with director Tim Sullivan and co-writer Chris Kobin and co-producer Christopher Tuffin is a little more on the technical side of things, but it does a good job of filling in listeners on some more factoids on the film that weren't covered on the first track. Sullivan repeats some information, but the other two participants bring up enough behind-the-scenes notes that we learn a lot more about how the film came together. These guys are having a great time going back over the film, lots of laughs and a few gripes about having a limited amount of money to work with during the production.

"Inside the Asylum" (480p) is a documentary which runs for 42 minutes and 26 seconds. This exhaustive piece covers a lot of ground, some of it downright weird, like actor Giuseppe Andrews' bizarre (though obviously not real) interview about his role in the film. Producer Eli Roth talks about working with Sullivan, how the two are kindred spirits, and we get a lot of looks at the production behind-the-scenes. Nearly everyone involved gets a good deal of face time, so you'll get to learn a lot about the actors in the film and the roles they're playing.

There's a whole mess of deleted/alternate scenes (480p) available to watch individually or with the "play all" function for the following:

- "Alternate Opening with John Landis" runs for 2 minutes and 21 seconds, Landis reminds us why he's usually behind the camera as he plays a college professor who reprimands the guys for failing to write a good term paper on the Civil War.
- "Sucks To Be You" runs for 1 minute and 1 second, the guys play a game in the car about some lame worst case scenarios.
- "Justin" runs for 1 minute and 26 seconds, Eli Roth teaches us the same lesson John Landis taught earlier as he overdoes his cameo.
- "Nelson Head Smash" runs for 26 seconds, this is just an alternate take on the head crowbar-to-the-head dream.
- "Welcome to Pleasant Valley" runs for 2 minutes and 11 seconds, this is a longer cut of the boys' entry to the town and greeting with the welcoming committee.
- "Intro to Hestor & Glendora" runs for 1 minute and 3 seconds, this is an alternate intro for the fair-chested cousins who greet the boys when they arrive.
- "Trouble Came A Knockin" runs for 2 minutes and 11 seconds, this is an uncut take of the song from the film, as sung by cult film favorite Johnny Legend.
- "Wild Things" runs for 52 seconds, a couple of the girls talk about the boys.
- "Buckman and Sons Conspire" runs for 1 minute and 35 seconds, the Mayor and his sons discuss how to get rid of these new folk in town.
- "March of the Wooly Sheep" runs for 34 seconds, Lester (Adam Robitel) tries to have his own parade with his beloved sheep.
- "That Damn Blindfold" runs for 54 seconds, this outtake finds Giuseppe Andrews having a hard time blindfolding one of the girls.
- "Poker Game" runs for 57 seconds, an alternate take on the poker game before everyone gets laid.
- "Orbs of Venus" runs for 2 minutes and 14 seconds, this is an alternate take on the conversation Corey and Nelson have on the stairs.
- "Kitty Crumb Cake" runs for 1 minute and 27 seconds, here's your chance to hear Lin Shaye say "Mmmmm, smell that pussy".
- "Kissin' Cousins" runs for 3 minutes and 8 seconds, this is an uncut take of the almost-threesome scene, complete with off-camera direction by Tim Sullivan.
- "Sissy Detail" runs for 37 seconds, I don't know what exactly this was supposed to be, but it was weird.
- "Morning Sausage" runs for 1 minute and 47 seconds, the group decides to stay in town after a generous invite from Mayor Buckman.
- "Kissing Meadow" runs for 1 minute and 53 seconds, our favorite kissin' cousins put on another show.
- "Done Knit Jezebel a Sweater" runs for 55 seconds, Lester's sheep sports a confederate sweater.
- "Penis Fly Trap" runs for 1 minute and 12 seconds, these are some uncut takes of the metal dentures that consume Corey's manhood.
- "Lester or Leah?" runs for 33 seconds, Lester practices his scares wearing the scalp of Leah.
- "Cotton Press Aftermath" runs for 53 seconds, the town girls collect some of Malcolm's blood after he's pressed to death.
- "Cool Wristband" runs for 54 seconds, Anderson tries to befriend Hucklebilly (Ryan Fleming) to get the motorcycle keys.
- "Nightmare Gauntlet" runs for 3 minutes and 58 seconds, this is an uncut take of the villagers taunting Anderson before the finale.
- "Look What Your People Did To Me!" runs for 1 minute and 54 seconds, Buckman shows off his bad eye during his clash with Anderson.
- "Redneck" runs for 38 seconds, this an uncut take of Anderson's neck wound.
- "Buckman's Song" runs for 43 seconds, the Mayor sings a tune.

Audition reel (480p) runs for 6 minutes and 36 seconds. If you didn't think the acting in the film was bad enough, try making it through this. If these tapes are what got the actors their respective parts, then clearly I need to look into a new line of work.

There is a bonus trailer for "Lionsgate Blu-ray" (1080p) available; it runs for 1 minute and 1 second.

The disc is also equipped with Lionsgate's bookmarks feature.

Packaging


A standard eco-case with the film's original artwork is provided.

Overall


I think horror fans who like their films with a dark sense of humor will enjoy this one. It's definitely not a great movie, but it's a worthy throwback to those gore-soaked films of the 60's-80's. Sullivan and crew set out to make a fun horror film with some disgusting gags, lots of boobs and a lot of laughs. I'd say he got it right, and since this title can routinely be found for $10 or less, I think it's got a place in the collection of most horror fans who want some good new horror to go with the old splatter classics.
| | | | | |
| --- | --- | --- | --- | --- |
| The Film: B- | Video: C | Audio: B | Extras: B- | Overall: B- |