The Film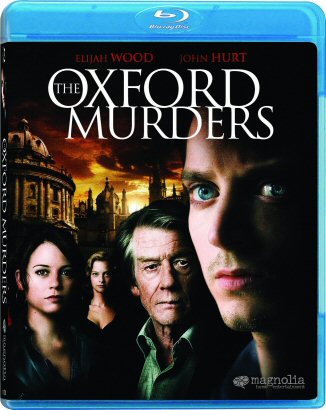 I hate seeing good actors put forth their all in mediocre films. On the one hand, I suppose it's good to see them elevate what would otherwise be a dreadful film into something at least watchable. But, on the other hand, it's terrible to see them waste their talents on something many people might not end up seeing. That's about how I felt regarding John Hurt in "The Oxford Murders" (2008). Director Álex de la Iglesia, a cult director best known for work in his native Spain, assembled a good lead cast comprised of Hurt and Elijah Wood. I read the premise on the back cover and it sounded interesting – de la Iglesia sometimes gets mentioned in the same breath as fellow Spaniard Guillermo del Toro – so I had hopes that this was better than its direct-to-video roots led me to think. But it wasn't. The film's main theme is also its biggest problem, and that's the fact that a movie that revolves around math is usually going to wind up being boring. I realize there are exceptions to the rule, such as Darren Aronofksy's "Pi" (1998), but I think we've learned that even a huge budget can't make it interesting – see: "The Da Vinci Code" (2006). Not much excitement to be found in lengthy speeches about the Fibonacci Series, or how certain symbols correspond to certain numbers in the real world and we can use them to decode the true meaning behind life. I felt like I was back in college listening to philosophy lectures, or falling asleep in math again.

Martin (Elijah Wood) is an American student attending Oxford in the hopes of having the famous Professor Arthur Seldom (John Hurt) oversee his thesis. While on campus, he takes up residence at the home of Mrs. Eagleton (Anna Massey), who lives with her daughter, Beth (Julie Cox). One day, Martin and Prof. Seldom both arrive at Mrs. Eagleton's at the same time, only to discover that she's been killed. After a taunting note leads them to believe that mathematical series are being used in conjunction with the killings, the three of them have to solve the riddles to figure out who's going to be killed next.

John Hurt is one damn fine actor, but he's also getting up there in age. I'm sure that he's happy to be taking all the work he can, as most older actors – no matter how esteemed they once were – seem to take just about anything thrown at them. He chews up some serious scenery here, giving Professor Seldom a great resolve and a sense that the man is truly a genius. I've seen John Hurt play many characters – most recently (and laughably) a Viking in "Outlander" (2008) – but I found him to be very believable as a brilliant mathematics professor with the skills to solve a murder. It's apparent that he's not slacking on his performance, giving it his all throughout the film. He's a bit like Robert Langdon from "The Da Vinci Code", just without the terrible hair and with a little more gravitas.

Elijah Wood, however, is a bit of a mystery here. I thought he did a commendable job in the "Lord of the Rings" trilogy (2001-2003), but he plays exchange student Martin here with such wide-blue-eyed wonder that I never truly bought into him being some highly intelligent whiz kid. He loves logic, yet it seemed that there were many instances for him to be a smarter character in the film than he's proven to be. I found myself bored with much of his dialogue, and his character comes across as a single-minded bore who's more interested in math than he is in getting laid. Wood's constant state of boyish wonderment made me think he was far out of his league hanging out with someone like Prof. Seldom despite the fact that he's so well-spoken.

Let's get to who kills this film. Dead. Burn Gorman as Yuri Podorov, a student who also tried to become Seldom's mentor but failed. This guy is a seriously terrible actor – horrendous. And I can only hope and assume his voice has been dubbed for the American release, because he delivers his lines like someone sitting in an ADR booth. His maniacal outbursts and psychotic delusions might be aspects of his character, but he plays them in such an outrageous fashion that it becomes comical. And what's with his look? He's got this singular stare where his face seems to lose all sense of musculature and he becomes a stone-faced gargoyle. It's downright embarrassing at times. I guess I can give him some credit for spicing up this mundane thriller, but he's so out of place here that it only serves to be a detriment to the film.

I've never seen a film by director Álex de la Iglesia before, but I am intrigued enough to seek out his other works. Even though this film felt like a misfire, I can tell that he's got a unique style that many American directors lack. Spain has been producing some really great films recently, especially in the horror genre. Directors like Guillermo del Toro, Juan Antonio Bayona, Alejandro Amenábar and Nacho Cerdà have proven that Spain is fertile ground for burgeoning talent. From what I've read, most of de la Iglesia's earlier films were in the black comedy/horror vein, something which is much more in tune with my own tastes. I think that he could only do so much here, adapting the novel from Guillermo Martinez. In fact, in the supplements the director talks about how he has such profound respect for someone else's work that he does very little to mess with it. I think he's probably better suited to making something that's more his own, then he can tinker with it until it's right. "The Oxford Murders" had a good shot at being a taut thriller that managed to fly under the American radar, but it ended up being another trip down a well-worn path.

Video


I really enjoyed the film's 2.35:1 1080p 24/fps AVC MPEG-4 encoded image. For a DTV release, Magnolia still made sure the picture was stunning in high-definition. The picture doesn't impress with its visual palette – this is England, after all – but rather in the level of detail visible on screen. I loved the cinematography by Kiko de la Rica, which bathed the image in deep, dark hues that gave the film a rich, organic feel. Earthy tones dominate most of the screen, though hues of blue are also employed. The picture holds up well in dark lighting, with the black levels retaining a deep consistency while managing to avoid intruding on the image detail. Elijah Wood's blue eyes are just about the brightest thing in the film, and they look clear enough to jump into for a quick swim. The greatest example of the film's details can all be examined through John Hurt. His character's fuzzy tweed jacket looks almost tangible, as does his mane of hair which outlines his well-worn face full of crags and wrinkles. I'm always pleased when a film – even though not terribly interesting – can still look so great on Blu-ray that watching it becomes slightly less a chore.

Audio


The English DTS-HD Master Audio 5.1 surround sound track mixed at 48kHz/24-bit is a perfectly serviceable track, but there's not much to make it stand out. An opening sequence set during World War I sounds fantastic – mortar explosions aplenty, gunfire zipping past your ears from all corners of the room, men screaming on the battlefield – but I can assure you that's the high mark for the audio. Everything after that is rather mundane, with an audible soundscape that's meandering and expected. There's some ambient filler sounds to be heard (gotta justify those rear speakers, right?), but nothing that will make you feel like this is anything better than a movie-of the-week on TV. Dialogue drives much of the film – maybe too much – but at least it's all crystal clear.
A Spanish DTS-HD Master Audio 2.0 surround track is included. Subtitles are available in English for the hearing impaired and Spanish.

Extras


For a direct-to-video movie, Magnolia sure packed this Blu-ray full of supplements. The only downside is that, aside from a single segment, they're all in standard definition. If they hadn't gone the cheap-o route and used a single-layer, 25 GB disc, then I'm sure everything could have been presented in full 1080p. But obviously they didn't do that, so here's what you got.

"The Making of The Oxford Murders" (480p) is a featurette that runs for 17 minutes and 20 seconds. As you can probably guess from the running time, this is nothing more than your standard behind-the-scenes EPK stuff. We get interviews from the principal cast in addition to being shown some footage shot on set.

"Criminal Math of Oxford" (480p) is a featurette that runs for 10 minutes and 14 seconds. A guy smarter than me explains how some of the math in the film is employed, including recognizing logical series. Math was always my least-favorite subject, and this featurette feels like another lecture.

"The Oxford Murders: Interviews" (480p) featurette runs for 13 minutes and 45 seconds. We get some more face time with the film's main cast as they talk about their roles in the film.

"The Oxford Murders at Abbey Row" (480p) is a featurette that runs for 2 minutes and 26 seconds. Check out composer Roque Baños (this guy's last name can't seriously be "bathrooms", can it?) in action as he writes music for the film at the famous studios.

"The Oxford Murders: Waiting for Alex" (480p) is a featurette that runs for 18 minutes and 12 seconds. Director de la Iglesia takes a long time to meet up with author Guillermo Martinez and screenwriter Jorge Guerricaechevarría, so they have plenty of time to crack jokes about him and discuss the process of writing the film.

"The Oxford Murders: Professor Kalman" (480p) is a featurette that runs for 4 minutes and 30 seconds. We learn a bit more about the mostly-limbless, lobotomized professor, played by cult film director Alex Cox.

"The Oxford Murders: Set Design" (480p) is a featurette that runs for 3 minutes and 27 seconds. Rather than some on-set footage, this is a look at the film's sets through their pre-production sketches and drawings.

"The Oxford Murders: Kalman's Makeup" (480p) is a featurette that runs for 4 minutes and 32 seconds. Just another look at the odd Professor, this time focusing on the process behind getting him to look so grotesque.

"HDNet: A Look at The Oxford Murders" (1080i) is a featurette that runs for 4 minutes and 43 seconds. It's basically the same thing as the other making-of, but in higher definition.

"Behind the Scenes of The Oxford Murders" (480p) contains several short behind-the-scenes featurette segments for the following:

- "Alex According to John, Elijah and Leonor" runs for 1 minute and 16 seconds, the three actors discuss how they liked working with the director.
- "Elijah, Leonor and Math" runs for 1 minute and 17 seconds, the two actors talk about the logic and arithmetic used in the film.
- "Alex and a Very Personal Assignment" runs for 1 minute and 14 seconds, the director talks about why he takes this project more seriously than those he's written.
- "Alex, a Spaniard in Oxford, Part 1" runs for 1 minute and 16 seconds, Alex talks about the experience of shooting at such a prestigious school.
- "Alex, a Spaniard in Oxford, Part 2" runs for 1 minute and 15 seconds, more of what Part 1 was about.
- "John and Elijah According to Alex" runs for 1 minute and 14 seconds, now Alex gets to talk about what it was like working with these two actors.

Bonus trailers (1080p) are included for the following Magnolia releases:

- "Centurion" runs for 2 minutes and 6 seconds.
- "The Extra Man" runs for 2 minutes and 11 seconds.
- "I Am Love" runs for 2 minutes and 21 seconds.
- "Countdown To Zero" runs for 2 minutes and 29 seconds.
- "HDNet" promo runs for 54 seconds.

The disc is also equipped with the bookmarks feature and is BD-Live enabled, though no content specific to the film is available for download.

Packaging


Standard keep case with some cover art that's almost as boring as the film itself.

Overall


I wanted more out of the film than what I got, which ended up being a stuffy, boring movie with few thrills. John Hurt gives a good performance, but even his might can't salvage this movie from boredom limbo. If you still think you want to give the movie a shot, at least you can expect a solid offering from the video quality. And, should you actually enjoy it, there are a lot of supplemental features to keep you busy.
| | | | | |
| --- | --- | --- | --- | --- |
| The Film: C- | Video: B+ | Audio: B- | Extras: B | Overall: C+ |