The Film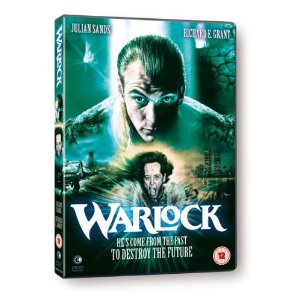 "Warlock" was originally released on just 144 screens back in 1989 in the United Kingdom and would not be released in cinemas in America until 1991. Struggling to perform during a time where supernatural films were starting to waver with audiences it managed to bring in a worldwide gross of just over $9million, from a budget of $7million. However, when I take a quick look at the sheet of promotional blurb that came packaged with this review copy from Second Sight Films I can't help but feel that if released today, it would fare far better as a lot of the cast and crew are more popular than ever. Director Steve Miner carried on directing a few underrated fun horrors such as "Lake Placid" and "Halloween: Resurrection" and is now a very well known television director with credits including "Psych" and "A Town Called Eureka". Writer David Twohy has gone onto script "The Fugitive" and "The Riddick" movies and although he has been quiet the last five years or so, has mentioned in press interviews numerous projects he has on the go. Actors Julian Sands, Lori Singer and Richard E. Grant have had mixed lives after "Warlock" with Lori Singer falling completely off the map, Julian Sands plodding along in a lot of fluff (though a role in Fincher's remake of "The Girl With the Dragon Tattoo" is forthcoming) and Richard E. Grant winning a Razzie for his role in "Hudson Hawk" but also gaining critical praise in films such as "Gosford Park" and "The Garden of Eden". One look over these names and you just know this film would deem quite well amongst all the supernatural movies of today. But what is it about?

Well, here is the synopsis from the case:
A sinister 17th century warlock summons satanic intervention to escape a death sentence finds himself transported 300 years into the future. Arriving in modern-day Los Angeles his quest is to find the scattered remains of a satanic bible, containing the true name of god and with it the power to destroy mankind. He has not been transported alone however and in steadfast pursuit is the witch-finder who brought him to trial and must now hunt him down once more.
Julian Sands and Richard E. Grant give superbly matched performances as the enigmatic, battling adversaries in this classic supernatural horror.

Having never seen this before, after I had read the above blurb, I was expecting something very similar to Highlander and although there are many similarities, the two films are very much a different experience. The film starts in a courtroom where "Warlock" (played by Sands) is on trial for witchcraft. Escaping 300 years into the future he crashed into the living room of the house the beautiful young Kassandra (Singer) is living. After Warlock casts a spell on Kassandra aging her twenty years, she joins forces with witchhunter Giles (Richard E. Grant) who has also travelled forwards in time. As the story progresses we are treated to what is essentially a very fun film. The first thing that struck me is just how well the cast play off each other. Obviously enjoying themselves the chemistry gives the characters that extra little kick which ignites your interest into this supernatural battle. This isn't to say that some of the acting isn't flawed, but it doesn't take away from the movie. Despite being a horror, we aren't given much gore and instead the majority of horror scenes are quite mild and filmed in a way to imply something horrific is happening. This coupled with some reasonably good special effects for a film of this ilk and budget actually adds to the overall enjoyment of the film and if it had gone for out and out gore it would have a very different feel to the overall product. The direction is solid with well organised action scenes and some nice sweeping shots throughout later locations which was to be expected from Miner whose previous film "House" is a favourite of mine. The script is definately a highlight and although being very far from special, contains some excellent moments, especially the scene in which Warlock is talking to a young boy on a swing who proclaims "My Dad hates all that stuff about Jesus and the twelve apostraphes" and "You're a witch? Only girls are witches". Add together the chemistry of the cast, the solid direction, good speial effects and fun script and you get a very enjoyable, and overlooked, movie that's certainly worth seeking out for fans of the genre, or fans of the cast, director or writer.

Video


Presented anamorphically in the original aspect ratio of 1.85:1 I was impressed with the transfer. Although there are signs of grain here and there, it is relatively clean and with no major issues, I'm not sure the viewer can really expect that much more considering it's not an A-List title.

Audio


Second Sight have provided us with a rather simple Dolby Digital 2.0 Stereo track which, like the picture, is perfectly adequate. I noticed a (very) small amount of noise right at the beginning but other than that, dialogue was clear and volume levels between dialogue, music and effects were fine. A nice remixed 5.1 track would've been a nice addition though.

Extras


Nothing. Not even a trailer or subtitles. Would've liked a small retrospective featurette, a couple of interviews, a commentary... anything.

Packaging


Packaged in a regular keep case, the artwork is, I am told by a friend, that of an old Medusa VHS release liked by fans of the movie.

Overall


A fun, underrated movie worthy of picking up with decent picture quality and adequate audio. The only thing that lets Second Sight's release (the first DVD release of Warlock in the UK) is the lack of subtitles and extras.
| | | | | |
| --- | --- | --- | --- | --- |
| The Film: B- | Video: B | Audio: B- | Extras: F | Overall: B- |