The Film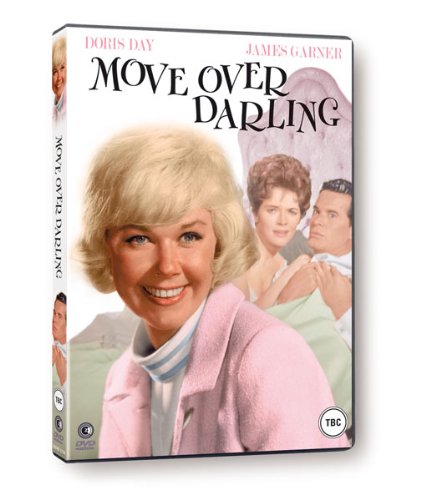 "Move Over, Darling" is a film that could've ended up so different and has quite a background story as to how it ended up with the cast. In 1864, Poet Laureate Lord Alfred Tennyson wrote a poem called Enoch Arden, in which a fisherman is shipwrecked for ten years. Upon being rescued, he finds his wife has remarried and moved on with her life. In 1940, Fox adapated the poem into classic screwball comedy "My Favourite Wife" starring Cary Grant and Irene Dunn although this time the roles had been reversed so it was the husband who had remarried and the wife who was shipwrecked. Fast forward to 1962. Fox was in big need of a hit at the box office after some poor performances and Marilyn Monroe had been in several years worth of unsuccessful movies. Fox decided to remake "My Favourite Wife" as "Something's Gotta Give" starring Monroe alongside Dean Martin. Unfortunately it was never to be. Fox sacked Monroe as she often never turned up on set and when they tried to replace her with Lee Remick, Dean Martin decided to bow out of the production. Monroe died soon after. Having already pumped money they couldn't afford to write off into the film, Fox decided to start over with Doris Day and James Garner, re-using sets and the like in order to salvage the project on as little money as possible. From this, "Move Over, Darling" was born and became the fourth biggest film of 1963, helping to wipe out Fox's huge losses from "Cleopatra".

In the film, Doris Day plays Ellen Wagstaff Arden, wife of James Garner's character Nick. A mother of two very young children, Ellen becomes shipwrecked on a desert island for five years before being found by the Navy. Thinking his wife had drowned at sea, Nick has decided to move on with his life and, after going to court to have Ellen legally declared dead, he marries Bianca, played by Polly Bergen. As Nick and Bianca are on their honeymoon, Ellen arrives at the family house, much to the delight of Nick's mother Grace (Thelma Ritter). After Grace tells Ellen that Nick has remarried and is on his honeymoon, Ellen decides to go and surprise him. It is here that the film really starts and Nick tries to keep both his old wife and his new wife happy as he struggles to tell Bianca that Ellen is actually alive.

Admittedly I didn't know very much about this film when I received it but having previously seen "My Favourite Wife" a few years ago and really enjoying it I was hoping I would get more of the same and I was happy with what I got. Despite all the problems in the initial casting of the film, and a change of director from George Cukor to Michael Gordon, the end result is a nice little light comedy with a few screwball moments, very much like "My Favourite Wife". Doris Day is perfect in her role and she gels really well with James Garner although I did think that Polly Bergen was miscast and she struggled to give off the same presence her role required, especially considering she is an essential character with a decent amount of screen time. Thelma Ritter is excellent as the mother-in-law trying to push things along but the highlight in the casting for me was Edgar Buchanan as Judge Bryson who provides the film with the dry wit required to make it known it is a serious situation, yet with comedic tones. Thankfully, he is not over or underused and his character is placed perfectly both at the beginning and at the end of the movie. The script has plenty of laughs in it without resorting to anything completely over the top or too risque although it is a little formulaic in it's structure (how many movies have a person going through the car wash with the windows/top down?). There are a few action scenes including a short car chase where the choreography is done well, yet doesn't excite as much as one would like. The movie has a nice and light orchestral score that suits the feel of the movie perfectly. The theme tune is catchy and thankfully here in all its glory (it was originally banned in the UK on the film's cinematic release and then made the charts in the 1980's). All in all, if you're a fan of any of the cast or a fan of "My Favourite Wife", then you'll certainly find something to enjoy here.

Video


Second Sight have licensed the movie for the UK and appear to have used the print that was restored by Fox in 2007 for their region 1 release. Colours are vibrant and bright and I didn't notice much at all in the way of damage or grain. Fox have done an outstanding job cleaning this up and I'm glad Second Sight have used this print.

Audio


Only one option here, and that's a Dolby Digital 2.0 track which my equipment tells me is stereo although I didn't hear much at all (if anything) in the way of track seperation, so it's possibly just a mono track. Dialogue was clear throughout, there was no distortion and volume levels between the score, sound effects and dialogue is fine. A perfectly acceptable track.

Extras


Nothing. Despite Fox loading their region 1 release with extras about the history of the film and the restoration of the print, it appears Second Sight didn't want to (or couldn't) license the extras along with the movie. There are also no subtitles. Very disappointing.

Packaging


Standard keep case with artwork that fails to set it apart from any other light comedic studio movie from the sixties.

Overall


A great film for a rainy day that is worthy of a place in any collection, especially with the above average picture quality. Just a shame there's no extras.
| | | | | |
| --- | --- | --- | --- | --- |
| The Film: B- | Video: B+ | Audio: B+ | Extras: F | Overall: B- |