The Film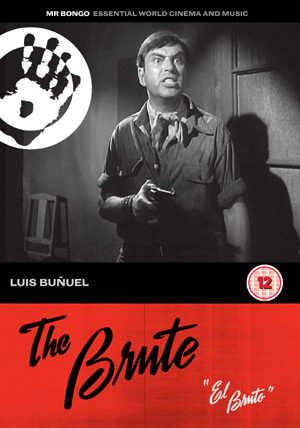 Luis Buñuel is widely recognised by film aficionados as one of the most prolific and important figures in cinema history. His obsession with subversive behaviour and religion, and his no-nonsense approach to filmmaking in which he would shoot a film in just a few weeks, often in sequence order, turning his hearing aid off so he didn't have to answer questions from cast members, would allow him to relish his films with surreal scenes for which he would become famous, especially during the later years in his career. He started his film career in France aged 26 as an assistant director to Jean Epstein until directing his debut short film, "Un chien andalou" three years later with Salvador Dali. He followed this with "L'Age d'Or" before returning to his homeland of Spain and making "Las Hurdes: Tierra Sin Pan" in 1933 and "España 1936" in 1936. When the Spanish Civil War started, Buñuel decided that Spain was not a place he could make the films he wanted to make, he moved to the US and capitalised on the remaking of US films into foreign languages before dubbing was deemed an easier, and more cost efficient alternative. With this, he moved to Mexico in 1946 and this is where his film career started to flourish, making twenty films before ending his career with his most prolific and well known films in France. "The Brute" is one of two of Buñuel's Mexican films that Mr. Bongo Films have seen fit to release in the United Kingdom on DVD for the first time (the other being "Susana").

The synopsis for "The Brute" from the case reads: "Two of Mexico's finest actors tsra in this early fiery melodrama by master director Luis Buñuel. Pedro Armendáriz (Maria Candelaria, Three Godfathers) plays Pedro - "El Bruto"; a physically strong, but simple-minded slaughterhouse worker who is hired by Andrés (Andrés Soler), the ruthless landlord of an apartment complex (due for demolition), to evict unwanted tenants. Pedro's life is complicated when he falls for his seductive co-worker Paloma, played by Ariel-winner Katy Jurado (Broken Lance, High Noon) - who also happens to be the slumlord's wife. Things get stickier for Pedro when, whilst strong-arming the tenants of the old building, he accidentally kills an old man who stands up to him. Pedro duly flees with Paloma, now his lover, and the pair go into hiding. Meanwhile Meche (Rosa Arenas), the young and charming daughter of the murdered man, assists Pedro in avoiding the furious neighbour tenants, all the while unaware that she is aiding the murderer of her father. In time, Pedro starts to feel that he is being used by Andrés, although he is (perhaps unsurprisingly) the last to realize something important about his erstwhile employer. In the meantime, 'El Bruto' begins to develop feelings for Meche, eventually offering his home to her. For her part, Meche soon develops a soft spot for the naive and suggestible Pedro."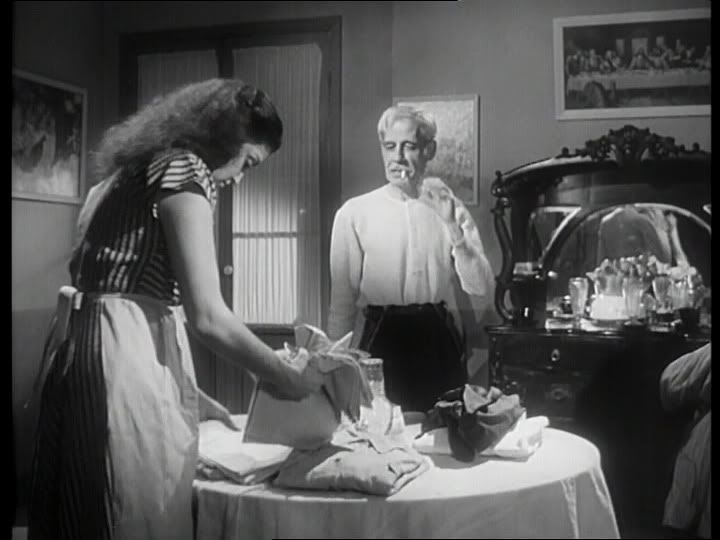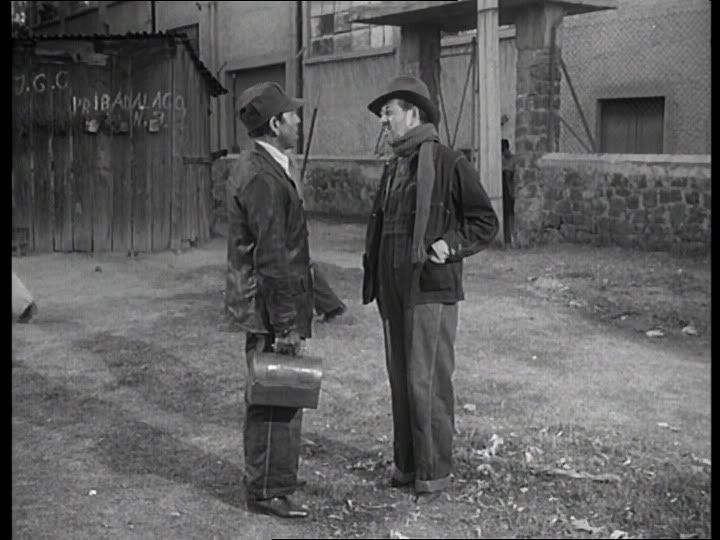 The Brute is an interesting film and, like Susana, does not contain much of the surrealism Buñuel is famous for, instead opting for a melodrama that is both tragic and dark. Whilst the plot may not be particularly inspiring and sounds rather formulaic and simple, it ends up drawing you in through the strength of the script and the cast. In the lead role of Pedro (AKA 'The Brute') is Pedro Armendáriz (Calibre 44) who is perfectly suited in his role. A very big guy, he looks like the type of man a landlord may employ to evict his tenants yet also manages to show the viewer that he isn't just a tough guy through the character's simple mindedness, played to a tee. If it wasn't for Armendáriz's ability to play Pedro's scenes in which the character displays his weaknesses so well, this film would not have worked on the level it does. Also of note cast wise, is Andrés Soler as Andrés the landlord, Rosa Arenas as Meche and Katy Jurado as Paloma. The film is also filled with a couple of extremely memorable scenes, my favourite of which is the scene where Pedro is chased by tenants and, as he runs down one alleyway, Buñuel has set up the shot so that his shadow runs down another. I recommend this film to anyone with a passing interest in Buñuel's work, as this film is an excellent entry in his resume although just don't go into it expecting the surreal.

Video


Presented in the original fullscreen aspect ratio, Mr Bongo Films have used a print that has been restored by CMC Video in France (according to their website) and they've done a reasonably good job as you can see from the screencaps above. There is a small amount of grain and artefacts throughout and there is the odd occasion where there seems to be larger damage during the odd frame which is noticeable. There are also moments where tramlines run vertically through the picture. Despite this, it's a decent presentation overall and although it can certainly be improved upon it is certainly superior to the US release from Facets Video. Subtitles are clear, white, optional and available in English only.

Audio


We are given just the one audio option here, a Dolby Digital mono track that is in the original Spanish language track. Dialogue and music is clear and there I heard no real problems outside of some occasional minor hiss. Perfectly adequate.

Extras


Not a thing. A documentary about Buñuel's career would've been great. In fact, anything would've been nice.

Packaging


Packaged in a standard keep case, the artwork follows the same style we have come to expect from Mr. Bongo.

Overall


A must see film for fans of Buñuel but the lack of extras is disappointing and the quality of the picture, whilst good, could be improved upon.
| | | | | |
| --- | --- | --- | --- | --- |
| The Film: B+ | Video: C | Audio: B- | Extras: F | Overall: B- |