The Film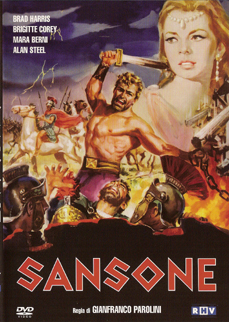 Director/co-writer Gianfranco Parolini started his career as an assistant director. After he directed the "storm sequence" (at least based on his own words) to "Goliath Against the Giants AKA Goliath contro i giganti (1961)" and working on the film as a production designer, the producers quickly saw his talent for making effective scenes in an economic way. And fast. Parolini found himself in the wonderful world of Italian "Peplums" ("Sword and sandal" movies), which was his bread-and-butter in the 1960s (when the genre died, he moved to the spy-movies and "Spaghetti westerns"). After working with the American bodybuilder Brad Harris in "Goliath Against the Giants", Parolini casted him in two Peplums that were shot simultaneously; "Samson AKA Sansone (1961)" and "The Fury of Hercules AKA La Furia di Ercole (1962)", using a very similar cast.

"Samson (Sansone)" was another Italian muscle hero that originated from Biblical history. Before the Italian adventure-movies (which had pretty much zero connections to anything Biblical), American director Cecil B. DeMille did a few Biblical epics, including "Samson and Delilah (1949)". If in that the character was a Jewish revolutionary - played by big star Victor Mature, the Italian productions introduced Brad Harris, Kirk Morris, and Alan Steel and the character Samson, who fought against the soldiers, monsters and evil tyrants, having the strengths of several men. But yes, he was a "revolutionary" of some sort in the Italian Peplums also, since usually the suppressed people needed someone like Samson to guide and save their people from the dictators. To make things again confusing, Americans often re-named the heroes from Italian Peplums when they made the English dub, so the Italian "Maciste" became "Samson" in American versions. There are many American titles with "Samson", but only half of them originally starred "Sansone". Got it? Good, let´s move to the plot of the first Italian Samson-movie; "Samson AKA Sansone (1961)".

When hunting some wild boars along with his friends in the woods, Samson (Harris) stumbles into a hidden cave. There he meets Millstone (Macigno) (Sergio Ciani - as Alan Steel), who is calmly claiming that the hunted boar is now his. Well, Samson can´t have that, so the fight breaks out between the two muscled men. All is still handled in more like a competitive spirit and the certain respect with the two men is visible. The fight is interrupted by the mercenaries of the "Kingdom of Sulom", who will arrest every trespasser on their land. This now means Samson, since Millstone is fleeing. Samson has nothing to hide and he´s the old friend of the Queen Mila (Irena Prosen), but things have changed while he was away. The queen is now in the same place as Samson, locked in prison, but this issue is kept hidden by the public (who´ll think that the Queen has "gone away" for a while). The Sulom is now ruled by Queen Romilda (Mara Berni), along with his evil companion Warkalla (Serge Gainsbourg), who are blackmailing Queen Mila to reveal the location of the huge treasure. Romilda and Warkalla are now mainly having big parties upstairs, while their people are suffering and the innocents are locked away. Things are starting to come together when Samson realises that Millstone is one of the rebels ready to overthrone Romilda, along with her mercenaries. And Millstone is just one of many. Like in so many times in Italian Peplums, the strong men have to fight for the innocent ones and save the day. Can they do it?

"Samson" has nothing significantly "wrong" with it, and it´s a solid film, but it´s also too ordinary - sometimes even a bit of a dull Peplum. There are no "sea monsters" or similar adventure/fantasy-elements this time (which I like), mainly with Samson battling against soldiers and other strong men, sometimes locked in prison and sometimes not. There are also plenty of scenes from the palace, where different "shows" are held for the Queen Romilda and Warkalla. Some humour is added, not always that amusing (standard comical "side-kicks" are provided). The art direction and set-pieces are still very well done and scenes in prison or in the "torture chamber" (with spikes) are classic examples of an Italian production creating good scenes with little money - being inventive and using their imagination. Action and stunt-scenes are also effective, as usually is the case in these films. The film has "two muscle men for the price of one", but the story doesn´t fully exploit the potential chemistry between Samson (Brad Harris) and Millstone (Alan Steel). They have the energetic and wild confrontation at the beginning of the film, but the rest of the film they´re not very well united. The story in "Samson" lacks spice, but is a decent Peplum with solid visual imagery, although it´s not one of the best films of the genre. For the fans it´s still a "must buy" - there are too few of these in good quality to pass up any release like this one.


Video


Italian "Ripley's Home Video" has presented the film in Anamorphic 2.35:1, which echoes their "companion-release"; "Goliath Against the Giants AKA Goliath contro i giganti (1961)" (see the review of the disc from here). The print is good for its age and most likely remastered, but you still have some slightly faded colours and generally some scenes tend to look a bit worn-out. Some scenes also looked darker and softer (probably due to the original mistakes in production) than others and there are a few film artifacts. Still, blacks are solid and there´s nothing that would make you overall distracted. Fans should be more than pleased to see another Peplum in 2.35:1 and in good condition, especially when this film has previously only been released in pan&scan 4:3 (in America) or with a German dub only (German-release). "Dual layer" disc (not really using its potential, though) is coded "R0" this time ("Goliath Against the Giants"-disc was "R2") and it has 16 chapters. Film runs 94:11 minutes (PAL) and is using Italian credits.

Audio


The disc has English Dolby Digital 2.0 Mono and Italian Dolby Digital 2.0 Mono-tracks, but unfortunately there are no subtitles at all (which made the Italian track a bit useless for me). English track is somewhat "loud" when it comes to music, but still is a bit muffled in dialogue. The track is relatively clean and the hiss is usually very mild, but there are selected scenes where the hiss drastically rises (fortunately that is the case only in select scenes). English-track is generally more pleasant sounding compared to the Italian one, which has more hiss on the background (with "Pro Logic", some "static" moves also to the rear channels).

Extras


Italian theatrical trailer (no subtitles - 3:30 min) is included.

(Note, that the following featurette is the same one that is included in the "Goliath Against the Giants AKA Goliath contro i giganti (1961)"-release from "RHV", so the text is also the same as in the earlier review):

The main extra is "A Talk with Gianfranco Parolini" -featurette, running 18:03 minutes. This is the interview with the co-writer/production designer (in "Goliath Against the Giants") Gianfranco Parolini, which is in Italian, with optional English subtitles. This is a funny and interesting featurette, since Parolini is a real character. He tells about his early career when he was writing cheap thriller novels, and how he was e.g. one of the assistant directors (uncredited I assume) in "Cleopatra (1963)". Parolini quickly moves into peplums and tells how the editing background helped him to shoot the bigger action scenes and many set-ups in a short time. One interesting note is that the original director of "Goliath Against the Giants", Guido Malatesta, was actually fired and it was Parolini who finished the film. Apparently Malatesta couldn´t keep the "storm scene" under budget (he wanted a big boat set-up), so Parolini stepped in and shot the scene by using 3 different pieces of the boat, along the miniature and clever editing. Parolini also tells how Brad Harris broke his leg partly because of the too-dangerous stunt by Malatesta. He talks about Sergio Leone and how he visited his pompous set in "The Colossus of Rhodes AKA Il Colosso di Rodi (1961)". Parolini looked the set and the countless extras, and asked from Leone: "What the f**k are you doing?". It´s hard to say how much "more" Parolini adds in his stories and he clearly has a lot of self-confidence, but at least he´s not dull. He also talks about films that he directed, e.g. "Samson AKA Sansone (1961)", "The Ten Gladiators AKA I Dieci gladiatori (1963)", "If You Meet Sartana Pray for Your Death AKA Se incontri Sartana prega per la tua morte (1969)", "Kommissar X" (Agent Joe Walker)-movies, and "Sabata"-trilogy. Now he´s planning to do a "100% feminine" film after all these macho-films. Remains to be seen, I would say.

4-page booklet is in Italian, including cast & crew list, some notes about the transfer and brief "Samson in Movies"-notes. Based on this, the character appeared in 10 movies during 1918-1996. Brief Gianfranco Parolini biography and filmography is also included.


Overall


Decent Peplum, with good transfer and repetitive extras. Must have for the fans, but not necessarily the first film from the genre that the newcomers should see. Next time, bring the sea monsters and giants.

This DVD is available at Xploited Cinema.
| | | | | |
| --- | --- | --- | --- | --- |
| The Film: | Video: | Audio: | Extras: | Overall: |