The Film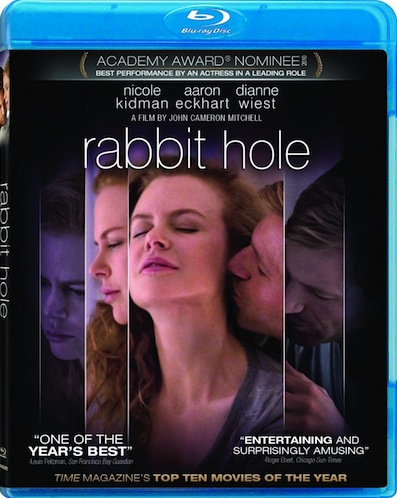 "Rabbit Hole", a film about a couple grieving the death of their only son in a car accident, is something of a change for director John Cameron Mitchell while still being a deeply personal work. Mitchell is perhaps better known as the director of the outrageous "Hedwig and the Angry Inch" (2001) and the "family-values" baiting "Shortbus" (2006). Both of these previous films have dealt with sex and sexuality, subjects obviously pertinent to Mitchell. "Rabbit Hole" is no less personal: he lost his younger brother when he was 14. As such, you can be sure Mitchell knows about families grieving.

The film begins some 8 months after the accident, and focusses on Nicole Kidman's character, Becca. She seems to have shut herself (and her husband, Howie played by Aaron Eckhart) off from the world. They no longer see friends, they don't go out, they just... exist, as best they can. Nothing is explicitly stated here, all the details are slowly teased out as they would be in life. Howie struggles to find a way to move one, while Becca seems to work to "erase" their son - packing up his paintings, getting rid of his clothes, wanting to move house. This all, of course, causes friction in their marriage. Eckhart as Howie and Kidman give such honest, raw and pared-down performances it never seems like they're "acting".

As the story progresses, Becca continues to antagonise and push people away; including her sister and mother Nat (the wonderful Dianne Wiest), who also lost a son. The only person she really begins to talk to is the young teenage boy who was driving the car, Jason. She begins by stalking him - not in a scary way - rather, more out of curiosity than anything. They talk in the park, and he's shy and creative and remoresful and inarticulate. So, basically an actual teenager. Howie connects to a woman at group therapy (Sandra Oh). They get high together and they seem to make a real connection; the type of connection Howie is missing with Becca. You wonder how far they're going to take it, wanting and not-wanting them to do something.

But the film is not entirely a maudlin and depressing wade through a couple's grief. There are surprising moments of real, honest humour throughout; both for the characters and for the audience. These moments serve as tension relievers, just when they are most needed. One scene finds Howie and Becca at group. Instead of it being a circle of cycling grief, with everyone weeping, Becca just blurts out something so outrageous you cannot help but laugh in reflex. And you can see why Kidman was nominated for an Oscar for this performance; it is real and devastating. But you can also see why she wasn't in with a chance: it's too reserved for the Academy, she has internalised all her grief and she comes across inititally as cold.

"Rabbit Hole" marks an important maturity point for Mitchell as a filmmaker. It is a quietly powerful film, about a tough and possibly touchey subject that never feels like a tough watch. Come the end, nothing is resolved, nothing is really tidied up. There are perhaps a couple of moments of cliche, but nothing ever feels like it's not real, not honest. And it helps that the film is anchored by such fine performances as these. I hope it finds an audience on wider release here.

Video


Presented in a widescreen ratio of 1.78:1 mastered in HD 1080p 24/fps using AVC MPEG-4 compression. The picture presented by Lionsgate is very sharp, crisp and clean. The film was shot using the RED digital camera and the image was mastered using the original digital elements so a flawless picture is what you're going to get. Sharpness is excellent, depth and detail are well preserved, colors appear natural and smooth, especially skin tones. Blacks are nice and deep, there's hardly much grain, some dimly lit scenes feature a minor amount otherwise the picture is razor sharp. There are no flaws that I could detect here, it's solid.

Audio


A single English DTS-HD Master Audio 7.1 surround mixed at 48kHz/24-bit. "Rabbit Hole" is not exactly a film that requires a 7.1 DTS-HD mix, but here we are, with a 7.1 sound mix. The film's audio content is mainly dialogue-based, and the mix handles the dialogue well, clear and distortion free. The surrounds are a bit quiet, mostly used for score and minor ambient sounds. To say this is an active mix is to say that "Transformer: Revenge of the Fallen" (2008) was a masterpiece. In saying that, the mix is perfectly suitable for the film, and features adequate sonics.
Optional subtitles are included in English and Spanish.

Extras


Lionsgate has included a small selection of extras in the form of an audio commentary, a collection of deleted scenes, the film's theatrical trailer plus some bonus trailers. Below is closer look at these supplements.

First up is the feature-length audio commentary by director John Cameron Mitchell, original playwright and screenwriter David Lindsay-Abaire and director of photography Frank DeMarco. Quiet, reserved and sometimes technical, that's the best way to describe this track. The three participants cover some basic issues about filmmaking and the challenges of shooting, but it's all fairly standard stuff that doesn't really excite. They are occasionally candid and sometimes personal, the film's characters and themes are also commented on.

There are a total of three deleted scenes, all presented in 1080p and can be viewed individually or with a 'play all' option, the scenes included are:

- "Izzy confronts Debbie in supermarket" runs for 1 minute 17 seconds, Izzy confronts Debbie about not keeping in touch.
- "Driving Izzy home from jail" runs for 35 seconds, Becca and Izzy share small talk while driving home.
- "Bed, Bath & Beyond" runs for 1 minute 7 seconds, Becca and Howie talk about Izzy while shopping for her birthday present.

The film's original theatrical trailer runs for 2 minutes 32 seconds and is presented in HD 1080p.

Rounding out the disc's extras are bonus trailers (all in 1080p) for:

- "The Lincoln Lawyer" which runs for 2 minutes 29 seconds.
- "The Next Three Days" which runs for 2 minutes 36 seconds.
- "I Love You Phillip Morris" which runs for 2 minutes 24 seconds.
- "The Switch" which runs for 2 minutes 31 seconds.
- "Biutiful" which runs for 2 minutes 5 seconds.

Packaging




Overall


The film review was originally published on the blog Rockets and Robots are Go! by Andy James.

-----------------------

Support us by purchasing this disc online at Bluraysforeveryone.com, they specialize in store exclusives and limited editions both new and used, plus have a wide range of new releases and catalogue titles. Join their reward program and earn points towards your purchases. Best of all for overseas customers they are customs friendly and offer great cost-saving shipping options. Check them out for some cool limited editions.


| | | | | |
| --- | --- | --- | --- | --- |
| The Film: B | Video: A | Audio: B | Extras: B | Overall: B |