The Film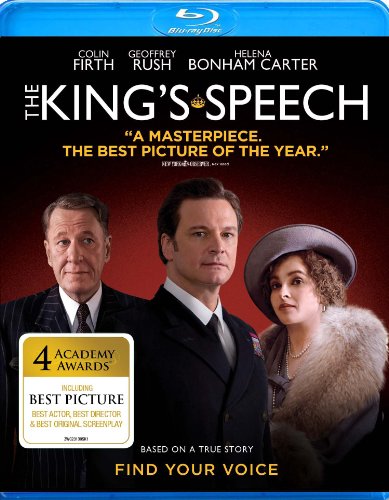 The Colin Firth starring, Tom Hooper directed "The King's Speech" is a solidly entertaining film. There are obstacles overcome, a period setting, a cast of fantastic actors and more than a little humour. I don't really see too much more to it than that. Solid, but not Best Picture material.

And this is no bad thing. Too often nowadays we are deprived of decent dramatic films. All too often, what's on at the cinema is pre-packaged and pre-sold and (more often than not), less than satisfying. "The King's Speech" is a very, very good film. It's not hard to see, though, why the Academy (and BAFTAs etc.) have warmed to it: a little known, true-life tale about a monarch facing a very human struggle; with said royal portrayed by certified British national treasure Colin Firth. Which is not to say I believe it was a cynical exercise in fishing for awards glory. No, you can tell that bringing this tale to the screen was a very real desire to tell this particular story. This is a tale that, before all the awards and buzz, you may have struggled to see the appeal of: it's all about a stammering royal learning to speak properly. "Yes, its got a great cast but boy, I bet we're in for a lot of stuffy English folk standing around, talking. Snore!"

Not so. And, in fact, this is a film I've been looking forward to seeing ever since I first heard of it. What a bloody great, little known facet of history! That King George VI, current Queen Liz's dad, was a stutterer and had to consult with an unconventional Aussie speech therapist in order to help lead England through WWII. It's the kind of historical oddity I geek out about a little bit. And the film covers a decent swathe of history; there's two other blokes (King George V played by Michael Gambon and King Edward VIII played by Guy Pearce) who are king before Bertie is crowned.

Colin Firth anchors the film as the Duke of York, Prince Albert (or Bertie to his family), later to be King George VI. His speech afflicted royal is a very human figure; sympathetic but with an angry streak. Giving more than able support (both in his role, and with his character) is Geoffery Rush as the speech therapist from the colonies, Lionel Logue. It's a delight to see Rush out from under the pirate make-up again, and the role seems an absolute natural fit for him. Logue is a failed actor fallen into speech therapy (after helping many of the boys coming home from WWI) and he has an obvious love of language and desire to help those who struggle. He is family man, with a wonderful and joyous interplay between himself, wife and sons. Whereas the stuttering Duke has to contend with a pressuring, demanding father and a teasing, dashing father.

Thankfully he has Helena Bonham Carter as his wife, Elizabeth (ie. the Queen Mum). Bonham Carter brings her typically quirky approach, making Elizabeth something of a delightful eccentric with a warm heart. Thankfully, she never overdoes it and it makes for her best role in ages. Guy Pearce also delivers another fine supporting role as George VI's brother, the flinty King Edward VIII who abdicated to marry the American divorcee Mrs. Simpson (Eve Best). Pearce is perfectly plummy and his Edward VIII is, despite the oh-so romantic notion of giving up a kingdom for love, a decent example of privilege gone wrong. He is something of a man-child, never willing (or wanting) to take responsibility for anything, least of all a country. Timothy Spall, however, threatens to upend things as a caricature of Winston Churchill. The film has a surprising streak of comedy through it, often cropping up unexpectedly and Spall's Churchill sticks out as simply going too far.

I also found some of director Tom Hooper's photography choices distracting, with a few scenes looking like they had been shot with an almost fish-eye lens. This caused the picture to look flat and unreal at the edge of frame. This, and other choices such as framing actors off-centre, do however lend the film something other than a stuffy period drama air.

Screenwriter David Seidler, Hooper and the cast have made a commendable film; a film about the struggle of a king, an unlikely friendship and family. There are moments of surprising humour (the soon to be classic swearing tirade) and scenes that are genuinely touching (such as the struggling stutterer giving his daughters - the Princesses Elizabeth (Freya Wilson) and Margaret (Ramona Marquez) - a bedtime story. The desire to not disappoint his daughters and the creativity and humour he displays really help you warm to him). As I've said, "The King's Speech" is a solid, well-made and entertaining drama bringing a real historical tale to life. For whatever reason, I didn't find much more than that to it.

Video


Presented in a widescreen ratio of 1.78:1 mastered in HD 1080p 24/fps in AVC MPEG-4 compression. The film's color palette is very gray and drab, there's some grain and noise at times amid the blacks, this is intentional, and the film's look has been replicated here on Blu-ray perfectly. While there's plenty of grain, the film does look nice and sharp in its close ups and external locations. Skin tones appear nice and natural, with textures looking consistent right down to the imperfections in the actor's faces. Detail and contrast are spot on, the colors (cooling blues and grays) appear accurate. The image transfer looks good in this respect and I could not spot any compression issues or technical flaws.

Audio


The audio is presented in English DTS-HD Master Audio 5.1 surround mixed at 48kHz/24-bit. Upon first impression the film may seem like a droll, talky, art film. However this audio track is incredibly rich with activity. While there are plenty of talky moments that feature front heavy audio, ambient sounds add to the the environment to those moments and there are also plenty of moments that require surround activity and complexly rich sound design. Dialogue is clean and distortion free, directional sounds are natural and well placed, and the film's score also adds to the overall depth to the audio.
Optional subtitles are included in English for the hearing impaired, French and Spanish.

Extras


Anchor Bay's release of "The King's Speech" on Blu-ray comes complete with a feature-length audio commentary, a collection of featurettes, a Q&A interview, a PSA as well as a couple of bonus trailers. Below is a closer look at these supplements.

First up is the feature-length screen-specific audio commentary by the film's director Tom Hooper. I was a bit skeptical going into this track that Hooper would be able to maintain my attention throughout the film. I've heard a lot of commentary tracks over the years and perhaps I'm a bit prejudiced, but I always find slogging through tracks of British films almost always impossible, as they often feature sombre, soft-spoken and almost always boring participants that droll on about their film, and when they have nothing to say we are presented with long gaps of silence. My preconceptions were immediately destroyed as Hooper turned out to be a very talkative and engaging speaker that managed to maintain my attention through what was my fourth viewing of this film. Hooper comments on finding this project, the development and on the script, he talks of the idea cast and working with these fine people. He also talks about the production and design of the film, as well as the universal themes of acceptance and also those of powering through adversity etc.

"An Inspirational Story of an Unlikely Friendship" is a featurette that runs for 23 minutes 1 second. This clip takes a closer look at the inspiration for the film, the real people the characters are based on as well as a thorough look at the making of the film along with interviews from the key players and crew.

"Q&A with the Director and the Cast" is an interview featurette that runs for 22 minutes 2 seconds, this clip features the director of programming development on KCRW, Matt Holzman as he offers up questions to director Tom Hooper and cast members Colin Firth, Helena Bonham Carter, Guy Pearce and Claire Bloom.

Next up are two "Speeches from the Real King George VI" vintage clips, these are the original audio recordings that the King delivered to the people of England, they include:

- "Pre-War Speech" audio feature from September 3, 1939 runs for 5 minutes 40 seconds.
- "Post-War Speech" audio feature from May 14, 1945 runs for 2 minutes 28 seconds.

"The Real Lionel Logue" is a featurette that runs for 10 minutes 34 seconds and is a feature that as the title suggests look at the real person that was portrayed by Geoffery Rush, it looks at his background and life among other things through an interview with his grandson.

"The Stuttering Foundation" is a PSA about the foundation that runs for 1 minutes 2 seconds.

A couple of bonus trailers are for:

- "Blue Valentine" runs for 1 minute 53 seconds.
- "The Company Men" runs for 2 minutes 30 seconds.

Overall


The film review was originally published on the blog Rockets and Robots are Go! by Andy James.
| | | | | |
| --- | --- | --- | --- | --- |
| The Film: B | Video: A | Audio: A | Extras: B+ | Overall: B |