The Film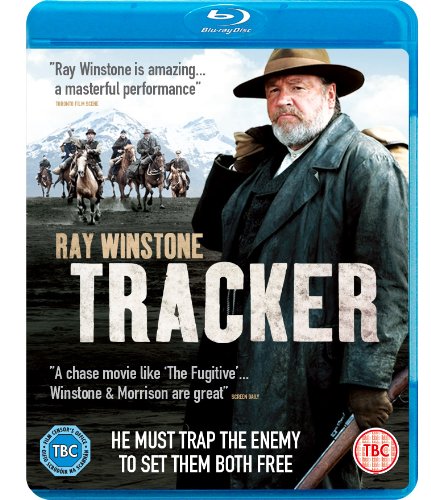 Ray Winstone plays a Boer farmer (Arjan van Diemen) who has lost his home and family in South Africa during the Boer War, and has now arrived in New Zealand 1903, out of morbid curiosity to see what was being fought for. He is arrested on his arrival by British soldiers, veterans of the war, but is quickly released by Major Carlysle (Gareth Reeves) who is aware of this legendary figure, but has no animosity towards him. Both men are bitter in their own way, but the war is over. Meanwhile, Kereama (Temuera Morrison), a Maori, is falsely accused of murder and goes on the run. The Major will lead a hunt into the New Zealand landscape and gives van Diemen the opportunity to join them. Due to a professional disagreement with the army tracker Bryce (Andy Anderson), van Diemen catches up with Kereama first.

Tracker has a great story anyway and looks wonderful, but when Winstone and Morrison meet, itís fantastic. It is clearly a low budget production, but it hides it well between the gorgeous landscape and the performances of these two actors in particular. I suppose you can look on it as a morality play, with an incredible stage! The middle section is little more than tit-for-tat, as Winstone catches Morrison, tables are turned, he catches him again, etc. But throughout, the wonderful dialogue is funny and moving in equal measure as the two men banter with one another and eventually open up. Winstone is at his best as the stubborn van Diemen. This might be the closest he gets to playing a True Grit type character and it bears comparison. He brings a weight of honour and grief to the role, balanced with quiet humour. He handles the Afrikaan dialect pretty well too, though Iím no expert! Morrison is an able foil. He toys with Winstone, to form an escape, but starts to reveal his own humility and they form an uneasy bond. They make an odd couple, but it works brilliantly well. The rest of the cast vary, but I really liked Reeves portrayal of the Major and he works well with Winstone too in several scenes.

Director Ian Sharp must be pinching himself. The less budget you have to work with, the more luck you need, but he made his own luck by taking actors like Winstone and Morrison to such a fantastic location. And giving them Nicolas van Pallandtís screenplay was the final flourish. His plot is a basic manhunt Western, with a handful of set-pieces, but it has the great dialogue, a clear sense of time and place, and perhaps above all, a conscience. It has a melancholic air, tinged with grief, offset by humour and underlying optimism. The ending could have been predictable, and maybe it is, but itís incredibly satisfying. The weakest scenes by comparison are at the start, but Sharp works them to their potential and Winstoneís arrival at the port is beautifully filmed to say itís CGI! David Burns rounds out the production with a well-placed score. Itís genuinely memorable, which is a surprise, evoking Last Of The Mohicans. This is an area that normally suffers when the budget is being stretched.

Video


2.35:1 photography speaks for itself. It looks gorgeous. A couple of brief visual effects shots early on show up the weak points (except for the CGI arrival at the port, which works really well). This is despite the Blu-Ray being an MPEG2 1080i release, which surely throttles some potential vibrancy and so is an odd choice. While I found it to be a consistently sharp and bright image throughout that caused no complaint, I have to wonder how much realistic advantage there is over the DVD release when viewers have come to expect more depth in the more expensive Blu-Ray format.

Audio


The English DTS 5.1 Surround track makes good use of environment sounds, while speech is clear and centred. Watch out you donít miss it though. I had to manually select it from the default 2.0 track. No subtitles are included.

Extras


There is a good selection of features considering Tracker isn't a big release. The ĎMaking ofí is a fairly typical collection of interviews, but they come across as honest and realistic. It is a film without hype and the cast/crew embody the idea of just making a decent film. I think they even might be underselling themselves a bit. Thereís also an isolated audio track for David Burns' well delivered score, a UK exclusive trailer and most valuable of all the audio commentary with Ian Sharp and Ray Winstone, who is an affable man anyway and he has worked with Ian before, so they have a good relationship that comes through. They clearly have a sense of nostalgia for their time in New Zealand, while exploring the Maori influence, the unashamed hint of sentimentality at the end, and the choices made during the final scenes. Not detailed, but a likeable listen to two men rightly proud of their film.

Overall


A great film that is acutely aware of both its limitations and benefits enough to present a classic story born of solid entertainment and supported by deep rooted emotion. Itís presented on a good value decent release that doesnít clip the potential. Highly recommended.
| | | | | |
| --- | --- | --- | --- | --- |
| The Film: B+ | Video: C | Audio: B | Extras: C | Overall: B |