The Film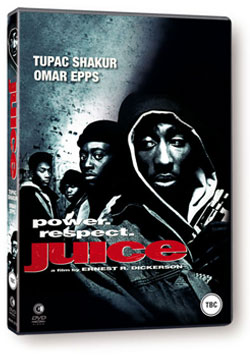 Films about inner city life, and in particular, street 'thugs' or gangs, can go one of two ways. You get the good ones; gritty, close to the bone with violence shot in a certain way and with a story that can be quite deep about anything from revenge to sticking together. And then you get the bad ones; usually low budget knock-offs that use inner city violence and strong language with a formulaic story and a big name to sell discs whilst the film itself will generally have no real 'meaning' (Snitch'd being a great example). Usually, one thing both of these genre types have in common, is the appearance of a rap star, be it Ice Cube, Eminem (8 Mile), Snoop Dogg, Treach or Sticky Fingaz. Juice, has Tupac.

Tupac plays Bishop, one of four friends from the harsh streets of Harlem who spend their days in a local pool hall (ran by Samuel L. Jackson) hustling, playing truant from school, fighting and shoplifting. Although they take part in lower end criminal activity, they run away from anything more. However, hungry for power and happiness (which they refer to as 'the juice'), they decide to rob a local convenience store where Bishop shoots dead the owner. As things spiral out of control, their lives are changed forever.

Omar Epps (TV's House), Tupac Shakur (Poetic Justice), Jermaine Hopkins (Lean On Me) and Khalil Kain (TV's Girlfriends) play the four friends; Q, Bishop, Steel and Raheem well and their characters gel together perfectly. The characters themselves are developed throughout the film enough to get you to know their personality strengths and weaknesses fast, especially in the opening few scenes. We also get cameos from Samuel L. Jackson (Jackie Brown) as the owner of the local pool hall/arcade where the kids hang out when cutting school and from Queen Latifah as the owner of the club holding the Mixxmaster competition that Q enters. Both Jackson and Latifah appear a couple of times and although their screentime is short they are both welcome additions.

Director Ernest R. Dickinson, who was cinematographer on Spike Lee's early films, made a good first impression for his first feature length movie, working well with cinematographer Larry Banks to give the film that gritty, dark feel. As he also co-wrote the screenplay with Gerard Brown, it is obvious he achieved the look and feel he was aiming for.

As far as the story goes, it isn't the most original, however the character development, above average cast and gritty feel make this one of the better films based around inner-city life and what people feel they must do for respect of the nineties.

Video


Second Sight have presented the UK DVD debut of Juice anamorphically in the original aspect ratio of 1.85:1. There is some noticeable grain here and there but it adds to the feel of the film instead of detracting from your enjoyment. A couple of scenes seem overly dark at times but I believe that to be a move made purposely by Ernest R. Dickinson.

Audio


Unfortunately, despite the US release from Paramount featuring a 5.1 track, Second Sight have only provided us with a single English Dolby Digital 2.0 Stereo option. Dialogue is clear, sound levels consistent and background hiss is minimal but the lack of a 5.1 track is a missed opportunity. No subtitles have been provided.

Extras


Nothing at all.

Overall


Dark, gritty, urban thriller worthy of a purchase. Picture and audio quality isn't reference quality but is more than adequate.
| | | | | |
| --- | --- | --- | --- | --- |
| The Film: B | Video: B- | Audio: B- | Extras: F | Overall: B- |