The Film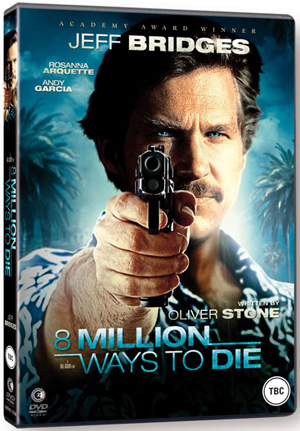 Hal Ashby started his career in Hollywood as an editor, hitting the big time when he was awarded the Academy Award for Film Editing for "In the Heat of the Night" in 1967. Three years later, Ashby made his directorial debut, "The Landlord" taking with him the editing styles he had learnt in his previous years. Over his directing career, Ashby made a couple of fantastic films including "Harold and Maude", "Being There" and "Shampoo", however it would be for "Coming Home" with which he would be most successful, earning Ashby and Academy Award nomination for Best Director. Towards the tail end of his career, Ashby earned a reputation for being unreliable, reclusive and eccentric, mainly due to drugs. Unfortunately, his erratic behaviour affected his films, getting fired from "The Slugger's Wife" due to 'creative differences' with Neil Simon and then finally making "8 Million Ways to Die", a film from which he was sacked on the final day of principal photography with the film becoming a commercial failure.

The film stars Jeff Bridges as an alcoholic LA drugs cop, Matthew Scudder, who shoots an unarmed suspect in a drugs raid in front of his family. His life quickly spins out of control resulting in Scudder losing both his job, and his wife. Trying to clean up his act and quit drinking, he is thrown into the deep end when a prostitute begs him for protection and winds up dead. As Scudder is drawn back into the world of vice, he hunts down the hookers' killer among LA's seedy underbelly of pimps and drug dealers.

With a screenplay by Oliver Stone (Natural Born Killers, World Trade Center), the script for "8 Million Ways to Die" is surprisingly tame and formulaic and seemingly strays from the original novel by Laurence Block. Oliver Stone however, is not to blame and was reportedly displeased with the end result as the studio wanted a more "Miami Vice" feel rather than a gritty cop drama, and so Robert Towne was called in to rewrite Stone's screenplay. It also didn't help that Ashby improvised many scenes. Executive producer Mark Damon once stated that Ashby even through the script out, forcing everything to be improvised and whilst I feel this may be an exageration, it would still account for the disjointed feel. Still, as far as the genre goes, the story is a by the numbers affair and certainly passable.

The cast, is another story altogether and is likely the saving grace to an otherwise muddled affair. Jeff Bridges is joined by Rosanna Arquette and Andy Garcia and all put in reasonably good, but not career best, performances. I would've liked to see more scenes with Bridges and Garcia together though. The supporting cast, including James Avery, Lisa Sloan and Randy Brooks, also put in respectable appearances.

I'm not sure if I could out and out recommend the film, as there are many gritty cop dramas from the eighties that are better (see Charles Bronson's filmography). However, despite the disjointed feel, and on-set problems, the end result isn't as bad as the lack of commercial success would suggest.

Video


Presented anamorphically in the original aspect ratio of 1.85:1, 8 Million Ways to Die looks fine. There are a couple of blemishes here and there, but overall, it looks slightly better than average for a catalogue title not being released by a big studio.

Audio


Just the one option here, English Dolby Digital 2.0 Mono which is adequate, if uneventful. Dialogue is clear and volume levels consistent but a small amount of background hiss was detected. The addition of a 5.1 track would've been nice. No subtitles are included.

Extras


None. I really wish we could've had something here considering the on-set troubles and unpredictability of Hal Ashby. A retrospective featurette, interviews or a commentary would've been a nice way to explore this. Also, being Ashby's last film, a featurette about the man himself would also have been a welcome addition.

Overall


A disjointed, but still enjoyable film worthy of looking into for fans of the genre, or of the cast/Ashby. Second Sight present the film on a disc with a reasonable picture and adequate sound, but missed a great opportunity on the extras front.
| | | | | |
| --- | --- | --- | --- | --- |
| The Film: C- | Video: B- | Audio: B- | Extras: F | Overall: C |