The Film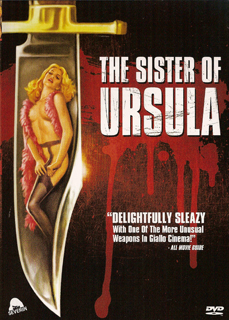 I´ve seen a fair share of Italian horror, giallo and exploitation movies over the years and learned at least one thing; they truly come in all shapes and sizes. While this is often a positive thing, there are some films where only one question comes to mind after the end credits; what the hell did I just see? "The Sister of Ursula AKA La Sorella di Ursula (1978)" from director/writer Enzo Milioni is one of those films, a shameless effort to disguise a sleazy sexploitation-film to a mysterious giallo. It fits in the picture, that Milioni has a fairly thin filmography, so along with "The Sister of Ursula" his only notable directing job seems to be the gory "Escape from Death AKA Fuga dalla morte (1989)" (AKA "Luna di sangue" in Italian DVD). "Severin Films" is back to their old tricks, again resurrecting one forgotten film. This time my feelings are mixed.

"The Sister of Ursula" revolves almost completely around the coastal seaside hotel in Italy, where two Austrian born sisters Dagmar (Stefania D'Amario - e.g. "Zombi 2 AKA Zombie Flesh Eaters (1979)") and Ursula Beyne (Barbara Magnolfi - e.g. "Suspiria (1977)") arrive to spend some holiday time (perhaps also looking their mother, not really sure). They´re instantly welcomed by the hotel manager Roberto Delleri (Vanni Materassi - e.g. "The Blancheville Monster AKA Horror (1963)"), taking the sisters under his wing, so to speak. From early on in the film we get hints that there´s something mysterious about Ursula and soon provides some reasons for it; the father of the sisters has accidentally died and their mother abandoned them from an early age, leaving many unanswered questions. The heavy burden has taken its toll and left Ursula quite traumatized. She´s constantly irritated, restless and unhappy. Like she says to her sister Dagmar at one point; "I find it impossible to like people". It´s also alarming, that Ursula claims seeing some things even before they happen and feels the "presence" of her late father. Spooky.

Hotel manager Roberto tries to cheer up the girls by introducing the nightclub singer Stella Shining (Yvonne Harlow - e.g. "La Commessa (1975)"), along with rock star lool-a-like Filippo Andrei (Marc Porel - e.g. "Live Like a Cop, Die Like a Man AKA Uomini si nasce poliziotti si muore (1976)"), only making things worse for Ursula. She now claims, that the sisters should actually fear Filippo, especially when the prostitute is found murdered nearby. This bloody incident won´t be the only one. Roberto also has some problems of his own, since his wife Vanessa (Anna Zinnemann - e.g. "Jesse and Lester AKA Due fratelli (1972)") is planning to divorce and is having a lesbian affair with a woman called Jenny (Antiniska Nemour - e.g "Gestapo's Last Orgy AKA L' Ultima orgia del III Reich (1977)") at the same time. Just another relaxing holiday near the sea? Dream on. Sex, drugs, and murders are on the today´s schedule. Enjoy your day!

"The Sister of Ursula" is not a good film, period. There just isn´t any way to get around this argument. Quite frankly I would be surprised if this film ever had a decent script, since it feels like the filmmakers got a change to use some beautiful locations near the sea for the production, and just rushed up some weak plot points around it. What you have is mainly some aimless wandering around the premises at the hotel and nearby, with some long sex scenes and some bloody "giallo-ish" moments added in for the good measure. Acting is also quite wooden (partly because the dub-track feels rather phony, with the lip-synch being way of in places). The result? Even at the 95-minute running time, the film feels just damn boring. Stunning beauty-shots of the coastline and the sea offers some visual reward, but that doesn´t save the film. That could be said about the sex scenes also.

It´s probably best to see the film as a "sexploitation" and not to raise your "giallo"-hopes very high, since this film is not definitely shy about nudity and explicit scenes. At the 3-minute mark you´ve the first full frontal-scene and some proper softcore-scenes follows. While these sequences are not always that "sleazy," they can be quite revealing (mainly in the oral-department), stretching the softcore-status quite a bit. When I actually think about it, they´re probably the area that actually "works" in the film to some degree, even when they´re using the same (at least similar) silly music over and over again. The use of music is generally all over the place in the film, often annoying more than creating any suspense, eroticism, etc. It´s just thrown in. Not much "gore" is included, but a few bloody moments have still found their way into the film. The ending offers a few "twists" to honor the Italian giallo-traditions, but they´re probably too obvious for many and eventually arrive "too little, too late". Ending is still has to be seeing, just for the primary murder "weapon" alone. Beware, you just might burst to laughter rather than be horrified…


Video


The film is presented in Anamorphic 1.85:1 (slightly windowboxed). While the print could be a better one, the colors and black levels are decent and the transfer is quite clean (some odd film artifacts and minor print damage is visible in some scenes). Contrasts are not always spot-on, so things like sky and skin tones can look slightly "washed". Perhaps some "artificial boosting" with the black levels and colors are done, not sure. There are areas of the print that are a bit faded and the glimpse of edge enhancement is present. The film is using Italian credits. "Single layer" disc is coded "R1" and runs 94:53 minutes (NTSC). There are 18 chapters.

Audio


One audio track is included, Italian Dolby Digital 2.0 Mono. Optional English subtitles are also present. The dialogue is always relatively clear and hiss is not a real problem, so this Mono-track does justice for the film (what that´s worth, though). Like I pointed out earlier, Italian track (also dubbed, like it was the custom in those days) is not that great, but not sure that was the English dub ever created for the film (even the bootlegs seems to be in Italian only).

Extras


-"The Father Of Ursula - An Interview With Enzo Milioni" -documentary runs 30:44 minutes. This interview with director/writer Milioni is in Italian, with optional English subtitles. While I didn´t particularly enjoyed the film myself, it´s great to hear the director giving his thoughts about it, being quite honest. Milioni was originally planned to direct one bigger budget film, but since the money ran out, the producers asked to do some smaller one first. Milioni used the author Carolina Invernizio as inspiration ("stole" something from her, as the director puts it), added some paranormal elements and "The Sister of Ursula" was soon in production. For the record, Milioni did one sexploitation film after that ("Quello strano desiderio (1979)"), but that "bigger budget" film was eventually never made.

Milioni talks about his actors Barbara Magnolfi and Marc Porel (couple at that time), saying mainly good things about both. Porel battled with drug addiction during the production (he eventually died in 1983), so the director and Porel made a "deal". The troubled actor could take a break from the shoot for a few days, but he had to be ready if he was on the set. This apparently worked and based on Milioni, Porel was kind and respectful (this still didn´t improve his acting, I´m afraid). The film was shot at the location in Amalfi Coast (some exteriors in the town "Ravello") and they found the real hotel for the interiors (funny tidbit is, that the hotel was almost ready to operate at the time, but never did for some reason). Milioni admits, that since the story wasn´t "top class", they at least needed great locations (and sex, although he doesn´t admit it). The production was also stopped for a day, when the body of Aldo Moro was found (Italian politician kidnapped and killed by the "Red Brigades"). The director also mentions the alternate "hardcore version" of the film, where some XXX-rated inserts were added to the movie (by the producers, Milioni washes his hands on that one). Based on Milioni, "The Sister of Ursula" was somewhat successful, even "loved" by some of the women audience. Hmm.

-Italian Theatrical trailer (3:41 minutes) has optional English subtitles. It mainly shows the erotic sequences from the film, so it´s quite clear why this film eventually gained some audience.


Overall


"The Sister of Ursula" might be rather mediocre film at its best, but let´s face it; It´s still great that it´s now available on DVD. The relatively good transfer and audio, along with informative interview-session in the extras probably means, that it´ll found its way to the collections of many Euro cult-fans. Just don´t choose this one to be your "first giallo".


For more info, please visit the homepage of Severin Films.
| | | | | |
| --- | --- | --- | --- | --- |
| The Film: | Video: | Audio: | Extras: | Overall: |