Scanners AKA Telepathy 2000 (Blu-ray) [Blu-ray]
Blu-ray B - United Kingdom - Second Sight
Review written by and copyright: Samuel Scott (8th March 2013).
The Film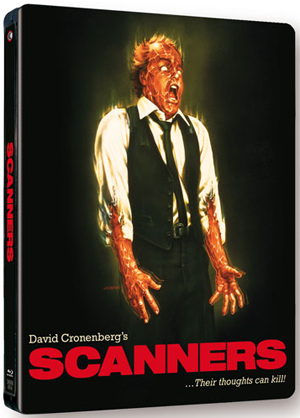 Although David Cronenberg is a well-known director now, thanks to films like "A History of Violence", "eXistenZ" and "A Dangerous Method", he started out making horror movies that have science-fiction elements. "The Brood", "Rabid" and "Shivers" went largely unnoticed by the masses at the time of their releases in the mid to late seventies, but when "Scanners" was released in 1981, people started to sit-up and take notice of Cronenberg's talents. Although Scanners was not nominated for any major awards, it did take home Saturn Awards for best international film and best make-up, and was also nominated for a whopping eight Genie Awards. Now, over twenty years later, Second Sight have given the film its first high-definition release on home media in the United Kingdom.

The synopsis from Second Sight reads:
Drifter Cameron Vale (Stephen Lack - Dead Ringers) is plagued by incessant voices in his head unaware that he is a scanner - a person with extraordinary powers who can not only read minds but literally tear them apart. He soon encounters Dr. Paul Ruth (Patrick McGoohan - The Prisoner), a scientist trying to help his kind adapt to society whilst another underground movement of Scanners led by the psychotic Derryl Revok (Michael Ironside - Total Recall), have other intentions and the ultimate confrontation of minds awaits.

Many people first become aware of the movie after they are shown one of the most infamous scenes in cinema, the head explosion, by a friend but Scanners is not an out and out horror as many falsely believe. It focuses on the battle of good and evil between the two groups of Scanners and the lives they lead more than anything and Cronenberg takes an impressive twist in making it so that the Scanners live on the fringes of society and are looked at as having some sort of mental disorder rather than a strong power. Cronenberg does well to relay the tension between the two groups and gives the whole film a rather fitting dark and drab feel.

The casting is a bit of a mixed bag. The best of the bunch is Michael Ironside as the psychotic Revak, a Scanner who is unable to fully control his power with his performance both gripping and sinister. Jennifer O'Neill and Stephen Lack manage to put in good enough showings but I do feel that Lack could've shown more emotion and that O'Neill is overly passive. Still, as a whole, they are sufficient.

Scanners may have some flaws, but there is just the right mix of story and horror, some of the best special effects of its era, a well structured (if sometimes slightly confusing) plot and some surprisingly inventive elements. For horror fans, this is highly recommended - for everybody else, you owe it to yourself to at least give it a go.

Video


Second Sight have presented the film with a 1080p/AVC transfer in an aspect ratio of 1.78:1 and it's a very commendable transfer. Free from any major damage or blemishes, I was not expecting it to look this good. There is some minor grain and noise, but edge enhancement is minimal and contrast very good. Skin tones appear accurate and the picture is generally sharp. I did notice during the big finale that there is a faint scratch running the length of the sceen but it's only noticeable when the background is black and even then, barely so. Scanners fans will be very pleased with this release.

Audio


There are two audio options available on this release; English DTS-HD Master Audio 5.0 and English LPCM 2.0 Stereo. Due to the lack of an LFE output I actually opted for the stereo option. Throughout the track, dialogue was clear at all times and volume levels consistent. There was no noticeable damage or any background hiss. The optional English subtitles are clear, free of mistakes and are not too fast or too slow. It should be noted that you can only change the audio/subtitle options via the main menu and not using your remote during the movie.

Extras


The extras consist of a series of interviews:
"My Art Keeps Me Sane" interview with star Stephen Lack (23:46)
"The Eye of Scanners" interview with cinematographer Mark Irwin (15:11)
"The Chaos of Scanners" interview with executive producer Pierre David (13:42)
"Exploding Brains and Popping Heads" interview with makeup effects artist Stephan Dupuis (9:32)
"Bad Guy Dane" interview with actor Lawrence Dane (5:18)

For me the most interesting participant by far was Stephen Dupuis although all parties offer some interesting tidbits and information from how they got involved with the project, the filming process and how certain elements like the exploding head came about.

It would have been nice to have a commentary or a retrospective featurette but the interviews make for some interesting viewing.

Packaging


For a limited time, Scanners is released in a steelbook. Note the screener copy we received did not have any packaging so we cannot comment any further.

Overall



| | | | | |
| --- | --- | --- | --- | --- |
| The Film: B | Video: B+ | Audio: B- | Extras: C+ | Overall: B |

---
DVD Compare is a participant in the Amazon Services LLC Associates Program and the Amazon Europe S.a.r.l. Associates Programme, an affiliate advertising program designed to provide a means for sites to earn advertising fees by advertising and linking to amazon.co.uk, amazon.com, amazon.ca, amazon.fr, and amazon.de.