War Flowers (Blu-ray) [Blu-ray]
Blu-ray ALL - United Kingdom - Los Banditos Films
Review written by and copyright: Samuel Scott (2nd May 2013).
The Film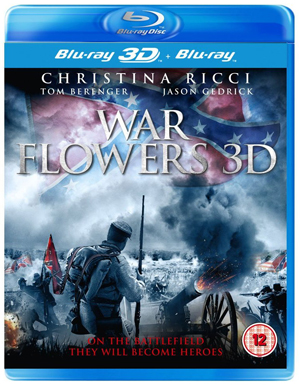 ***This is a technical review only. For reviews on the movie from various critics, we recommend visiting HERE.***
A nation divided by Civil War, families are destroyed whilst waiting for the return of their brave soldiers. Left alone, Sarabeth (Christina Ricci) must fight if she and her daughter are to survive; having to learn quickly who can and cannot be trusted in the war-torn country as survival of the fittest becomes paramount.

Faced by the destruction of conflict, Sarabeth has to forge a new life in the battlefield, desperate for the return of the man she loves but fearing the death and destruction that surrounds her.
Video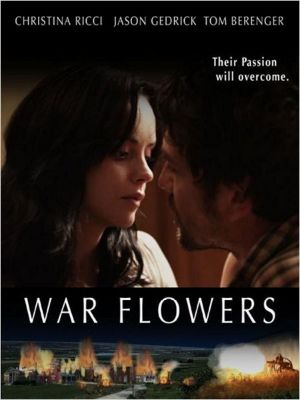 Los Banditos Films presents "War Flowers" with both the option of 2D and 3D in as aspect ratio of 1.78:1, with the 3D option receiving an MVC encode. Unfortunately it's bad news for the most part with this 1080p transfer (case incorrectly states 1080i).

The disc is a direct transfer of the German release from Ascot Elite Home Entertainment, but the German companies have a very poor reputation for their treatment of these cheap 3D conversion cash-ins. As far as "War Flowers" is concerned, I can't see that reputation being admonished any time soon. The 3D effects are virtually non-existant, with little sign of depth and no pop-outs. When depth is just about noticeable, it is poorly put onto screen with items feeling either too far back, or too far forward compared to where they should be, making any sense of distance to be of very low standard. In all essence, the 3D is not worth watching - it may as well be 2D it's that flat most of the time.

Outside of the 3D, the general picture quality is nothing to shout out about either. Although there is some good detail on facial close-ups, it appears to have undergone a bit too much digital noise reduction and levels of sharpness and contrast are quite low. The picture often feels overly soft and there was aliasing, edge enhancement and haloing at different moments, though not as bad as it could've been. The biggest complaint I have regarding the picture is the amount of banding present, particularly towards the beginning of the movie. Considering this is a recent movie, I'm surprised by the overall low quality of this transfer - it's barely better than a standard definition dvd.

Audio


There are a couple of audio options available here:
- English DTS-HD Master Audio 5.1
- German DTS-HD Master Audio 5.1

Obviously, I opted for the English track and it fares a little better than the picture quality. The score by Evan Evans is quite formulaic stuff, but it puts the surrounds to good use, whilst the battle scenes give the LFE a very quick workout. The track does suffer from a lack of directionality and it isn't as aggressive or robust as it could be, but dialogue is always clear and concise, if a little loud compared to effects and the score.

There are no subtitles available.

Extras


Just some trailers, and not all of them are even English friendly.

Bonus Trailers:
- "Loser" (2:13, English or German, HD)
- "Kopf Oder Zahl" (1:52, German with no subtitles, SD)
Theatrical Trailer (3:07)

Overall


The picture score does not include the quality of the 3D. I would give the 3D an "E".
| | | | | |
| --- | --- | --- | --- | --- |
| The Film: D | Video: C- | Audio: C | Extras: F | Overall: E |

---
DVD Compare is a participant in the Amazon Services LLC Associates Program and the Amazon Europe S.a.r.l. Associates Programme, an affiliate advertising program designed to provide a means for sites to earn advertising fees by advertising and linking to amazon.co.uk, amazon.com, amazon.ca, amazon.fr, amazon.de, amazon.it, amazon.es and amazon.se.