Perfect Getaway (A) (Blu-ray) [Blu-ray]
Blu-ray B - United Kingdom - Momentum Pictures
Review written by and copyright: Samuel Scott (5th May 2013).
The Film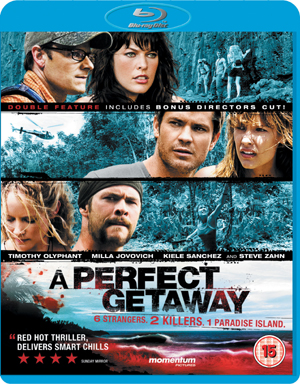 ***This is a technical review only. For reviews on the movie from various critics, we recommend visiting HERE.***
Cliff and Cydney (Steve Zahn and Milla Jovovich) are an adventurous young couple celebrating their honeymoon by backpacking to one of the most beautiful and remote beaches in Hawaii. Hiking the wild, secluded trails, they believe they've found paradise. But when the pair come across a group of frightened hikers discussing the horrifying murder of another newlywed couple on the islands, they begin to question whether they should turn back. When they decide to join up with two other couples, things begin to go terrifyingly wrong.

Far from civilization or rescue, everyone begins to look like a threat and nobody knows who to trust. Paradise becomes hell on earth as a brutal battle for survival begins...
Video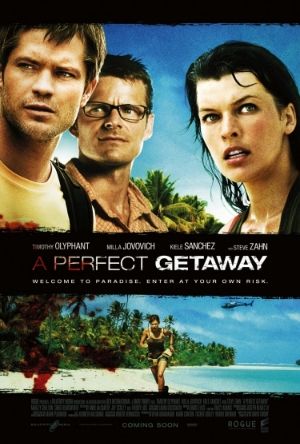 Momentum Pictures present "A Perfect Getaway" on blu-ray in its original aspect ratio of 2.35:1. The transfer is 1080p and uses an AVC-MPEG 4 coded. Although it isn't reference quality material, the overall transfer is generally solid.

Set in Hawaii, both the sun-kissed and heavy rain environments look natural. With a lot of action taking place during a hike through a wooded area to get to a secluded beach, it goes without saying the greens look lush with good (but not great) detail. Skintones sometimes suffered a little from the slight orangey hues that look overdone, but facial close-ups looked great with no sign of digital noise reduction causing waxy faces. There was some occasional shimmering during the odd panning shot, and a little sharpening here and there, but it isn't overly obvious and doesn't distract the viewer.

It should be noted that the disc includes both the "Theatrical" cut and the "Director's" cut. For this review, I watched the "Director's" cut which is roughly ten minutes longer. The "Theatrical" cut also uses an AVC-MPEG 4 encode at a 2.35:1 aspect ratio.

Audio


There are two audio options included on the disc:
- English DTS-HD Master Audio 5.1
- English Dolby Digital 5.1

I listed to the lossless DTS-HD Master Audio track, and like the picture quality, it's solid though not spectacular. When there is on-screen action, the surrounds and LFE both kick in for the sound effects, as well as the boost in the soundtrack. There are some nice subtle effects with regards to footsteps through the woodland, and the rustling of the bushes but during more subdued scenes, it isn't quite as immersive and doesn't feature quite as much depth. Directionality is generally good and there are no signs of dropouts, scratches or background hiss.

There are optional English subtitles for the hard of hearing. They are white in colour, clear and concise throughout, and feature no obvious mistakes or pacing issues.

Extras


The extras start off with the "Original Scripted" alternate ending (HD - 2:38). This ending is actually rather similar to the ending we got, but contains different, more formulaic dialogue between Steve Zahn's Nick and Timothy Olyphant's Nick. Really, the differences only equate to about twenty-thirty seconds. I preferred the dialogue in the ending we received compared to what is here.

In the "Making Of" featurette (HD - 8:48) we are treated to various interviews. Milla Jovovich talks about her character, the script and how much she enjoyed Twohy's "Pitch Black". Steve Zahn talks about his character, the general storyline and how filming was both mentally and physically demanding due to filming in the elements. Timothy Olyphant mentions the arrival of his character into the story, the relationship that forms between the couples and the character development. Kiele Sanchez talks about the characteristics of her character, her introduction to the story and reading the script for the first time. David Twohy talks about the paradoxes of the plot and the location and how it is a film of two halves. He also talks a little bit more in-depth about the characters compared to the involved cast members. It's all standard stuff, but worth a quick viewing.

The disc loads up with some start-up trailers for:
- "Law Abiding Citizen" (1:45)
- "Dorian Gray" (1:32)
- "Mesrine" (2:17)

Overall



| | | | | |
| --- | --- | --- | --- | --- |
| The Film: B- | Video: B+ | Audio: B+ | Extras: D | Overall: B- |

---
DVD Compare is a participant in the Amazon Services LLC Associates Program and the Amazon Europe S.a.r.l. Associates Programme, an affiliate advertising program designed to provide a means for sites to earn advertising fees by advertising and linking to amazon.co.uk, amazon.com, amazon.ca, amazon.fr, and amazon.de.