The Film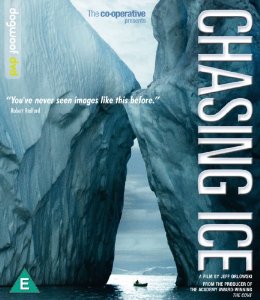 Chasing Ice (Jeff Orlowski, 2012)

Whilst only the first feature-length documentary by its young director Jeff Orlowski (who, prior to this, had only co-directed two short factual pieces), Chasing Ice shows an assured command of the documentary form. Orlowski's film follows the recent work of American photographer James Balog. After gaining a Master's degree in Geomorphology, Balog turned away from science and towards photography: in this documentary, he asserts that 'I loved the science, but I wasn't interested in being a scientist'. He had 'no context of the photo world, I had no knowledge of the photo world' when he embarked on a career within photography, but he was driven by 'this idea that the most powerful issue of our time was the interaction of humans and nature'. He began by taking shots of people hunting and, then, endangered wildlife.

Balog's most recent endeavour, which forms the central subject of Orlowski's documentary, is his 'Extreme Ice Survey'. Begun in 2007, the Extreme Ice Survey is a photographic study of the changing face of the planet's glaciers. Orlowski's photographs from this project have been published in National Geographic (in 2007, and later in 2010) and have also been the subject of a 2009 episode of the PBS documentary series Nova, 'Extreme Ice'. Premiering at the 2012 Sundance Film Festival, Orlowski's film coincided with the publication of Balog's book Ice: Portraits of the World's Vanishing Glaciers.

The film opens with a montage of news footage of various natural disasters across the US and throughout the world: floods, tornadoes, discussion of the effects of global warming. Television pundits are seen asserting that there is no such thing as global warming. John Coleman, the founder of the Weather Channel, declares, 'The ice caps are not going to melt. The oceans are not going to flood the coast. I promise you, in twenty years I'll be the one laughing'.

Orlowski's film takes little time to undercut the hubristic claims of these media spokespeople, as Orlowski cuts from Coleman to Jökulsárlón Beach, Iceland, where Balog and his assistant, Svavar Jonatansson, set up a shot. Jonatansson tells us that Balog 'pushes it. He's looking for something', and informs us that Balog's experiences shooting ice on Jökulsárlón Beach 'was his first real encounter of looking at ice in that way. He fell in love with it'.

Balog's experiences in Iceland, so the documentary suggests, led to the inception of the Extreme Ice Survey. Bringing together a team of technicians, Balog set up time lapse cameras in various locations to record the decline of the Earth's huge glaciers, as a means of highlighting climate change. The results, as shown in Orlowski's film and Balog's photography, are eye-opening. However, along the way Balog experiences a number of difficulties, including some severe technical issues, which are documented here. His intent in setting up the time lapse cameras was to 'show you how the landscape is changing'. However, Balog admits that when he embarked on the project, he was 'naïve' about the equipment, believing that 'you could buy [it] off the shelf'; he soon realized the complexities of the task.

Balog explains the aesthetic appeal of ice as a subject of his photography: 'There is this limitless universe of forms out there', he asserts, 'that is surreal, otherworldly; insanely, ridiculously beautiful. That's when I thought, okay, the story is in the ice… somehow'. His attempts to push the limits of photography through his documentation of the otherworldly glaciers have led Kitty Boone to compare him with the father of landscape photography, Ansel Adams.

For Balog, photography is the best medium through which to raise awareness of climate change. 'The public doesn't want to hear about [statistics]', he tells Orlowski's camera: 'What they need is a visual, immutable piece of evidence, something that grabs them in the gut'. Watching the glaciers break off, a process called 'calving', is a moving experience: 'You feel this tension between this huge enduring power of these glaciers and their fragility', Balog says. Calving has always taken place, but Balog asserts that 'what we're seeing now is the Greenland ice sheet thinning out and dumping ever more ice and water into the ocean'.

For Balog, first-hand experience of the thinning of the glaciers has led to an about-face in his understanding of the issue of climate change. He declares that 'About twenty years ago, I was a skeptic about climate change. I thought it was based on computer models [….] But most importantly, I didn't think humans were capable of' changing the planet. He suggests that as a species, we are in denial about the effects that our actions have upon nature: 'Our brains are programmed to think that geology is something that happened a long time ago or will happen in the future', he reminds us, and we often forget that geological change is happening 'right now, and we humans are causing it'. However, for Balog, 'What counts to me more than the notion of climate change, is the fact that air is changing' – with the resultant effects on plant and animal life.

Orlowski reminds us that Balog's Extreme Ice Survey is produced not without the danger of injury or death. Even with damaged knees, Balog is shown abseiling down the face of a glacier to get a shot; his technical crew warn him of the dangers and sometimes refuse to accompany him. 'It's all calculated risk', Balog. The danger of getting these shots is foregrounded for the viewer.

The documentary runs for 75:14 mins.


Video


Shot on HD video, Chasing Ice is here presented in 1080p, encoded with the AVC codec, and in its intended aspect ratio of 1.78:1. It's a crisp, vibrant image, with strong detail and contrast. The montages of Balog's photography that are interspersed throughout this documentary look exceptional on this Blu-ray, emphasising the alien landscape of the glaciers.

Audio


The viewer is presented with the option of two lossy audio tracks: a two-channel Dolby Digital stereo track or a 5.1 Dolby Digital track. Both are clean and effective. The 5.1 track is preferable: the surround encoding on this track enhances the documentary, but arguably isn't integral to the material.

Extras


The disc contains a plethora of contextual material:
A Commentary by Jeff Orlowski
UK Trailer (2:19) (HD)
'Before My Time' music video (4:07) (HD)
Film Festival Q&As (19:56) (HD) with Jeff Orlowski and James Balog. Cuts together reactions from different festivals, edited together as if they were a response to the same question/s.
'Glacier Watching' (6:36) (HD): an unedited take of a calving event, with commentary from Jeff Orlowski
'Making Chasing Ice' (11:55) (HD): a behind-the-scenes look at the production of the film, featuring interviews with the crew and participants.
'Making the Time Lapses' (5:49) (HD): a look at the production of the time lapse sequences, with cutaways to a to-camera interview with Balog and members of the crew.
'Sundance Experience' (10:18) (HD): the cast and crew at the Sundance Film Festival.
Testimonials (6:57) (HD): reactions from audience members.
'Time Now' (3:47) (HD): images of the glaciers used in Balog's lecture tour 'Time Now'.
'Updated Science' (5:58) (HD): interview with Dr Tad Pfeffer about the current ideas in relation to climate change.



Overall


Chasing Ice is a very strong documentary in the modern observational mode: Orlowski does not provide a guiding voice of a narrator, electing instead to let his subject drive the documentary. As Balog speaks, we see his techniques depicted on screen: we watch him set up his shots; we see the danger as he hangs from a glacier, tethered, as he takes his shots. Balog's perspective towards climate change informs and directs the documentary, and in one potent sequence we see him reacting negatively to claims, as he watches television, that global warming is a 'garbage science'. However, ultimately the documentary is as much about the power of photography as it is about climate change, with Balog asserting at one point that 'Photography for me has become more than anything about raising awareness [….] We have become the vehicles for raising awareness […] In this case, we are the messengers'.

The presentation of the documentary on this Blu-ray is excellent. The disc also contains an array of very good special features. Anyone with an interest in photography or climate change will find much to appreciate in this package.

Thanks to Dogwoof for sponsoring this review.

| | | | | |
| --- | --- | --- | --- | --- |
| The Film: B+ | Video: A | Audio: A- | Extras: A | Overall: A- |