The Film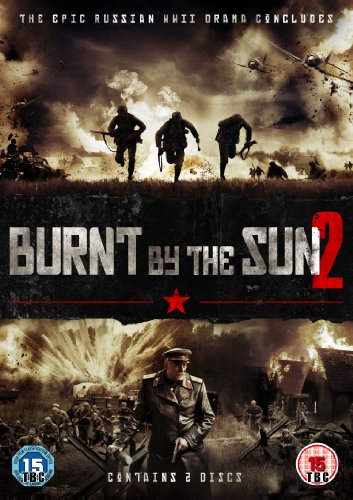 ***This is a technical review only. For reviews on the movie from various critics, we recommend visiting HERE.***

Nikita Mikhalkov directs and stars in this two-part Russian war sequel to 'Burnt By the Sun' (1994). Told in two films, 'Exodus' (2010) and 'Citadel' (2011), and set during World War II, the story follows General Sergei Petrovich Kotov (Mikhalkov) who is now in combat on the battlefield, having survived the death sentence he received in Joseph Stalin's Great Purge. As the Nazis invade the USSR, the nation must band together to defend their country.

Video


"Burnt by the Sun 2" is made up of two parts, "Exodus" and "Citadel", both of which are presented here in their original aspect ratio of 2.35:1 by British independent label Arrow Films. For the most part, the transfer on both discs is certainly commendable, but there are a few moments with questionable quality.

When you first play disc one (Exodus), you may be in for a little shock. The opening couple of scenes have some rather serious haloing issues with every large object and person having an annoying white blur around them. This does happen on a couple of other occasions throughout the feature, but this is where it is most noticeable. The second problem was some obvious edge enhancement throughout, and during the more action-packed scenes, it is more noticeable than non-action scenes. The often poor CGI also shows up a few problems with the overall visual effect process, but you can't blame Arrow for a problem inherited from this.

Sharpness and detail varies quite considerably thoughout. Often, the detail is surprising in the clothes, but then in subsequent scenes you can't see as much detail, with the sew lines in the clothing all but disappearing. Facial close-ups look good, and both parts feature a colour palette that you would associate with Russia circa the second world war, with many drab greys and greens. There are no signs of print damage, something which is to be expected for a recent feature with a $50m+ budget (Russia's highest at the time).

The discs are PAL and run a total of 296:28.

Audio


There are two audio tracks included here:
- Russian Dolby Digital 5.1
- Russian Dolby Digital 2.0 Stereo

It should be noted that the 5.1 option is only available on the "Citadel" disc, something which at first glance appears like a strange decision. That is until you realise Arrow previously released "Exodus" on its own and have simply repackaged that disc into this release. With this in mind, I viewed disc 1 using the stereo track, and disc 2 with the 5.1 option. The stereo track had good seperation and was overall more than adequate. The dialogue was always clear, explosions and war scenes still had a little oomph to them, and the score was well received. The 5.1 track on disc two certainly surpassed this though. There were plenty of subtle effects such as dogs barking, and the score and war scenes made good use of the surrounds, even if the LFE felt slightly light in comparison. Directionality was good, but not outstanding. There was no sign of audio dropouts, scratches or background hiss.

Optional subtitles are included in English. They are white in colour, larger than average, easy to read and concise.

Extras


The only extra is a start-up trailer for "Siege of Empires" on disc two.

Overall


I really enjoyed 1994's "Burnt by the Sun", so felt disappointed with how flat and overly long this sequel was. Picture quality varies but is generally good, whilst the audio is above average.
| | | | | |
| --- | --- | --- | --- | --- |
| The Film: D+ | Video: C+ | Audio: B | Extras: F+ | Overall: C- |