The Film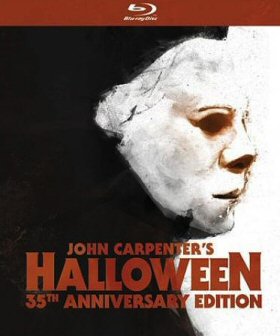 "I met him 15 years ago. I was told there was nothing left. No reason, no conscience, no understanding... and even the most rudimentary sense of life and death, of good or evil, right or wrong. I met this six year old child with this blank, pale, emotionless face and the blackest eyes...the Devil's eyes. I spent eight years trying to reach him and then another seven trying to keep him locked up because I realised that what was living behind that boy's eyes was purely and simply evil." - Dr Loomis, "Halloween"

"Halloween" is one of the best horror films of all time and John Carpenter is certainly a master of the genre. His use of the widescreen format creates much of the suspense and tension of the film. By skilfully placing action at the far edge of the picture, he fully encompasses and involves the audience and the method makes the scares all the more sudden and unexpected. He uses audio 'stings' throughout the film to heighten the moment and enhance the experience. Carpenter also makes terrific use of POV (Point Of View) Panaglide shots, especially in the opening sequence which, although commonly thought of as one continual shot, is three separate shots with two very clever cuts within the scene. The audience knows someone is watching the house and becomes that person. They also become guilty of murder as the scene progresses and when it ends, the shocking revelation is even more dramatic.

An independent, low budget ($300,000) film, it was made in the Spring of 1978. The crew hand painted leaves brown to make it look like October, scattering them on the ground to film and then picking them all up to re-use them at the next location. Filming finished on-time and it premiered on 25th October 1978 in Carpenter's home town of Bowling Green, Kentucky. The reviews were negative - many critics hated it. However, word of mouth and eventual critical praise saw the film become more popular every week. The distributors realized they had a hit and immediately pulled it from every cinema. Mounting a huge marketing campaign, they re-released the film the following year and it became the most successful independent film of all time. When that title was eventually lost in 1990 (to the mass marketed and hyped "Teenage Mutant Ninja Turtles"!) "Halloween" had grossed $80 million in the US alone.

The reason for the success can be largely attributed to Carpenter's chilling score. In fact, when the film was shown to a number of studio executives before the addition of the score, it was rejected as being not at all scary. This fantastic score is credited on the film to The Bowling Green Philharmonic Orchestra. However, this is a pseudonym for Carpenter and a group of friends!

The film credits also distinguish between the adult Michael Myers (played by Tony Moran) and "The Shape" (played by Nick Castle). They are the same character and Tony only appears at the end of the film when Laurie (Jamie Lee Curtis) rips off Michael's mask - which was actually a modified mask of William Shatner!

The film launched the career of a relatively unknown young actress, Jamie Lee Curtis. Her father is Tony Curtis and her mother is Janet Leigh, who was famous at that point for starring as the ill-fated Marion Crane in Hitchcock's "Psycho" (1960).

Carpenter paid tribute to Hitchcock by naming the character played by Donald Pleasence, Sam Loomis, after Marion's lover in "Psycho". The nurse assigned with the transfer of Michael at the beginning of "Halloween" is called Marion. Carpenter also 'honoured' the London Distributor of his previous film "Assault On Precinct 13" (1976) by naming the Michael Myers character after him.

I highly recommend "Halloween". Not only to horror fans but to those that enjoy a good thriller as well. And as for the squeamish, don't worry! As in all of Hitchcock's classics - SUGGESTION (NOT BLOOD AND GUTS) is the key to a REALLY good horror.

Video


Presented in the film's original 2.35:1 widescreen ratio mastered in 1080p 24/fps high definition using AVC MPEG-4 codec. In recent years, the transfer of this film has been getting a lot of unwanted attention, primarily due color timing that was simply not accurate to the original vision of the film, the previous Blu-ray release sadly utilized that master to create its HD image. Fans and critics retaliated, brushing off the release and demanding a proper remastered edition be released, finally we get that. This new 35th Anniversary edition features a newly minted transfer and restoring the original look of the film with correct color timing. This image can easily be considered the most "definitive" version available on home video and was overseen and approved by the film's director of photography Dean Cundey.

Not only do the colors look right, the HD image itself is impressive, for a 35-year-old film the transfer is incredibly solid, detail looks great, right down to fine elements, textures hold up well, black levels are deep and bold, and overall the transfer manages to maintain the filmic look of the film. Depth of field is maintained well and grain is evident but not intrusive, I could not find any major flaws, no compression related issues. This is the transfer fans have finally been wait for.

Audio


Two audio tracks are features in English Dolby TrueHD 7.1 surround and the film's original English Dolby Digital 2.0 mono audio. Purists will be please the original 2.0 mono track is included and for a 35-year-old track it holds up pretty well, despite the lack of overall depth and range that mono tracks inhibit. The 7.1 audio track was created using the original elements and expands the audio range to 7.1 channels and the result is surprisingly terrific for an up-mixed track. The dialogue is clean and clear, no pops, hiss or any problems which are usually normal for tracks of this age. Anchor bay applied some love and attention to this audio, the atmospheric aspects of this track are what truly shine, it immerses the viewer instantly and coupled with John Carpenter's eerie and memorable score it offers up a creepy vibe, just the perfect result for a horror film. Optional subtitles are included in English for the hearing impaired and Spanish.

Extras


Anchor Bay has released this horror classic as a "35th Anniversary Edition" and produced some new quality supplements such as an audio commentary, a documentary, a featurette, footage from the "TV" version of the film, the film's original theatrical trailer, a series of TV and radio Spots as well as a bonus trailer and packaged in a digi-book. Below is a closer look at these extras.

First up is a feature-length audio commentary with writer/director John Carpenter and actress Jamie Lee Curtis. This track is brand new, produced exclusively for this release (the previous audio commentary on the former Blu-ray release was originally produced for The Criterion Collection back in 1995, and was pretty terrific). This new track, while a nice surprise to have, was not nearly as informative or interesting as the older track. I suppose Anchor Bay recorded a new track not only to celebrate the anniversary of the film but also so they no longer have to licence the Criterion track. Carpenter offers some behind-the-scenes trivia, including the film's look, style and tone among other things and Jamie Lee reminisces about the production. I wish they had included the old track as well as this.

Next up is "The Night She Came Home!!" a documentary (1080p) which runs for 59 minutes and 43 seconds, it follows Jamie Lee Curtis as she speaks, meets fans and signs autographs at HorrorHound Weekend in Indianapolis, a fan event. It's an interesting piece but I would have preferred a proper making-of (like the "Halloween: A Cut Above The Rest" documentary which was included in the older Blu-ray release, not sure why that feature was omitted).

A featurette is also included and entitled "On Location: 25 Years Later" (480p) which runs for 10 minutes 25 seconds. This is a cool look at the locations for the film as we get to visit them 25 years after the film came out. This feature was originally produced for the "25th Anniversary" DVD (and only just now makes it's debut on a Blu-ray edition).

When it screened on television the film included some alternate footage cut into the film and some scenes removed to make a more "TV-friendly" version for viewers, included on this disc is the footage from that TV version of the film (480p) which runs for 10 minutes 46 seconds, it's great to have these scenes included, however it would have been great to also have a commentary from the director offer some insight into the scenes.

The disc also includes the film's original theatrical trailer (1080p) which runs for 2 minutes 42 seconds.

A collection of three TV spots (480p) which run a total of 1 minute 16 seconds.

Some radio spots are also included and run for 1 minute 14 seconds in total.

Rounding out the supplements is a single bonus trailer (1080p) for:

- "The Lords of Salem"

Packaging


Packaged in a digi-book case that features liner notes. The 12-page book features an essay and production facts from Halloween documentarian and fan Stef Hutchinson.

Overall


This new "35th Anniversary Edition" corrects a terrible mistake made by Anchor Bay years ago in delivering a transfer with approved color timing and also pairs it with a terrific audio track. The extras are a nice addition, but I feel like we're still not getting a truly "Definitive" edition as some older extras have been omitted... or you'll have to keep your older release of this film to enjoy all the supplements.

Check out the article written about this film and its sequels by Adrian Busby here.
| | | | | |
| --- | --- | --- | --- | --- |
| The Film: A+ | Video: A+ | Audio: A+ | Extras: B- | Overall: A |