The Show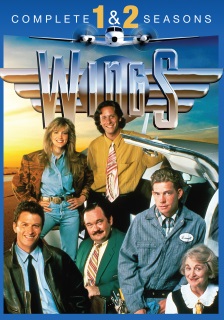 "Comedy takes off when pilots – and estranged brothers – Joe (Timothy Daly) and Brian Hackett (Steven Weber) reunite to run a commuter airline together. One the small island of Nantucket, the Hackets run with a first-class crew of neighbors and co-workers, including lunch counter manager and childhood friend Helen Chappel (Crystal Bernard). Their rival Roy Biggins (David Schramm) keeps them on their guard, while sharp-tonged ex-stewardess Fay (Rebecca Schull) keeps them on their toes and eccentric mechanic Lowell (Thomas Haden Church) always keeps life around the terminal interesting."

One of the original NBC "Must See TV" Thursday night series – created by David Angell, Peter Casey, and David Lee of "Cheers" and later "Frasier" – WINGS ran for eight scenes between 1990 and 1997 alongside series like "The Cosby Show", it's spin-off"A Different World", "L.A. Law", and later "Seinfeld" and "Mad About You". The pilot was helmed by James Burrows (TV's "Cheers") who is still considered to be the go-to-guy for three-camera sitcom pilots; and it hits all the required marks (including the "awww" moment), but it does so mechanically with the actors seeming hemmed-in by someone else's comic timing. The rest of the season one episodes and all of season two were directed by Noam Pitlik (veteran of shows like "Barney Miller" – of which he directed 102 of its 168 episodes – and "Mr. Belvedere" or which he directed forty-four out of 117), and the results are more successful and enjoyable. The crux of the comedy comes from the contrast between uptight older brother Joe (described by his own mother as having been "tight-assed even in the womb") and laid-back prankster Brian (although the relationship is also explored for dramatic purposes in the episode "Mother Wore Stripes" in which we discover the circumstances that cemented their personalities). Further comic fodder comes from lunch counter manager/cellist Helen striking out on her symphony auditions as well as her past as a fat kid (and the resulting inability to utilize her sex appeal successfully to get what she wants). Roy's bitterness and the bizarre behavior of mechanic Lowell ("Why is it whenever he's around I hear 'Dueling Banjos'?") and Fay (or "Amelia Airhead" as Ray refers to her) fills in the gaps (as well as the opening teaser and coda). Tony Shalhoub (TV's "Monk") made one of his first appearances in a season two episode as a waiter, but he would not become a regular cast member – as quirky, lovelorn taxi driver Antonio Scarpacci – from the third season onwards. The cover of Paramount's original DVD release of the first two seasons featured Shalhoub in the group shot, but Mill Creek's edition features a group shot of the original six principals.

Season One Episode Breakdown:

1.1: "Legacy" (22:58) – Estranged brothers Joe and Brian Hackett are reunited after their mentally-unstable father's death and discover that their inheritance is an exasperating scavenger hunt.

1.2: "Around the World in Eight Years" (22:57) - Joe and Brian disagree over whether Helen should use her sex appeal to get a position at the Cambridge symphony. Fay has a romance with a pilot (Richard Erdman) who believes that he will die when he finally completes the last leg of his decades-long solo flight around the world.

1.3: "Return to Nantucket, Part 1" (22:58) – Brian braves dangerous weather conditions to rekindle his relationship with ex-wife Carol (Kim Johnston Ulrich) while she is on a layover.

1.4: "Return to Nantucket, Part 2" (22:57) – Carol's return to the island stirs up old rivalries when she makes a play for Joe, and also causes Helen to resume her childhood binge eating habits.

1.5: "There Once was a Girl from Nantucket" (22:56) – Brian sets up Joe with extremely popular Cindy (Megan Mullally) whose popularity among the island's men causes uptight Joe embarrassment.

1.6: "All for One and Two for Helen" (22:57) – Brian and Helen decide to teach Joe a lesson when they discover he has been following them on an evening without him.


Season Two Episode Breakdown:

2.1: "The Puppetmaster" (22:56) – In order to get Helen to change her "no pilots" dating rule, Brian hires an actor (Craig Bierko) to pose as a pilot and romance her, but things quickly go awry when she falls head over heels for him and the feeling is mutual.

2.2: "The Story of Joe" (22:57) – Joe is upset when a journalist (Charles Hallahan) doing a story on his airline finds Brian's flying stories more exciting than his own. With special appearances by George Wendt and John Ratzenberger.

2.3: "A Little Nightmare Music" (22:57) – Helen receives discouraging advice after auditioning for a famous composer (David Ogden Stiers) honeymooning on the island, and the gang subsequently annoy him into giving her another chance.

2.4: "Sports and Leisure" (22:56) – Roy alienates the gang when he starts spending time with them outside of work.

2.5: "A Stand Up Kind of Guy" (23:00) – Joe cannot bring himself to tell a former classmate (Kelly Connell) that he does not remember him, and ends up throwing the man a bachelor party hoping that one of their other classmates can tell him who the man is.

2.6: "It's Not the Thought, It's the Gift" (22:58) – The rivalry between Joe and Brian over Helen heats up as they each attempt to get her the best birthday present.

2.7: "Hell Hath No Fury Like a Policewoman Scorned" (22:58) – When Brian runs up parking tickets on Joe's car, he gets in over his head when he sweet-talks the arresting officer (Sharon Barr).

2.8: "High Anxiety" (22:57) – When Joe is grounded due to his high blood pressure, his attempts to treat it are frustrated by Roy's attempts to buy the airline and Brian's performance in the captain's seat.

2.9: "Friends or Lovers?" (22:58) – Grounded Joe suggests he and Helen try dating since he is technically no longer a pilot.

2.10: "There's Always Room for Cello" (22:54) – When Roy's football star son (Abraham Benrubi) reveals that he is gay, the gang expect Roy to react poorly (and he does).


2.11: "A Terminal Christmas" (22:58) – When the gang's Christmas plans all fall through, they join lonely Fay and help her find closure over her last husband's death the year before.

2.12: "Airport 90" (22:58) – Joe has to talk Helen down when Brian is incapacitated during a flying lesson.

2.13: "Love is Like Pulling Teeth" (22:57) – After Joe makes Helen feel guilty for not picking him up the night before as she had promised, he finds out that he has inadvertently promised to take care of her after a dentist appointment on the same day as Brian's party for the season's biggest game.

2.14: "The Tennis Bum" (22:51) – Brian attempts to cheer Fay up by letting her win a tennis game only to be humiliated when word gets out. Joe tries to make amends when he inadvertently breaks Lowell's meticulously detailed radio-controlled blimp.

2.15: "My Brother's Back and There's Going to Be Trouble" (22:52) – When Joe throws out his back, Brian takes over the airline and loses the plane.

2.16: "Plan Nine from Nantucket" (22:58) – UFO nuts converge on the island when the brothers have a close encounter in the sky.

2.17: "Looking for Love in All the Wrong Places" (22:57) – A litany of distractions and mixed signals keeps Joe and Helen apart on Valentine's Day.

2.18: "Love Means Never Having to Say Geronimo" (22:57) – Brian may be "taking the plunge" literally when a woman (Lisa Darr) he has just met wants to get married while jumping out of a plane.

2.18: "All in the Family" (22:57) – Junior pilot Kenny (Michael Manasseri) idolizes "ladies man" Brian until he starts dating Kenny's mother.

2.19: "Mother Wore Stripes" (22:57) – When their long estranged mother returns to the island, Brian is overjoyed but Joe deep-seated resentment over her abandonment of them boils over.

2.20: "Murder, She Roast" (22:56) – Brian starts to suspect that Fay is the still-at-large "Cullinary Killer" after seeing a story on a true-crime show (hosted by Maury Povich).

2.21: "Duet for Cello and Plane" (22:56) – When Helen finally lands a symphony job, she must choose between Joe and her dreams.

Video


All of the episodes from both seasons are presented in their original 1.33:1 aspect ratio (the series ended before the jump to widescreen). The series was shot on film but finished on videotape. A comparison with the Paramount release reveals that the masters used for these episodes were always soft-looking and undetailed even with the earlier release's superior compression (for instance, disc 1 of the Paramount holds roughly 160 minutes and has a size of 7.12 GB while disc 1 of the Mill Creek is roughly 206 minutes and has a total size of 6.66 GB). The first disc features all six season one episodes (WINGS was a mid-season replacement for the series "Dear John") and the first three of season two. The second disc features nine episodes, and the third disc features the remaining ten season two episodes. There are more artifacts in the Mill Creek encodes, but the Paramount edition will not look appreciably better on any size of HD monitor.

Audio


All of the episodes feature Dolby Digital 2.0 stereo tracks, and they fare better than the video. There are no subtitle or captioning options.

Extras


There are absolutely no extras, although the Paramount edition was also barebones.

Packaging


The three discs of seasons 1 & 2 are stacked on top of one another on a single spindle in a standard single-disc keep case. Collectors may want to find a better solution.

Overall


Mill Creek's three disc set is well-priced for the quality, but fans of the series will probably want to seek out the original Paramount set.
| | | | | |
| --- | --- | --- | --- | --- |
| The Show: A+ | Video: D+ | Audio: B+ | Extras: F+ | Overall: C+ |