The Film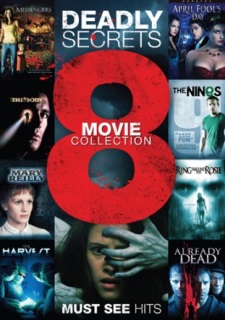 ***This is a technical review only. For reviews on the show from various critics, we recommend visiting the external review links at the films' respective Internet Movie Database entries***

"This shocking and suspense-filled movie collection contains 8 chilling films featuring the talents of Kristen Stewart, Julia Roberts, Antonio Banderas, and more!"

The Messengers (Oxide Pang Chun & Danny Pang, 2007) - "Desperate for a fresh start after two tough years in Chicago, the Solomon family retreats to a desolate sunflower farm in North Dakota. But the calm of farm life is shattered when 16-year-old Jess (Kristen Stewart) and her 3-year-old brother Ben begin to see nightmarish apparitions throughout their new home – visions that nobody else can see." Dylan McDermott, Penelope Ann Miller, and John Corbett also star.

The Body (Jonas McCord, 2001) – "An ancient skeleton has been discovered in Jerusalem in a rich man's tomb. Coloration of the wrist and leg bones indicates the cause of death was crucifixion. Other signs include a gold coin bearing the marks of Pntius Pilate, and faint markings around the skull lead authorities to suspect that these could be the bones of Christ. Politicians, clerics, religious extremists, and those using terror as means to and end find their believes and identities tested while risking their lives to unearth the truth." Antonio Banderas, Olivia Williams, John Shrapnel, and Derek Jacobi star.

April Fool's Day (Mitchell Altieri & Phil Flores, 2008) – "Each April Fool's Day, fabulously wealthy young Desiree Cartier (Taylor Cole) hosts the most killer coming-out parties at her to-die-for Southern mansion, and this social event is never complete without one of her patented pranks. But when this year's joke turns deadly, Desiree, her brothe Blaine (Josh Henderson), and five of their friends become the targets of a twisted killer who begins hunting them down one by one in this chilling tale of seduction, betrayal, and revenge." Scout Taylor-Compton, Joe Edgender, Jennifer Siebel, Samuel Child, and Joseph McKelheer also star.

The Nines (John August, 2007) – "A clever, mind-bending thrill ride through the mind of an actor, a writer, and videogame designer who arguably controls them all. THE NINES consists of three short films, each featuring he same actors in different – and sometimes overlapping – roles. Together, three stories form a single narrative that explores the relationships between author and character, actor and role, creator and creation." Ryan Reynolds, Hope Davis, Melissa McCarthy, and Ell Fanning star.


Mary Reilly (Stephen Frears, 1996) - "The classic horror story of Dr. Jekyll and Mr. Hyde gets a chilling new twist when seen through the eyes of Dr. Jekyll's devoted maid MARY REILLY. Julia Roberts and John Malkovich, along with the writer and director of "Dangerous Liasons", take terror to a new level as the immortal conflict between good and evil is played out in the soul of one man."

The Harvest (David Marconi, 1992) - "There's more than one way to rob a man and Charlie Pope imagined the worst. After waking up on an operating table with a kidney missing, he discovers a tropical underworld of blackmarket human organ sales." Leilani Sarelle, Miguel Ferrer, Henry Silva, Tim Thomerson, Harvey Fierstein, Matt Clark, and Anthony John Dennison star.

Ring Around the Rosie (Rubi Zack, 2006) - "Karen Baldwin's ailing grandmother makes a final request - for Karen to clean out the family's mountain estate and liquidate its assets. Karen drives to the estate and soon finds herself condemned to a house buried with secrets from the past terrorizing and haunting her present." Tom Sizemore, Randall Batinkoff, Jenny Mollen, and Gina Philips star.

Already Dead (Joe Otting, 2007) - "Thomas Archer had it all: a beautiful wife, a powerful job, and a beloved son. But when an intruder breaks into his home, kills his son and brutalizes his wife, Archer's ideal life is shattered. When the police fail to find the killer, his therapist directs Archer to a covert agency that specializes in hunting down ruthless criminals." Ron Eldard, Til Schweiger, Patrick Kilpatrick, Geoff Pierson, Marisa Coughlan, and Christopher Plummer star.

Video


The newer HD-mastered films superficially compress well here, but banding is evident in the dark scenes, highlights can clip, and saturated colors are noisy (and the low bitrates cannot handle the delineation of shades in solid blocks of color like the hideous debutante dresses in April Fool's Day). The interlacing of all of the transfers makes fast motion blurry, but the older transfer of Mary Reilly and The Harvest are older masters, although perfectly serviceable and it's easier to overlook the occasional compression artifacts.

Audio


The Messengers, The Body, Ring Around the Rosie, and Already Dead had 5.1 tracks on their Sony and Columbia/Tri-star issues while Mary Reilly had 5.0 and 2.0 surround options. The Mill Creek transfers feature adequate 2.0 stereo audio options only. April Fool's Day and The Nines, on the other hand, have retained their 5.1 mixes while The Harvest was a low-budget, early nineties Ultra*Stereo film that was not remixed for home video.

Extras


None of the films in this set have extras as expected since there's barely room enough for the films themselves. As such, the discussion of extras below focuses on what was present on the individual releases. This may seem unfair since these are not individual editions and Sony may not have licensed the extras to Mill Creek, but it may be helpful for readers only interested in specific films or those who choose to seek out the Sony editions after sampling the films here.


The Messengers loses out on an audio commentary by actress Kristen Stewart, writer Mark Wheaton, actor Dustin Milligan, visual effects supervisor Bruce Jones and producers Jason Shuman & William Sherak, as well as a seven-part featurette titled "Exhuming The Messengers" (37:50). The Nines loses two audio commentary tracks (one with John August and star Ryan Reynolds, and the other with August, editor Douglas Crise and actress Melissa McCarthy), as well as a short film, thirteen-miutes of deleted scenes, and a couple featurettes. Mary Reilly had a short featurette and trailer while Already Dead had three deleted scenes. The Body, April Fool's Day, The Harvest, Ring Around the Rosie had no extras of consequence in their original editions.

Packaging


The two discs are housed in a flimsly Eco-box case with spindles on both insides (the cover insert is the only thing that keeps the undersides of the discs from getting dusty).

Overall


DEADLY SECRETS presents eight films without extras, compressed onto two dual-layer discs and sometimes lacking their original 5.1 tracks; however, it's an ecomonically-priced way to give chances to films that you may have missed or passed on during their original release (in my case APRIL FOOL'S DAY since it's a remake with teen TV drama actors, and MARY REILLY which I initially passed on because it was a Julia Roberts film (despite also being a telling of the Stevenson tale and directed by Stephen Frears).

| | | | | |
| --- | --- | --- | --- | --- |
| The Film: C+ | Video: D+ | Audio: C+ | Extras: F+ | Overall: D- |