The Film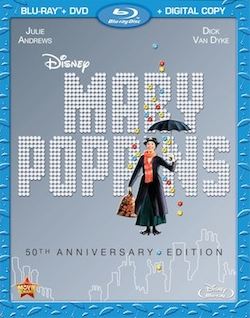 I love the undeniable magic that springs forth from every pre-1980's Disney film. Sure, around the time "Mary Poppins" (1964) was made Disney was known for their feature-length animated films, and not so much for their live-action features, but this is the film that changed that perception. Combining live-action with animation, Disney crafted a timeless film full of memorable characters brought to life through award-winning performances (Van Dyke's cockney accent not withstanding). On the surface, this is a film about an otherworldly nanny bringing some joy to the stringent lives of two children desperate for fun and excitement. But I've always appreciated the subtext to Disney's earlier output, which in this case tells the tale of a woman who is ostensibly a witch with supernatural, unexplained powers and a penchant for imbuing young children with a sense of free-will and adventure.

The film opens up with a musical tune from a one-man band, fronted by Bert (Dick Van Dyke), a streetwise renaissance man who introduces us to the Banks family. Mrs. Banks (Glynis Johns) is a songstress with a cause, championing the local women's suffrage movement. Mr. Banks (David Tomlinson) is a rigid, authoritarian who works in the financial market. Their two children, Jane (Karen Dotrice) and Michael (Matthew Garber), however, are quite the handful. When their current nanny decides to quit after the children disappear for the fourth time in a week, Mr. Banks has no option but to find a suitable replacement. The children write up a list of their preferred qualifications, but their father summarily dismisses it as nonsense and tears it up. But a strange thing happens… The letter is reconstituted and finds its way into the hands of one Mary Poppins (Julie Andrews), a nanny who is "practically perfect in every way". She is hired and, along with Bert, they treat the children to fantastical adventures which are rather psychedelic in nature. At the same time, Mr. Banks' career is shaken up, and he starts to realize that there are more important things in life than discipline and authority, namely his children.

Julie Andrews made her feature film debut with "Mary Poppins" and the role won her an Academy Award. It's hard to believe this is her first film; Andrews seems so full of confidence on-screen. This, I'm sure, is largely due to her extensive Broadway experience beforehand. An interesting note of trivia is that Andrews took this film on after being passed over for Audrey Hepburn as the lead in "My Fair Lady" (1964), a role Andrews originally played on stage. Andrews would later beat out Hepburn for the Academy Award for this film. This is a signature role that she has been and will be remembered for decades to come, and she's a real triple threat here with her radiant singing voice, dancing abilities and her extraordinary performance.

Dick Van Dyke is such a joy to watch in this film; I don't care how bad his Cockney accent is. Hell, he even engages in a little self-deprecation on the bonus materials when discussing his oft-maligned voice work. His character here, Bert, has a long history with Mary, though the film stops short of saying they were romantically involved it certainly is alluded to. Van Dyke's whimsical, affable charm and cool demeanor makes him a favorite for me here. He's a veritable jack-of-all-trades, and his skills play a large part in Mary's adventures with the children. Maybe they're two people with a similar background? The film never says so, but Bert adds a more playful dimension to the story to counter Mary's fun-loving but firm disposition.

Why aren't children nearly as tolerable in films today as they were back in the Golden Age? That's a bit of hyperbole, since not every child actor today is a drag, but kids back then took their jobs as seriously as their adult contemporaries it seems. Both of the young actors here, Karen Dotrice as Jane and Matthew Garber as Michael, give exemplary performances. Neither is too smart for their own good, nor are they such unmanageable brats that they come across as annoying and childish. It's easy to see where they're coming from; both of them being stuck in a house with an overbearing father and nannies that are too rigid and unable to adapt to caring for children with a sense of adventure. These kids aren't troublemakers; they just want to play like children often do. Jane is more of the brains, while Michael is the humorous sidekick. Since the film essentially rests on their shoulders, as they feature in almost every scene, it's of crucial importance that they shine. And they do.

Likewise, Jane and Michael's parents, George and Winifred Banks, are spot-on. The film takes place in Edwardian era England around the year 1910. Winifred is a free-spirit, crusading for women's rights and possessing a vivid wardrobe, whereas George is stiff as a board and extremely stuffy. It's a wonder they even made children. Even though she is sympathetic to the children's needs, George makes sure he has final say in all matters and there's nothing that can be said to sway him otherwise. I especially enjoyed Tomlinson's performance; he does such a wonderful job of slipping into the role of a strict father bound to his values.

"Mary Poppins" is based on the literary series of the same name, though much of this film is taken from the debut novel first published in 1934. Written by P.L. Travers, Walt Disney himself fought long and hard to acquire the rights to the books, and he finally did once Travers was allowed to have some say in the script. Changes were made to make the film more easily adaptable to the big screen, such as condensing characters and pushing back the setting from the 30's to 1910, but the biggest objection Travers had was the marriage of live-action footage combined with animation. Thankfully, she didn't have any say in vetoing it because the film may not have been nearly as memorable without all of the classic Disney animation the studio was known for. "Mary Poppins" went on the win 5 Academy Awards, along with garnering 13 nominations – the most ever for a Disney film.

Video


Presented in 1.66:1 widescreen HD 1080p 24/fps mastered in AVC MPEG-4 compression. Much like previous DVD editions of the film, this Blu-ray looks excellent. It's highly likely the transfer was sourced from the same restored master used in the previous 45th Anniversary Edition DVD (reviewed here). The HD image is a considerable upgrade considering the enhanced resolution, colors are more vibrant, detail and depth looks that much better. Blacks are deep, bold and natural looking. The film's effects (optical and animated mattes, etc) look terrific here and the transfer maintains it's grain well - Disney have not scrubbed the film with DNR and as a result we get an image that closely resembles the way the film would have looked all those years ago projected onscreen. The image is not 100% incredible, some composited shots look a little soft or feature more noise than usual but otherwise it's the best image we've seen and this HD presentation does a terrific job presenting this Disney classic.

Audio


Five audio tracks are included here in English DTS-HD Master Audio 7.1 surround mixed at 48kHz/24-bit as well as tracks in English, French and Spanish Dolby Digital 5.1 surround as well as English Dolby Digital 2.0 Stereo. For the purpose of this review I chose to view the film with its DTS-HD 7.1 audio (for purists the film's original 2.0 stereo mix is also included if you don't like the up-converted audio tracks). This track is a newly created mix put together using the original stereo sound elements. The original mix was rather limiting (however pretty solid for being just a 2.0 mix), this newer track broadens the sound field, dialogue is very much front focused and the sound effects and music are what predominantly make up the surround channels. 7.1 channels may be overkill for a release like this, but as far as up-converted audio mixes go this one's pretty good. Optional subtitles are included in English for the hearing impaired, French, and Spanish.

Extras


Disney continues to prove that they want to give consumers a good bang for their buck with this release. "Mary Poppins" has been given the 2-disc treatment with plenty of bells and whistles, though most of the material here previously appeared on the "40th Anniversary Edition" of the film. This material includes an audio commentary, several behind-the-scenes featurettes, documentaries, bonus short film, theatrical trailers and TV spots and numerous photo galleries among other extras explored below.

DISC ONE: BLU-RAY

The film includes a feature-length screen specific audio commentary with stars Julie Andrews, Dick Van Dyke, Karen Dotrice and songwriters Richard M. Sherman and Robert B. Sherman. This is a fun track made even better by the fact that it's so obvious how close all of these people are to each other. There isn't a lot of technical production talk, but there are lots of production notes and stories told.

Next up is "Becoming Mr. Sherman" (1080p) a new featurette which runs for 14 minutes 1 second. This clip features actor Jason Schwartzman and composer Richard Sherman as they talk about the film and the iconic songs of the film. While this is mostly a "Mary Poppins" related supplement, it's mostly a promo for the upcoming film "Saving Mr. Banks" (2013) in which Schwartzman plays the composer onscreen.

Next up is "Mary-Oke" (1080p) a new interactive sing-a-long feature, which runs for 7 minutes 58 seconds. This feature allows viewers to sing along to classic songs from the film, which include:

- "Spoonful of Sugar"
- "Supercalifragilisticexpialidocious"
- "Step in Time"
- "Chim Chim Cher-ee"

"Mary Poppins: From Page to Stage" documentary (480p) runs for 48 minutes and 4 seconds. Ashley Brown (Who plays Mary Poppins on Broadway), Gavin Lee (who plays Bert on stage), producer Thomas Schumacher, composer Robert B. Sherman and numerous members of the crew sit down to discuss the transition of P.L. Traver's novels from written page to the Broadway stage. This is a very in-depth look at the genesis of the project with lots of great production stories.

"Step in Time: Musical Number from Mary Poppins on Broadway" featurette (480p) runs for 7 minutes and 7 seconds. Composer George Stiles introduces this clip from the stage show version of the story.

"Supercalifragilisticexpialidocious: The Making of Mary Poppins" documentary (480p) runs for 50 minutes and 43 seconds. This lengthy look back at the film's history is hosted by star Dick Van Dyke, with interview footage featuring stars Julie Andrews, Karen Dotrice, Glynis Johns, composers Richard M. Sherman and Robert B. Sherman and other members of the crew, as well as those well-versed in the film's history. Every single detail of the film's production is covered here, from how Walt decided on choosing Andrews for the part to how protective Travers was of her source material, even to someone like Disney. This is very well put together and lots of great information is shared.

"The Gala World Premiere" featurette (480p) runs for 17 minutes and 45 seconds. Extremely rare footage of the film's premiere from 1964 is presented here in color and black & white after being found in 2 separate Disney vaults. I love old Disney footage and this is a great look back at some of the era's celebrities and fashions.

"Premiere Party" is another featurette (480p) which runs for 6 minutes 23 seconds and consists of various radio interviews with the people attending the premiere party thrown by the studio after the film's official premiere of the film.

"Movie Magic" featurette (480p) runs for 7 minutes and 5 seconds. An annoying voiceover talks about the film's many effects, including the animatronics and stop-motion effects. Informative, but the tween-agers voice makes it sound like they made it for kids.

Deconstruction of "Jolly Holiday" (480p) runs for 13 minutes 3 seconds, these are clips that show the various stages of the scene from the live action to animation and compositing.

Deconstruction of "Step in Time" (480p) runs for 4 minutes 52 seconds, much like the previous clip, here we get a look at the effects for this scene and how they came together.

"Dick Van Dyke Make-Up Test" featurette (480p) runs for 1 minute and 6 seconds. Van Dyke talks about how he got the part and what they did to achieve his look, all while footage is played of his actual make-up tests shot during pre-production.

Next up are a collection of promotional materials (480p) that include:

- Original theatrical teaser trailer runs for 2 minutes and 54 seconds. This isn't really a trailer; it's actually a hilariously-scripted bit with Walt Disney getting an ego boost courtesy of manager Bob Selig before concluding with a 50 second teaser.
- Original theatrical trailer runs for 4 minutes and 14 seconds.
- Julie Andrews' Premiere Greeting runs for 40 seconds.
- Original TV spot #1 runs for 32 seconds.
- Original TV spot #2 runs for 32 seconds.
- 1966 Re-issue theatrical trailer runs for 1 minute and 2 seconds.
- 1973 Re-issue theatrical trailer #1 runs for 1 minute and 13 seconds.
- 1973 Re-issue theatrical trailer runs for 1 minute and 3 seconds.

"A Magical Musical Reunion Featuring Julie Andrews, Dick Van Dyke and Richard M. Sherman" (480p) featurette runs for 17 minutes and 17 seconds. The trio sits down to talk about the film and their friendships.

Next is a deleted song (480p) "Chimpanzoo" runs for 1 minute and 39 seconds. Richard M. Sherman plays a tune cut from the final film.

The disc also includes a series of "Disney" song selections (1080p), although these are really nothing more than clips of the songs within the film. An option is provided to play each one with or without the accompanying lyrics on screen. The included songs are:

- "A Spoonful of Sugar" which runs for 2 minutes 54 seconds.
- "Jolly Holiday" which runs for 4 minutes 42 seconds.
- "Supercalifragilisticexpialidocious" which runs for 1 minute 56 seconds.
- "I Love to Laugh" which runs for 2 minutes 37 seconds.
- "Feed the Birds" which runs for 3 minutes 37 seconds.
- "Chim Chim Cher-ee" which runs for 1 minute 10 seconds.
- "Step in Time" which runs for 8 minutes 15 seconds.
- "Let's Go Fly a Kite" which runs for 2 minutes 39 seconds.

Finally, there is a bonus short, which runs for 9 minutes and 52 seconds, called "The Cat That Looked At A King", which is from "Mary Poppins Opens the Door" by P.L. Travers. Julie Andrews reprises her role here for this recent short film. It's low budget, but it's also fun.

Bonus trailers (1080p) are also included for:

- "Saving Mr. Banks"
- "The Jungle Book: Diamond Edition"
- "Pinocchio"
- "Anti-smoking" spot
- "Disney Movie Rewards" spot
- "Disney Parks" spot
- "Broadway's The Lion King"
- "The Pirate Fairy"

DISC TWO: DVD

This disc is the DVD version of the film and also included is a code for a digital copy version of the film for portable media devices.

Packaging


Packaged in a 2-disc Blu-ray case housed in a cardboard slip-case.

Overall


Disney has put together a classy package with a solid video/audio presentation and more supplements than anyone could have asked for. Having a commentary track with Andrews and Van Dyke alone would make this a treasure worth owning; everything else just adds to the magic. This Blu-ray doesn't port over all of the extras from previous DVD instalments, some have been omitted, the extras that have not made it over include a trivia track, design and still art galleries (these I'm most disappointed in loosing as they featured some terrific art from the Disney vaults), and "A Musical Journey with Richard M. Sherman" featurette.

The film and portion of the extras reviewed by Anthony Arrigo, the A/V and some extras reviewed by Noor Razzak.
| | | | | |
| --- | --- | --- | --- | --- |
| The Film: B+ | Video: A | Audio: A | Extras: A- | Overall: A- |