The Film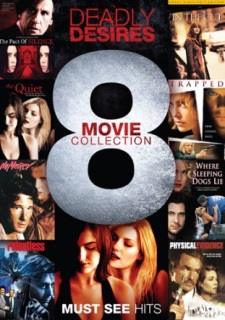 ***This is a technical review only. For reviews on the show from various critics, we recommend visiting the external review links at the films' respective Internet Movie Database entries***

"Passion for danger runs deep in this thrilling 8 movie set with captivating performances from Richard Gere, Kim Basinger, Sharon Stone, Meg Ryan, Kevin Bacon, Charlize Theron and more!"

In the Cut (Jane Campion, 2003) – "This sensual thriller features Meg Ryan and Mark Ruffalo in unforgettable performances as they search for a killer who knows their every movie, and knows they're getting too close for comfort. In the underbelly of lower Manhattan, Frannie Avery, a reserved English professor, becomes obsessed after seeing more than she should of an impassioned couple. After the young woman turns up dead, Frannie is questioned by a homicide detective who draws her into a liberating but disturbing erotic encounter." Jennifer Jason Leigh, Nick Damici, and Sharrieff Pugh also star.

The Pact of Silence (Graham Guit, 2003) – "Golden Globe® winner Gerard Depardieu stars as a Jesuit priest, Dr. Joachim Ferrer. Harborign a secret from his violent past and having found solace in the church, he soon finds himself caught in a web of intrigue when a young Carmelite nun, Sarah, is rushed to his hospital. Suffering from inexplicable pain and delusions, Joachim recognizes in Sarah the familiar symptoms of repression and denial. Elodie Bouchez and Carmen Maura also star.

Trapped (Luis Mandoki, 2002) – "When their daughter is taken for ransom by a gang of serial kidnappers, a young doctor and his wife find themselves held hostage while a 24 hour plan to extort their money is set into motion. With time running out and the health of their asthmatic daughter at serious risk, they find themselves in a race against the clock as the 'perfect crime' begins spiraling towards an unthinkable, terrifying, and deadly conclusion." Charlize Theron, Courtney Love, Kevin Bacon, Pruitt Taylor Vince, and Dakota Fanning star.

The Quiet (Jamie Babbit, 2005) – "Elisha Cuthbert stars in this erotic and suspenseful tale of sex, lies and betrayal as Nina Daer, a pretty cheerleader whose life is turned upside down by the arrival of her parents' godchild Dot, a deaf and mute girl recently orphaned by her father's death. Although Nina looks upon Dot's deafness with disdain, her family and friends develop a strange attraction to her, and Dot soon becomes a sounding board for everyone's heaviest burdens." Camilla Belle, Martin Donovan, Edie Falco, Katy Mixon, and Shawn Ashmore star.


No Mercy (Richard Pearce, 1986) – "Richard Gere and Kim Basinger sizzle in a searing action thriller of passion and murder, NO MERCY. Eddie Jillette, a tough, uncompromising cop whose vow to avenge his partner's death draws him into a torrid affair with the only witness, the murderer's girlfriend. Basinger is the sultry Cajun beauty, Michel, caught in the war between Gere and vicious crimelord Losado, the man who possesses here. Jillette's vendetta takes him from the streets of Chicago to the violent underworld of New Orleans, where he abducts Michel to flush out Losado." Jeroen Krabbe and George Dzundza also star.

Physical Evidence (Michael Crichton, 1989) – "Everyone wanted Jake Farley dead. A man who dealt in drugs, prostitution, and blackmail, Farley had no shortage of enemies, but only Joe Paris, a hard-drinking cop who can't remember if he killed Farley or not, is on trial for the murder. The District Attorney has everything he needs for a conviction including weapon and motive. All Joe has, is Jenny Hudson, a public defender who isn't entirely convicned of her client's innocence." Burt Reynolds, Theresa Russell, Ned Beatty, Kay Lenz, and Tom O'Brien star.


Where Sleeping Dogs Lie (Colin Finch, 1991) – "They were the perfect family. That's what made them the perfect target. Five years after a wealthy California family is brutally murdered, a struggling writer moves into their abandoned home. When he attempts to revive their ghosts for his novel, he resurrects their killer as well. Dylan McDermott (TV's The Practice) stars as the young writer who will do anything for a chance at success. Tom Sizemore and Sharon Stone also star.

Relentless (William Lustig, 1989) – "A sadistic serial killer holds Los Angeles in the grip of unspeakable fear in this hard-hitting action-thriller. Rejected from the police force on psychological grounds, Buck Taylor exacts revenge by committing a string of brutal murders and taunting the LAPD. The only clues are pages torn from a telephone book and victims who appear to hav somehow participated in their own deaths. But when a brash rookie detective pairs up with a cynical vetean to track down the killer, the cat-and-mouse game ends in a deadly fight to the finish." Judd Nelson, Robert Loggia, Leo Rossi, and Meg Foster star.


Video


This set includes two dual-layer discs with four films on each single-sided platter. The newer HD-mastered films in the set (Mill Creek has also the older Physical Evidence) compress well enough for older TVs and upscaling on more moderately-sized HDTVs (perhaps looking better on 720p resolution monitors). Although the Sony/Columbia releases were likely progressive, all but In the Cut and Trapped are interlaced here. There's some artefacting, but no more than one should expect given the video specs of this set - of the newer films, In the Cut has a deliberately smudgy and warmly saturated look - especially if you've bought other Mill Creek multi-film sets.

Audio


In the Cut, Trapped, The Quiet all retain their original 5.1 tracks while The Pact of Silence's French track is downmixed to Dolby Digital 2.0 stereo - an English 5.1 dub was included on the standalone release - with optional English subtitles (there is no set-up option but they are turned on by default). The other films were mixed in Dolby Stereo and are presented in Dolby Digital 2.0 stereo (some of the standalone DVD releases had surround-flagged 2.0 tracks but you'll probably get the same experienced by turning on Pro-Logic on your receiver).

Extras


There are no extras for any of the films, but the extras from the standalone editions are mentioned here for readers who might want to seek out any of them for the added extras (or viewers who like a certain film in the set and would like to own a better edition). In the Cut loses out on an audio commentary with director Jane Campion and producer/music supervisor Laurie Parker, along with a behind the scenes featurette, a featurette on the slang used in the film, and the film's theatrical trailer (do note that Mill Creek also has a Blu-ray edition of the film, but that it also lacks the extras from the Sony edition). Trapped had two commentaries (one with the director and the other with the screenwriter), a behind-the-scenes featurette, five deleted scenes, and an alternate ending on its Sony edition. The Sony edition of The Pact of Silence had an audio commentary with the director and lead actress, while The Quiet had a handful of featurettes. The older films in the set had only theatrical trailers or trailers for other Sony/Columbia releases.

Packaging


While some of Mill Creek's multi-disc sets have the discs stacked on top of one another on a single spindle, this set packages its two discs on spindles inside both sides of the single-disc keepcase (do note that it's an Eco case so the insert artwork is the only thing keeping the underside of the discs from getting dusty).

Overall


Mill Creek's two-disc, eight-movie set is an economic choice since a couple of these films are out-of-print in their studio editions; however, it can also be considered a sampler for those viewers who might decide to seek out the individual releases for more extras or superior video specs (or audio specs in the case of The Pact of Silence).

| | | | | |
| --- | --- | --- | --- | --- |
| The Film: B+ | Video: C+ | Audio: B+ | Extras: F+ | Overall: C+ |