The Film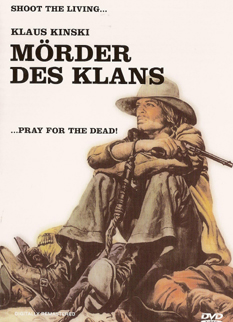 Certain actors have a reputation for being difficult on the set, fighting with directors and acting wildly outside the camera, often drinking and partying. Notoriously wild Oliver Reed finally drank himself to an early grave during "Gladiator (2000)", and there are many others; the names Alain Delon and more recently Russell Crowe have been in the headlines, at least on a few occasions. One actor can be considered almost as a synonym for "difficulties", but Klaus Kinski also had a gift for acting. Kinski did his most remembered films with director Werner Herzog, and he also appeared in films like "Doctor Zhivago (1965)". Among his long list of films, many were European based productions, and many were also relatively low budget, where Kinski made a quick appearance (he even did one with Oliver Reed; "Venom (1982)"). One genre where he became almost a household name was Italian Spaghetti westerns. Among them are a few real classics like "For a Few Dollars More AKA Per Qualche Dollaro In Più (1965)" and "The Great Silence AKA Il Grande Silenzio (1968)", and several other films that didn´t always get any big headlines, at least not outside the genre fans. One of these films was "Shoot the Living and Pray for the Dead AKA Prega il morto e ammazza il vivo (1971)" from director/editor Giuseppe Vari (here billed as "Joseph Warren").

In the opening scene, the mysterious gunslinger ends up shooting a Mexican man, when certain things don´t go down as planned. John Webb (Paolo Casella - billed as Paul Sullivan) is leaving the well planned message behind, and heads to the "Jackal´s Ranch", where he meets the old man Jonathan (Dante Maggio - billed as Dan May) and his granddaughter, who are running the place. It won´t be long before we learn that psychotic criminal Dan Hogan (Kinski) and his posse have robbed a bank, getting 100 000$ worth of gold. The crew has then split, and their original plan was to use the now dead Mexican man to escort them all to Mexico, and to safety. When they read the message from John Webb, they´ll also eventually ride to the "Jackal´s Ranch". After a few heated moments, Dan Hogan is arriving on the scene, hearing about the new developments to his original plan. John Webb is now the one offering to take them all to Mexico, safe and sound, but it´s going to cost half of the gold. From these ingredients starts a bit of a different western, where basically the whole first part of the film happens inside the ranch, where Hogan is keeping half of the people as hostage. They´re still waiting for a woman named Daisy (Anna Zinnemann) to arrive, since she is the one with the gold.

"Shoot the Living and Pray for the Dead" relies heavily on the mad and intimidating character of Dan Hogan, where Klaus Kinski does a fairly good job. Other actors are solid, but they´re playing very ordinary western-characters to bring any really memorable moments to their parts. Paolo Casella has a quality or two, and Dino Strano (as Dean Stratford), playing Reed, also gives a decent portrait of a man, who´s trying to take the leadership from Dan, and paying the price for that. It´s interesting how the tension builds among the people in the ranch, where every move is monitored from Dan Hogan and his loose trigger-finger. I still have to say, that to me the film fell more on the "mediocre-side", mostly due to its slow pace and much too ordinary characters. More interesting aspects will come to picture later on, when the innocent couple ends up in the middle of the situation at the ranch, and when Texas Rangers come looking for Hogan´s posse.

From these more psychological aspects, the story moves forward to its second part, which is the journey to the Mexican border. In here the true intentions of John Webb are revealed, which have actually been quite well hidden even for the audience. You could expect that now the patient audience will be rewarded with some proper action and gunfights (this is a western after all), but this isn´t (unfortunately) the case. Giuseppe Vari has chosen his way to play the story, so he´ll go with that style to the end, building tension between the characters, but never letting the story evolve into wild shootouts, nor Leone-style of duels. I have to admit that he creates a Spaghetti western with a different, sometimes refreshing feel, but at the same time the movie ends up suffering from its pace and dull characters (since Klaus Kinski can´t do everything alone). Music is also quite mellow this time, another thing that you could consider somewhat "different" from the typical westerns from Italy.


Video


Even though the German "Koch Media" is one of the best companies out there when it comes to quality Spaghetti western-releases, this time the results are not in the same, rather high, level. The transfer is non-Anamorphic 1.85:1, and is cropped (OAR is 2.35:1). It isn´t the end of the world, and would be far worse in cropped 4:3, but there are some scenes where you can see the cropping. Further more, the transfer doesn´t look fully natural, with desaturated colors, and contrast being also strange in some scenes (e.g. the sky is often almost fully overexposed, and there are similar problems with skin tones). You have also line shimmering and edge enhancement. The transfer is fairly clean and sharp though, and I didn´t see any evidence that this would´ve been sourced from a tape-source. The transfer is using German credits. "Dual layer" disc runs 90:10 min (PAL) and is coded "R0". There are 5 chapters.

Audio


The disc includes two audio tracks; English Dolby Digital 2.0 Mono, and German Dolby Digital 2.0 Mono. There are no subtitles. Unfortunately the English track is inferior, and the German-track has a wider and deeper use of sound effects (this is quite clear when you switch the audio track during the film), and it´s generally cleaner. Where in German track you´ll hear bird singing and wind blowing, they´re often almost absent in the English track. Instead you have a very annoying "humming" constantly in the background, as well as some hiss. I didn´t really have problems with English dubbing itself, but generally the track is not very good. One of the English lines has a few words in German (no subtitles), but this was a very brief moment.

Extras


It´s best not to try to skip the "Menu-sequence" while it loads by pressing "Main menu", since it just goes back to the start. My advice is to be patient, and wait until it fully loads. After that we´ll get to the extras; Photo gallery includes 11 stills, and artwork gallery includes 4 posters. Biography of actor Klaus Kinski includes 4 pages in German.

Section called "Italo Western Tips" includes bonus trailer for "Grand Canyon Massacre AKA Massacro al Grande Canyon (1965)" (US - 3:31 min), and some notes in German ("Für Ein Paar Leichen Miehr"). Other bonus trailers include:
-The Ipcress File (1965) (US - 1:02 min)
-Dr. Terror's House of Horrors (1965) (German - 2:38 min)
-The Persuaders! (1971) (US - 2:21 min)
-Sandokan (1976) (German - 2:02 min)
-Deadlier Than the Male (1966) (US - 2:50 min)
-Oliver Twist (1948) (US - 2:10 min)
DVD credits are also included.


Overall


I´m guessing that some Spaghetti western fans think that my review is too harsh when it comes to the film itself and the transfer, and even when they both are a bit mediocre, they are still in the level where you can enjoy the film, and like I said earlier, this isn´t any "public domain"-release with horrible quality. This film still needs a new Anamorphic 2.35:1-transfer, and I´m sure that all fans agree with me on that. German title of the film is "Mörder Des Klans".

For more info, please visit the homepage of Koch Media.
| | | | | |
| --- | --- | --- | --- | --- |
| The Film: | Video: | Audio: | Extras: | Overall: |