The Film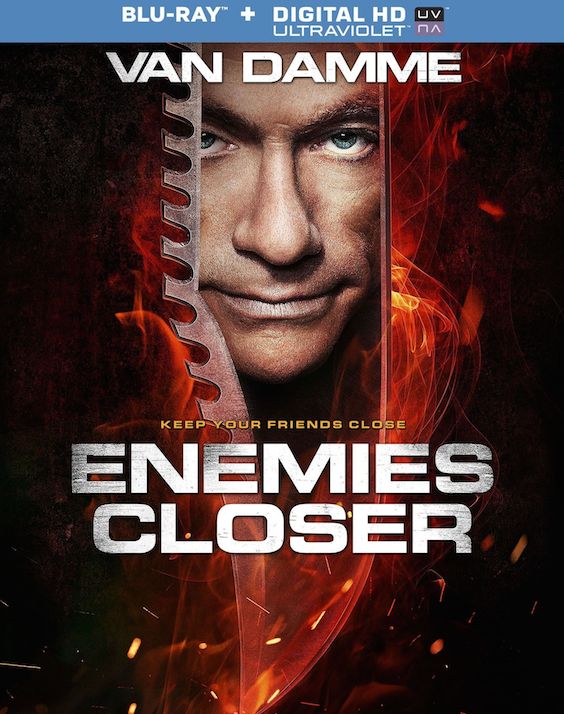 Picking through the DTV titles released in any given year would be enough to drive a person insane. There are just far too many movies released, making it very difficult to know what is and isn't worth a person's time. Generally, though, it can be made easier if there are noteworthy stars or directors attached, which is why almost every indie no-budget film tries to hire at least a single bankable name in hopes their fans (or whatever is left of them) will check it out. One name that's been enjoying a bit of resurgence lately is the Muscles from Brussels himself, Jean-Claude Van Damme. His career took off in the late 80's/early 90's, when films like "Bloodspot" (1988), "Universal Soldier" (1992) and "Timecop" (1994) cemented his status as a box office contender. After the release of "Street Fighter" (1994), however, his empire crumbled as one film after another was a box office bomb. 1999 marked his final theatrical release with "Universal Soldier: The Return", at which point Van Damme was Van Done with mainstream audiences for almost a decade. But since a poignant, unexpected return with "JCVD" (2008) his status has begun to rise ever so slightly in the world of cinema, going so far as to secure him a role as the main villain – fittingly named "Vilain" – in "The Expendables 2" (2012), marking a return to films people might actually see. Capitalizing on the goodwill of "JCVD", Van Damme has been steadily delivering some DTV films that have gotten a decent amount of buzz.

His latest endeavor, "Enemies Closer" (2013), reunites the actor with director & cinematographer Peter Hyams for the third time. Their two previous films were a hit – "Timecop" (1994) – and a miss – "Sudden Death" (1995). Hyams is a capable director, with a strong eye for visual composition thanks to his double duty as a cinematographer. The plot of "Enemies Closer" is a bit like "Cliffhanger" (1993) in the woods – bad guys looking for a downed plane full of important stuff (drugs, money, etc.) – but it's the performances, featuring known actors playing against type, that aid in rising this picture above the mediocrity of most DTV action vehicles.

On a dark night, a small plane glides over a lake on the U.S.-Canadian border, briefly ascending before taking a nosedive straight into the water. The next morning, forest ranger (and former Navy SEAL) Henry (Tom Everett Scott) is tending to the park and enjoying his relaxed life in the wilderness when he meets an injured hiker, Kayla (Linzey Cocker), who wants to meet him later for a date. Meanwhile, members of the Canadian mounted police show up at the ranger station, inquiring about the downed plane. When the head ranger brushes off their offered assistance, one of their men steps forward to interject. After amusing the men with a lesson on environmentalism, the man, Xander (Jean-Claude Van Damme), proceeds to obliterate every person in the station. It turns out these guys aren't Mounties at all; they're members of a crew here to retrieve drugs from the plane now sitting at the bottom of the lake. Xander and his men commandeer a boat and head off in search of their target.

Henry is back at home, having avoided the melee at the station, when a stranded tourist, Clay (Orlando Jones), knocks at his door and asks for assistance. Henry agrees to help him out but notices a tattoo that suggests Clay may not be who he claims. Sure enough, the two are fighting in no time, with Clay eventually gaining the upper hand. He tells Henry that his brother was part of a unit that was killed in action years ago; a unit that Henry had been leading. Clay now blames Henry for his brother's death. Held at gun point, Henry is dragged out to the lakeshore by Clay and looks to be a goner until the two come across Xander and his men. Since Xander's crew has made it clear they don't leave anyone alive, a game of survival begins when the two adversaries, Henry & Clay, must work together if they want to survive the night against the drug runners.

Van Damme steals the show here. No question. Xander is a flamboyant, bipolar villain with an interesting dichotomy to his personality. And his hair looks like a Gene Wilder wig from the 70's. He has no problem killing any and every person who is in his path, even if they aren't necessarily in his way. Van Damme's celebrated martial arts skills show no rust as he takes apart scores of men one at a time. But he's also an avowed environmentalist, often regaling his soon-to--be victims with statistics regarding our planet and how we're hurting nature. In one instance, after beating two men to death, he lights up with joy upon discovering a tiny strawberry growing nearby, talking to the diminutive fruit for a few moments. Nothing, however, can beat his final line in the film, which is unquestionably one of the most hilarious, bizarre scenes of the year. "F*cking gasoline!"

Tom Everett Scott doesn't have much of a rep as an actor, though he's usually seen as the modest, affable type; soft around the edges. His character here isn't much different, outside of his Navy SEAL training which allows him to kick ass when he has to. Orlando Jones, however, is mostly known for his comedy. Here, he's a distraught mess with a streak of vengeance running through him. He manages to go the entire film without so much as cracking a joke, which is what you're expecting him to do the entire time. His face is so expressive, with that wide grin, that I kept waiting for him to drop the tough guy routine and turn this into a buddy survival adventure. But he doesn't. The man sticks to his character and is resolute in completing his task. Well, at least he is until Henry gets the chance to talk it out with him, something that only occurs in little bits here & there, allowing the two to maintain an air of tension that we know has to be broken eventually.

"Enemies Closer" isn't a gam changer in the DTV action film market, but thanks to a simple, clearly defined story and some commendable acting it fares better than most. Really, it all comes down to Van Damme, who displays such exuberance in his wild-haired role as the main antagonist. He's still just as deadly as ever, pulling off many of the same moves he's been showcasing his entire career, proving that he's still got the chops to chop when other martial arts stars have let themselves bloat away into obscurity (I'm looking at you, Steven Seagal).

Video


A capable cinematographer can listen to a director, understand their wants and produce a picture that aligns with a vision. When that cinematographer is also the director, though, it means the picture can (and should) look exactly as intended. Peter Hyams has often worn both of these hats on his sets, this picture being no exception. The 2.40:1 1080p 24/fps AVC MPEG-4 encoded image is visually impressive, especially considering the constant low-lighting conditions under which it was shot. Maybe the first third of the film is shot in sunny, optimal lighting. In these scenes detail is particularly strong, with excellent definition and an appreciable depth to the image. Colors appear accurate, if not a tad pushed toward more "woodsy" hues. Once the action shifts to night, Hyams tends to favor a blue wash to many shots. His lighting choices allow shadow detail to flourish in all but the most dimly-lit of shots. Contrast is strong, ensuring the picture is never lost to the darkness. Black levels are pitch and inky. There's some occasional softness to the image, though this is mostly due to some backlighting in a few shots rather than poor photography.

Audio


The lossless English DTS-HD Master Audio 5.1 surround sound track (48kHz/24-bit) is an active one, though some of the effects could use a bit more oomph. Dialogue is presented expectedly – clear, clean and free of any deficiencies. Some of the film's quitter moments allow the forest ambience of frogs, crickets, etc. to craft a more immersive experience. Gunfire could have more of an impact; bullets whiz by with an average weight, nothing too powerful. Likewise, the LFE track is only given minor moments with which to make an impression. The film's score, by composer Tony Morales, is serviceable but nothing more. Subtitles are included in English for the hearing impaired and Spanish.

Extras


There's not much here – just an audio commentary, a brief making-of featurette, bonus trailers and a digital copy version of the film.

Director (and cinematographer) Peter Hyams delivers a good audio commentary track here, discussing both technical and anecdotal information related to the film. He talks about the actors playing roles usually outside their wheelhouse, most of whom he's worked with before. One interesting thing of note was that his son edited the film. There's also, unsurprisingly, much discussion about lighting decisions.

"A Closer Look: Making Enemies Closer" (1080p) is a featurette that runs for 7 minutes and 31 seconds. Hyams and the cast speak very briefly about their respective roles and what attracted them to the picture.

A handful of bonus trailers (1080p) are also included:

- "The Expendables 2" runs for 1 minute and 6 seconds.
- "Escape Plan" runs for 1 minute and 18 seconds.
- "Dredd" runs for 1 minute and 8 seconds.
- "EPIX promo" runs for 1 minute and 21 seconds.

Included in the case is a promo code for the digital copy version of the film.

Packaging


The single disc comes housed in a Blu-ray eco case, with a slip-cover adorning first pressings.

Overall


Honestly, I was expecting another rote DTV action vehicle – and in some ways this is – but Van Damme is just dripping with charisma, and his role as Xander is definitely one of the most memorable he's portrayed. Ever. The guy is just such a weird villain you can't help but be drawn to watching him and hanging on his every word.
| | | | | |
| --- | --- | --- | --- | --- |
| The Film: B- | Video: B+ | Audio: B | Extras: C | Overall: B- |