The Film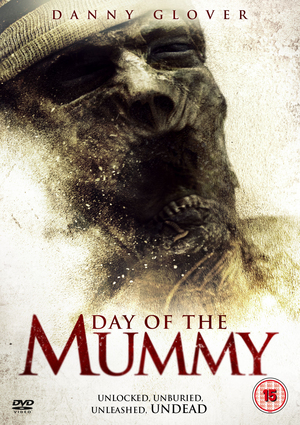 ***This is a technical review only. For reviews on the movie from various critics, we recommend visiting HERE.***

Welcome to Egypt, land of the Pharaohs. A place steeped in history and legend; Gods and spiritual guides; untold wealth – and the bone-cracking, blood-spilling guardians of its riches.

Jack Wells has arrived in Egypt in search of the famous diamond known as The Codex Stone. His journey leads him to the tomb of the cursed King Neferu, cursed not by name but by nature. With his centuries-old slumber disturbed by timeless human greed, the King rises from the dead with a blood-lust that cannot be quenched and a raging fury that will shred flesh from bone, bringing terrible and tormented death to all who dare witness the Day of the Mummy.

Unlocked. Unburied. Unleashed. Undead.

Video


Image Entertainment have released the low budget horror movie "Day of the Mummy" on to DVD in the United Kingdom using the original aspect ratio of 1.78:1. The feature receives an anamorphic transfer, and although it suffers from some minor flaws, is above average for the genre.

Shot on digital, the movie utilises the popular 'found footage' style, though it isn't essentially a found footage movie, as we view the feature as though the exploration of the tomb was being broadcast live, to Danny Glover's character who is owed money by Jack, an archaelogist. The palette is heavily focused towards the various yellows of the sandy Middle Eastern location, and the tomb environments, showing good clarity and detail where required. Blacks are inky and deep throughout, but do tend to suffer from some crush, also resulting in a slight loss of shadow detail at times. Still, close-ups look refined, and with the unconventional lighting style, clarity is often better than it should be. There is some light edge enhancement and aliasing, though nothing major, and one instance of minor banding in the skyline. As with most movies shot in this style, we do get some motion blur, but that is quite normal.

The film is uncut and runs 76:49 PAL.

Audio


Two audio options are available:
- English Dolby Digital 5.1
- English Dolby Digital 2.0 Stereo

For my viewing, I opted for the English Dolby Digital 5.1 track, which was suitably average. As with most 'found footage' style movies (even if this isn't strictly in the sub-genre), the sound does tend to be heavily focused to the front and central speakers, with little separation or direction. The surrounds are kept almost solely for the jump scares and very occasional environmental effects, with the score surprisingly non-existent. As to be expected for such a new film, there are no issues with the track such as drop outs or scratches, and dialogue is clear at all times. Volume levels are consistent, and there is no background hiss.

No subtitles have been included.

Extras


Start-up Trailers:
- "Penthouse North" (1:24)
- "Varsity Blood" (1:06)
- "Werewolf Rising" (1:03)

Overall


An average low budget genre-movie that genre-fans will enjoy enough to warrant a cheap purchase.
| | | | | |
| --- | --- | --- | --- | --- |
| The Film: C | Video: B | Audio: C | Extras: E- | Overall: C |