Holy Terror
R1 - America - MVD Visual
Review written by and copyright: Eric Cotenas (21st October 2014).
The Film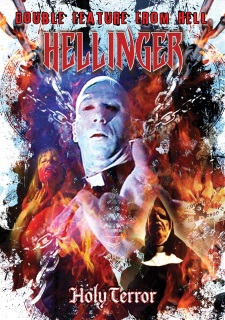 After a failed exorcism, the spirit of a possessed nun (Katy Moses continues to haunt a suburban rental home, enslaving its owner Kane Archer (Michael Brazier) to provide her with frequently-unclothed, none-too-bright, and soon-to-be-damned tenants. The newest tenants are surfer dude David (Charlie David) and girlfriend Julie (Beverly Lynne who are aren't going to look a gift horse in the mouth when they get a fully-furnished house (with a pool for "skinny dippin'") for such low rent. David and Julie aren't about to let terrifying nun nightmares and a shower of blood get in the way of fun, so they invite four pals - douchey Mark (Nick Armas) and dippy Sara (Jennifer Amanda Morgan), sexy Rachael (Yvette Lopez), and sassy Cindy (Lindsey Labrum) - for a night of drinking, smoking, bad dancing to nineties techno music, and partner swapping. Archer stops by for a visit, but is he there to warn them or to assist the nunas she claims their horny young souls?

Unambitious in scope but not without its charms (by way of Lynne's constant nudity), HOLY TERROR is a shot-on-video body count film by way of Cinemax softcore skinflick. The scant running time is a major indication that the film was released unfinished; fully scored with padded titles yes, but even the most inexperienced director would not pass up the opportunity to kill a topless character onscreen rather than having her body discovered by a character (who goes from annoyed in the previous scene to inordinately panicked as he runs into the next scene). The possessed nun's make-up is more funny than scary, looking like an excessive plastic surgery job before the swelling goes down. There are better examples of films where young people gather in a location, have sex, and maybe get killed, but HOLY TERROR can still be enjoyed as the bottom half of a double bill (or if you just need that Beverly Lynne fix).

Video


Like the disc's co-feature HELLINGER, the original fullscreen video seems to have either been cropped or stretched to anamorphic 1.55:1, neither distorting nor marring the careless compositions.

Audio


The Dolby Digital 2.0 stereo audio does what it can with a mix of location audio and unevenly mixed music.

Extras


No extras apart from the other feature film, but the Sub Rosa Studios release did tout a commentary on its back cover.

Packaging


Standard keepcase with a striking front cover and a busy but poorly-designed back cover with text so indistinct as to make the synopses difficult to read.

Overall


A decent time-waster - more engaging when the viewer tries to piece together the narrative from what has been lost or unfilmed - especially when doubled with HELLINGER.
| | | | | |
| --- | --- | --- | --- | --- |
| The Film: B+ | Video: C+ | Audio: C+ | Extras: F+ | Overall: C+ |

---
DVD Compare is a participant in the Amazon Services LLC Associates Program and the Amazon Europe S.a.r.l. Associates Programme, an affiliate advertising program designed to provide a means for sites to earn advertising fees by advertising and linking to amazon.co.uk, amazon.com, amazon.ca, amazon.fr, and amazon.de.