Floating Skyscrapers AKA Plynace wiezowce
R1 - America - Canteen Outlaws
Review written by and copyright: Eric Cotenas (9th November 2014).
The Film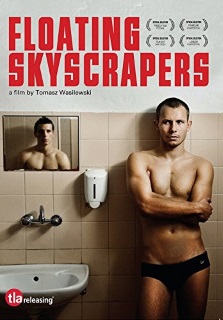 Best Cinematography Debut: Jakub Kijowski (nominated) - Camerimage 2013
Audience Choice Award: Tomasz Woszczynski (nominated) - Chicago International Film Festival 2013
East of West Award: Tomasz Woszczynski (win) - Karlovy Vary International Film Festival 2013
Louve d'Or: Tomasz Woszczynski (nominated) - Montréal Festival of New Cinema 2013
Best Supporting Actress: Marta Nieradkiewicz (nominated) - Polish Film Awards 2014
Best International Feature Film: Tomasz Woszczynski (nominated) Zurich Film Festival 2013
Official Selection - Tribeca Film Festival, Frameline Film Festival, Film Out San Diego, and London Film Festival

Kuba (Mateusz Banasiuk) is a champion swimmer whose relationship with girlfriend Sylwia (Marta Nieradkiewicz) is strained not only by them living under the same roof with his doting mother Ewa (Katarzyna Herman), but also by his own sexual confusion (which he works off with random hookups). The only people less aware (or in denial of) his sexual leanings than Kuba himself appear to be his mother and girlfriend until college student Michal (Bartosz Gelner) - who has his own strained relationship with his family – starts monopolizing his time. Kuba attempts to juggle the two relationships, but his swimming suffers and his mother tires of his lack of ambition. When she and Sylwia discover the truth about Kuba's relationship with Michal, his attempt to stand up to them triggers a chain reaction that will result in tragedy for one of them.

While Poland's other recent thought-provoking gay cinema export In the Name Of offered up a glimmer of hope in the wake of its despairing climax, Floating Skyscarpers - the feature debut of writer/director Tomasz Woszczynski - is almost relentlessly grim. The once vibrant ultra-modern architecture of a half-century ago looks oppressive and conforming here in all its grayness against constantly overcast and smoggy skies (the evocative image of the titular "floating skyscrapers" is mentioned only in the dialogue), and it has even been argued that attitudes towards sexuality in culture and public policy have become even more rigid in post-communist Poland (where it took EU intervention to lift a ban on gay pride parades). Traditional family relationships are also presented as dysfunctional (the scene of Kuba massaging his mother's bad back in the bathtub is mirrored under the end credits as he shares the bath with Sylwia intimate in proximity but completely lacking human warmth. The film presents a world so against the relationship between the two main characters – even the "out" Michal does not interact with any sort of gay community (whether that has to do with his own feelings of self-loathing or his social circles) – that the film's tragic final act is not only an act of collective hate thematically but the film is also ambiguously suggesting that it one of the principal characters, their relations, or their friends could have egged on the perpetrators. Not lightweight entertainment by any means.

Video


TLA Releasing offshoot Canteen Outlaws' single-layer, progressive, anamorphic encode of this digitally-lensed is not strongly detailed, but this is partially the effect of the cinematographer's preference for shallow focus and low-key lighting. Edge-enhancement is evident but not distracting in motion. The English subtitles are burnt-in but unobtrusive (and are easier to read than the miniscule lettering of the end credits crawl).

Audio


The Polish Dolby Digital 2.0 stereo track capably conveys the sound design for the most part. There are plenty of exterior scenes where the sound design is rather sparse to convey a feeling of desolation while other scenes awash with music work in stereo and gain some additional depth when upmixed to surround (the Polish DVD from Galapagos reportedly features a 5.1 mix and optional English subtitles, but technical specs are unconfirmed for this as well as the UK Blu-ray and DVD from Matchbox films).

Extras


No extras apart from a trailer for the film and two other current titles.

Packaging


Standard keepcase with a cover insert with a publicity still reproducing one of the film's more creative compositions. The menus are static and simple.

Overall


Although it offers up some explicit sex scenes (both straight and gay), Floating Skyscrapers is best suited for audiences who prefer angst and subtle social commentary over titillation.
| | | | | |
| --- | --- | --- | --- | --- |
| The Film: A- | Video: C+ | Audio: B- | Extras: F+ | Overall: C |

---
Rewind DVDCompare is a participant in the Amazon Services LLC Associates Program and the Amazon Europe S.a.r.l. Associates Programme, an affiliate advertising program designed to provide a means for sites to earn advertising fees by advertising and linking to amazon.co.uk, amazon.com, amazon.ca, amazon.fr, amazon.de, amazon.it and amazon.es . As an Amazon Associate, we earn from qualifying purchases.