The Film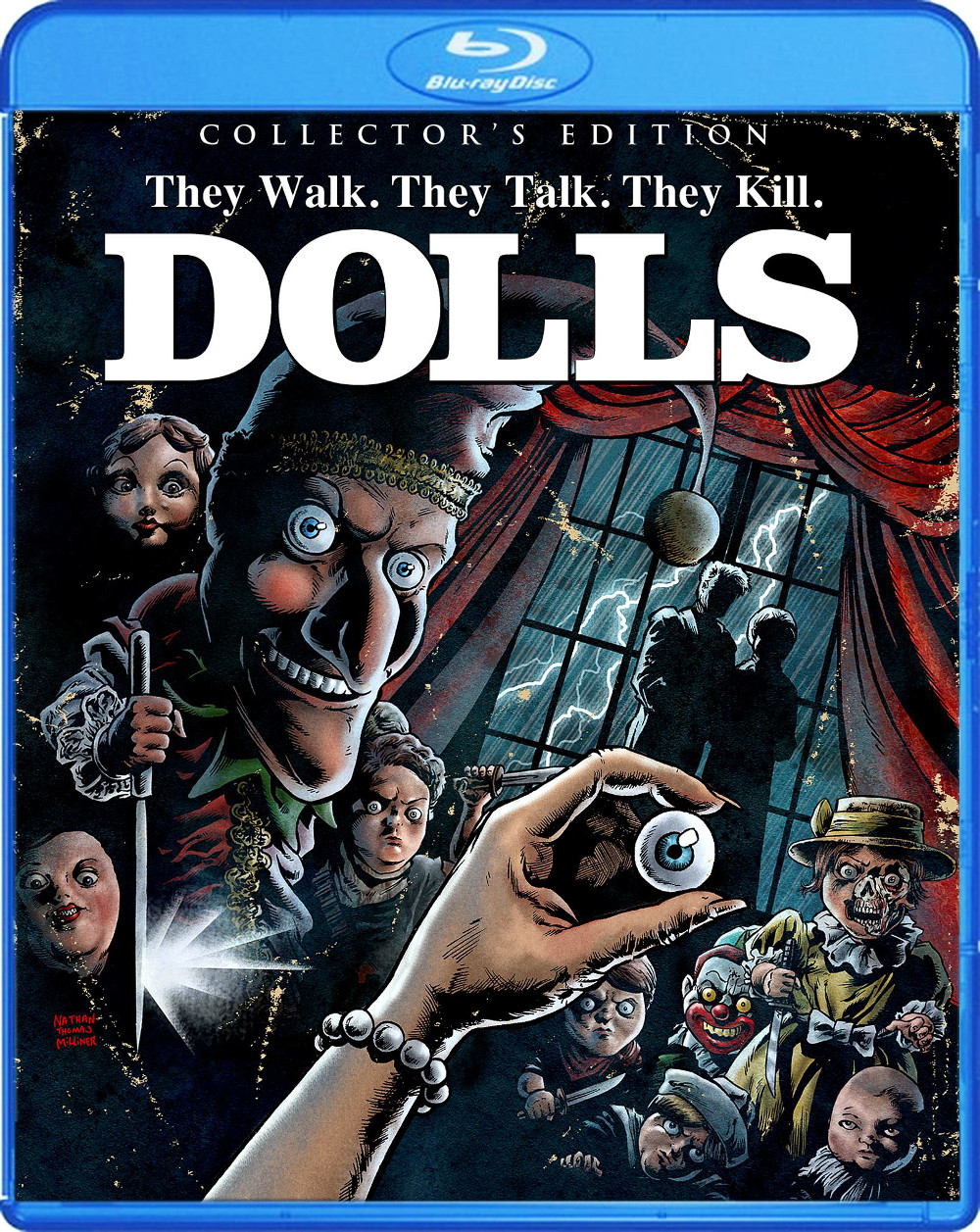 Dolls are creepy, plain and simple. Their tiny, blank faces sculpted to appear nearly human; it's an unsettling thought to imagine them taking on a life of their own when night falls. In some ways they're actually scarier when you're an adult, since as a kid your doll is usually a best friend. It's only when you get older that you begin to think, "I wonder if this tiny effigy will spring to life as I sleep and attempt to murder me." Or maybe that's just me. Either way, tiny terrors have a long history in horror; one man who knows this better than anyone is Charles Band. The prolific producer has been churning out doll-related horrors since the 80's, with his most well-known creation being the "Puppet Master" series (1989-2012). A large percentage of the 266 (!) films he's produced in his career feature deadly dolls or minuscule misfits in some form or fashion. But it's "Dolls" (1987) that is arguably the apex of his work, and a large part of that success can be attributed to the then-hot duo of director Stuart Gordon and producer Brian Yuzna.

The two had just come off the cult classic "Re-Animator" (1985) and were called over to Italy, where Band had set up shop in a studio run by Dino De Laurentiis. Gordon was planning to shoot his next Lovecraftian tale, "From Beyond" (1986), when Band showed him a script he'd been developing and asked the director if he'd be willing to knock it out in a few weeks. Gordon agreed. The interesting tale of "Dolls" is that, although it was shot before "From Beyond", it didn't receive a release until the year after because of a lengthy post-production schedule to complete the stop-motion effects. And once you've seen the work that was put in to bringing the film's titular characters to life, it's evident that was time well spent.

Gordon's film is a horror fairytale, one in which curious children are rewarded, bad parents are punished, and two aging doll makers pull the strings. On a dark and stormy night, a "family" – daughter Judy (Carrie Lorraine); her disconnected father, David (Ian Patrick Williams); and his new (bitchy) bride, Rosemary (Carolyn Purdy-Gordon) – find themselves stranded outside an old Victorian home. Seeking shelter, they enter and find an elderly couple, Gabriel (Guy Rolfe) and Hilary (Hilary Mason), who are brimming with altruistic intent. Soon after they arrive another group shows up, this time a mild-mannered child at heart, Ralph (Stephen Lee) and a couple of scuzzy, unscrupulous punker girls. Hilary shows everyone to their respective rooms, assuming they're going to tuck in for the night. But this is a big home, replete with dolls and a dozen rooms – prime exploring opportunities await.

As is necessary in horror, all of our characters are split up and find themselves in situations, both bad & good. The two scummy punks are quick fodder for the dolls, which are much tougher than expected. This is probably because a tiny zombie-like creature inhabits each one. Escaping their little clutches isn't as easy as it would seem; they tend to win by either getting humans down to their level (which usually involves hacking away at limbs) or by overwhelming in sheer numbers. Through it all Gabriel and Hilary keep a close vigil, ensuring that even if their creations are destroyed there will be something, or someone, to take their place.

"Dolls" is fun horror; a throwback full of clichés and character archetypes that works because of its simplicity. In this fantasy world bad people get their comeuppance, and it isn't pretty. This film doesn't need a lot of bloodshed – and Gordon's initial cut wasn't very bloody – but additional shooting pumped up the gore factor to more typical 80's levels. There's nothing outrageously over the top here; just some sweet, sinister gags that end poorly for those on the receiving side. The dolls themselves take a good licking, too, including Judy's newfound friend Mr. Punch, who is famously dispatched along with the film's best line: "F**k you, clownie!"

The characters are all fairly one-note, save for Ralph. Stephen Lee has this "working class/John Goodman" look going on, and his childish heart still full of love for toys makes him relatable. He's the viewer avatar, unsure of how to process what's occurring around him but smart enough not to place himself in any serious danger. He doesn't go "asking for it" like nearly every other character. Ralph is just a big kid who experiences a wave of nostalgia combing through this old house. Really, though, all of the casting here is spot-on. Each character looks their part, which is maybe a bit unfortunate for Purdy-Gordon because she always gets cast as "the b*tch".

The team of Gordon and Yuzna were never hotter than during this two year period from 1985-1987, when they released a trio of well-received horror pictures. "Dolls" tends to be overlooked more than the other, more popular films they did together, but it is no less deserving of cult classic status.

Video


You know, for a low-budget production "Dolls" sure looks sharp as hell. The 1.78:1 1080p 24/fps AVC MPEG-4 encoded image was sourced from a very clean print, with no obvious signs of damage or dirt. Other than some rough insert shots during the opening storm the film is remarkably defined - especially close-ups which yield all sorts of minute details. Colors appear accurate and well-saturated, and black levels are completely stable. No haze here. Cinematographer Mac Ahlberg's lighting is moody and rich with atmosphere, all without compromising images cloaked within the shadows.

Audio


Although "Dolls" was mixed in Ultra Stereo originally, even purists will agree the English DTS-HD Master Audio 5.1 surround sound track (48kHz/24-bit) is the best option for listening. The 2.0 stereo option is a bit thin and lacking in presence, whereas the multi-channel track is more robust and has a wider range. Dialogue comes through loud & clear with no hisses, cracks or pops present. Effects fill the sound field nicely, such as when the storm is whipping into a frenzy outside and the crash of thunder and rain pan across the speakers. Rear speakers are used minimally, but their subtlety aids in providing immersion. Bass isn't overpowering, just supportive and present. Subtitles are included in English.

Extras


Scream Factory is releasing "Dolls" as one of their Collector's Edition Blu-rays, and while it is definitely packed with features only one of them in new. Thankfully, that new feature is another one of their comprehensive featurettes that covers a lot of ground.

First up, a returning audio commentary track with director Stuart Gordon and screenwriter Ed Naha. Anyone who has listened to Gordon speak knows he has a certain tone & cadence to his speech that makes him a bit hypnotic; I could listen to him drone on and on for hours. Here, he supplies all the requisite information on the shoot in Italy, reusing the house for other projects and much more.

The second audio commentary track is also a carryover from the previous DVD, this time featuring cast members Carolyn Purdy-Gordon, Stephen Lee, Carrie Lorraine, and Ian Patrick Williams. This is one of those fun, "the gang's all here" tracks, brimming with anecdotes and fond recollections.

"Toys of Terror: The Making of Dolls" (1080p) is a featurette that runs for 38 minutes and 22 seconds. Gordon and some of the film's principal cast & crew are interviewed about their time on set. This piece covers the details about the shoot, sets, post-production, FX work and more. Highly informative.

The film's theatrical trailer (1080i) runs for 2 minutes and 32 seconds.

"Film-To-Storyboard Comparisons" (1080p) is a featurette that runs for 8 minutes and 21 seconds. Clips from the film are shown, while a small picture-in-picture window in the bottom right of the screen shows the original storyboard sketches.

A still gallery (1080p) runs for 4 minutes and 11 seconds, containing 50 images.

Finally, "More from Scream Factory" has bonus trailers (1080i/p) for the following:

- "Pumpkinhead" runs for 1 minute and 32 seconds.
- "Phantom of the Paradise" (there are two trailers) runs for 5 minutes and 7 seconds.
- "Sleepaway Camp" runs for 1 minute and 4 seconds.

Packaging


The single disc is housed in a standard Blu-ray keep case. The cover art is reversible, allowing for display of either the original theatrical key art, or the newly created artwork. A slip-cover with the new art is included on initial pressings.

Overall


Fans of fantastical, fun, creepy horror should have a blast with Gordon's troop of tiny terrors. It's a horrific fairytale done right, with a superb cast and wonderful stop-motion FX work.
| | | | | |
| --- | --- | --- | --- | --- |
| The Film: B+ | Video: B+ | Audio: B | Extras: B | Overall: B |