The Film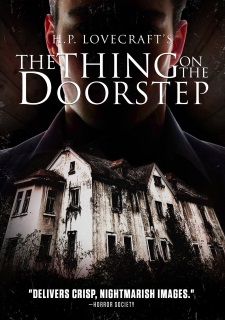 "It is true that I have just sent six bullets through the head of my best friend, and yet I hope to show by this statement that I am not his murderer."

Architect – and one-hit "Nightmare Literature" wunderkind – Daniel Upton (David Bunce) has long been the confidant, personal chauffeur, and general enabler of "perennial child" Edward Derby (Rob Dalton), the poet/former child scholar-turned-playboy-dilettante son of one of Arkham's old families. Having discussed for years collaborating on a book with Edward about Daniel's strange recurring dreams, Daniel is naturally less concerned about Edward's renewed interest in the occult – not unusual among the Miskatonic University intelligentsia – so much as his romantic interest in hypnotist Asenath Waite (Mary Jane Hansen) whose ancient Innsmouth family have long been the subject of rumors involving black magic and mental illness. Even before Edward's distant father (Bill Fortune) summons him to discuss his concerns about his son's plans to marry Asenath, Daniel has already taken a dislike to the woman. He feels that Edward has transferred his affection for his mother – whose death caused him to have a nervous breakdown – to another strong-willed female figure. Daniel's therapist wife Marion (Susan Cicarelli-Caputo), thinks that marriage is a step towards Edward finally growing up and taking responsibility. When the couple return from a long absence and announce their marriage and the purchase of the rundown mansion Crowninshield, Marion resolves to get to know Asenath. Soon she too begins to suspect that something is very wrong with the Derby marriage, although she believes that it is Edward that is mistreating Asenath. Daniel, on the other hand, thinks Asenath has a powerful hold over Edward as the young man alternately confides to him a fear of losing his identity that seems more literal than commitment-phobia. Together with fellow Miskatonic alum Howard Gilman (Ron Komora), Daniel looks into Asenath's past including a visit to Innsmouth and the haunted Waite homestead where her occultist father died mad. Daniel and Marion continue to have divided views on the Derby marriage, but Daniel finds it increasingly hard to explain Edward's extreme personality shifts. When he witnesses the sudden shift in behavior firsthand – with the previously paranoid Edward telling him to disregard his ravings as stress-induced – he starts to wonder if Asenath might indeed be able to possess Edward's body or if his friend is actually going mad as his wife suggests. Things seem to be returning to normal, however, when Edward tells him that Asenath has abruptly walked out on him; but Edward seems to still be haunted by Asenath's presence even if he will no longer admit it. When Daniel encounters "The Thing on the Doorstep" however, he is finally able to put the pieces together and realize the horrible truth.

Scripted by actress Hansen and photographed, edited, and directed by (Tom Gliserman), The Thing on the Doorstep is actually the second feature-length adaptation of H.P. Lovecraft's 1937 story; the earlier one being the 2003 production Strange Aeons directed by Seattle-based Eric Morgret (available only in the fifth volume of Microcinema's The H.P. Lovecraft Collection with Patrick Weber's short film adaptation of the same story titled Maria's Hubris). I have not seen that adaptation, but Gliserman's adaptation is faithful to the structure and most of the events of the source story while using it to explore the co-dependent nature of some long-lasting friendships in which romantic partners can seem like interlopers. It is just as well that this aspect takes precedence since it is fairly obvious what is going on – despite the framing story in which Daniel is either institutionalized, imprisoned, or reclusive as well as an additional twist – and the audience is a few steps ahead of the protagonist. Daniel's wife is not part of the original story, but her perspective as a therapist sheds light, sometimes bluntly, onto the friendship. Marion's resentment that Daniel might be more of a father figure to Edward than a father to their child, and thus more determined to sympathize with Asenath also affords the audience some additional time with the character – who remains mysterious but may or may not be emotionally manipulating Marion – than if the story proper had been told completely from Daniel's perspective (the story is rendered in flashback as an account, but we have little reason to believe that Marion has been forthcoming to her husband about her interactions with Asenath). The Sarasota Springs, New York locations are appropriately striking, but the landscape does not fully coalesce into what one thinks of Arkham from Lovecraft's renowned descriptions. The CGI augmentation of the settings seems more cheap than dreamy, more so the rendering of the titular "thing on the doorstep" which looks two-dimensional and more like a Halloween mask than a putrefying mess. Performances are uniformly fine, especially given the necessarily sketchy characterization of two of the principal characters and the more mysterious supporting ones. While not a complete success, hopefully thet The Thing on the Doorstep will spawn more Lovecraft adaptations that focus as much on the psychology of the characters as they do mood and vain attempts to visualize Lovecraft's unspeakable horrors.

Video


Shot in high definition, the video has been treated to a very stylized look with softish filtering, haloed highlights, and alternating warm and greenish tinges (as well as dream images that look like Super 8 film). The grain may either be one of the film-look effects filters or one of the ground glass adapters. Facial detail is fairly good as are the textures of the typewriter ribbon throughout as Daniel types out his statement, so the general softness is likely that of the original product rather than the progressive, anamorphic, single-layer DVD encode.

Audio


The Dolby Digital 5.1 capably conveys the dialogue, music, effects, and the more unnatural elements of the sound design. There are no subtitle or closed captioning options.

Extras


The sole extra is the film's trailer, which has some spoiler-some images.

Packaging


Standard keep-case packaging (one of those that smells vaguely of burnt plastic) with generic haunted house cover art as well as some critical blurbs which are not too overblown.

Overall


However faithful to the source story The Thing on the Doorstep may be, this updated telling may not be appropriately "eldritch" for Lovecraft fans - although the more familiar Lovecraftian aspects like the old gods only lurk in the periphery of the narrative - and downright cheap in some aspects; however, it does attempt to focus on the character relationships in a manner that the socially-awkward author might have avoided or not comprehended.
| | | | | |
| --- | --- | --- | --- | --- |
| The Film: A- | Video: A | Audio: A | Extras: F | Overall: B- |