Gays (The)
R0 - America - BTB Productions
Review written by and copyright: Eric Cotenas (20th December 2014).
The Film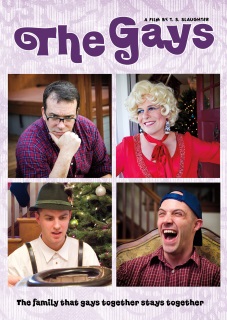 Director T.S. Slaughter's sophomore effort – following the 2007 gay serial killer thriller Skull & Bones (which garnered DVD distribution through niche label Ariztical – The Gays is a sitcom-parody look at growing up as the children of the Rod Paris (Frank Holliday) and his transsexual wife Bob Gay-Paris (Chris Tanner), suburban gay "liberals" overjoyed they have two gay sons and offering counseling to parents of the ninety-percent of sons who are straight (in spite of a rearing on opera – from a VHS boxed set with introductions by John Waters – musicals, and "The Leather Care Bears"). For horndogs Alex (Mike Russnak) and Tommy (Flip Jorgensen), the "birds and the bees" were a graphic discussion of how two men conceive children (with a birth scene that parodies The Exorcist with various other kinds of bodily fluids) while the discussion of nature and nurture pertained to whether a stud's confidence precedes the development of muscles and augmentation by plastic surgery or if its born out of rejection by others. Dating advice covers cruising public places and the bathhouses, and the importance of non-verbal communication, for casual encounters (relationships are for after thirty when even gay couples become as boring as straight ones). A quite evening at home includes sing-alongs (including a pornographic variation on "The Brady Bunch" theme song that has one wondering how/if the filmmakers got proper clearances) and rude board games with menstruating latex board pieces.

Running a slim sixty-seven minutes, nary a frame goes by without some visual or aural naughtiness ranging from the rude to the revolting in a bid to top or at least pay tribute to John Waters and those he has inspired (or possibly just to stand out from the glut of gay genre product). With a production company called "Burn the Burbs", it should be quite obvious to all but the most brain-dead bigot that the film does not advocate the promiscuity and predatory behavior in children (including taking advantage of friends during sleepovers), incest, unsafe sex practices with total strangers, alienating committed couples for kicks, and the emotional abuse of partners deemed too needy (and one might ask such an affronted viewer what they doing watching a film called The Gays – especially one not so widely accessible as to be "stumbled upon" – in the first place). In fact, the framing device of having Alex describing his upbringing to fresh off the bus Kevin (Nicholas Wilder) in a gay bar, coming across as narcissistic and increasingly sociopathic (leading one to question the existence of his family and the veracity of his stories, or if they were just the sort of role models this nut would have wanted while growing up to guide him and perhaps justify his life as it is now). Slaughter all but tosses that theory out the window with a Christmas finale that is perverse yet almost sedate compared to the outrageousness that came before. Performance-wise, the film pretty much belongs to Tanner (and a butt double billed as "So Cheeky") for better or worse, with cackling Russnak a close second. Holliday is a little wooden, but that may be because he is doing somewhat of a caricature of TV dads. Jorgensen seems underused to the point where it is uncertain whether he is supposed to be the timid brother or if his scenes were just underwritten or if some were cut out or not shot. While The Gays is certainly a memorable viewing experience even for the jaded, it still feels rather half-formed with the framing device adding a layer not fully explored or exploited (the film probably could have gotten away as a series of unconnected vignettes, although it would likely have run under an hour).

Video


Although currently only available on DVD through the film's website (the production is hoping to attract a wider distributor), the single-layer, feature-only, menu-free presentation is a pressed disc rather than the expected burned-on-demand media. The scenes in the house sport the most consistent sharpness and colors (which seem to have been kicked up a notch to pop off the screen while also perhaps washing out some of Tanner's wrinkles more so than the make-up) while the bar scenes and the various cutaways to illustrate the parents' anecdotes look more uneven and sometimes noisy.

Audio


The stereo audio is in fine condition, with dialogue both muttered and moaned aloud coming through clearly while music often makes up for the sparse sound design.

Extras


As stated above, there are no extras.

Packaging


Double-sided cover in a clear case with the images of the four principals on the front, several stills on the back alluding to the range of inappropriate goings-on to be found in the feature, and a "glamour" shot of a reclining Bob across the width of the inside cover.

Overall



| | | | | |
| --- | --- | --- | --- | --- |
| The Film: B | Video: C+ | Audio: B+ | Extras: F | Overall: C |

---
Rewind DVDCompare is a participant in the Amazon Services LLC Associates Program and the Amazon Europe S.a.r.l. Associates Programme, an affiliate advertising program designed to provide a means for sites to earn advertising fees by advertising and linking to amazon.co.uk, amazon.com, amazon.ca, amazon.fr, amazon.de, amazon.it and amazon.es . As an Amazon Associate, we earn from qualifying purchases.