The Film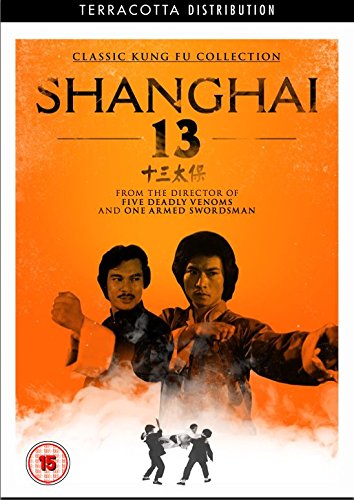 ***This is an A/V and Extras review only. For reviews on the movie from various critics, we recommend visiting HERE.***

Thirteen deadly warriors versus an entire army.

During the Sino-Japanese war, a Chinese patriot steals damning evidence that exposes traitorous intentions within the government. Planning to bring the evidence from Shanghai to Hong Kong and break it to the public he becomes an assassination target. In order to ensure a safe passage he employs an elite ensemble of fighters - The Shanghai Thirteen to protect him on the mission.

With obstacles ahead and pursuers behind, bloody battles ensue.

Video


Independent British distributor have released the second film of their "Classic Kung Fu Collection" at an aspect ratio of 2.39:1. Whilst it may not be a particularly noteworthy transfer, genre fans who have seen the general standard of kung fu releases will be quite happy.

Although the film is presented at an aspect ratio of 2.39:1 (which is quite close to the assumed original aspect ratio of 2.35:1), it does appear likely that some cropping has taken place somewhere along the line due to the fact that the very top of peoples heads can sometimes be cut off. However, the framing is generally good throughout, and although the source appears to have some stability issues, there isn't as much wobble as would perhaps be expected. The level of colours isn't bad, though reds, oranges, and skin tones, do look a little dull. Whites are quite bright though, and blacks, whilst not distinctly deep, look okay. Level of detail is interchangeable from scene to scene. Some scenes show strong details both in close-ups, and with items in the background, whilst others come across as slightly fuzzy and lacking sharpness. The print is relatively clean, especially when you compare it to similar films of the era on DVD, but there are signs of damage at various points, including small vertical scratches, and some split second blemishes. There is nothing major to be concerned about though.

As far as I am aware, the feature is uncut with a running time of 85:03.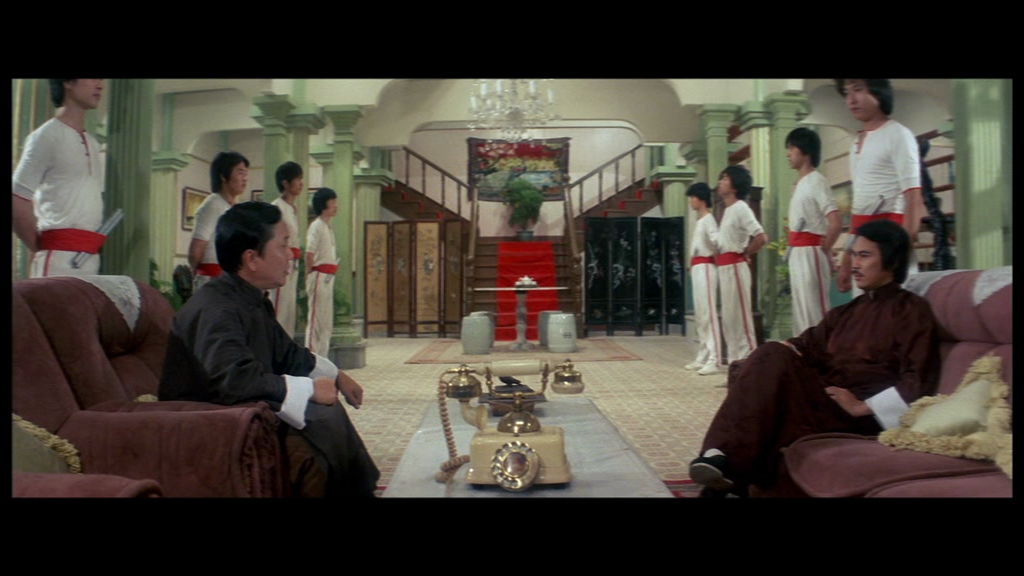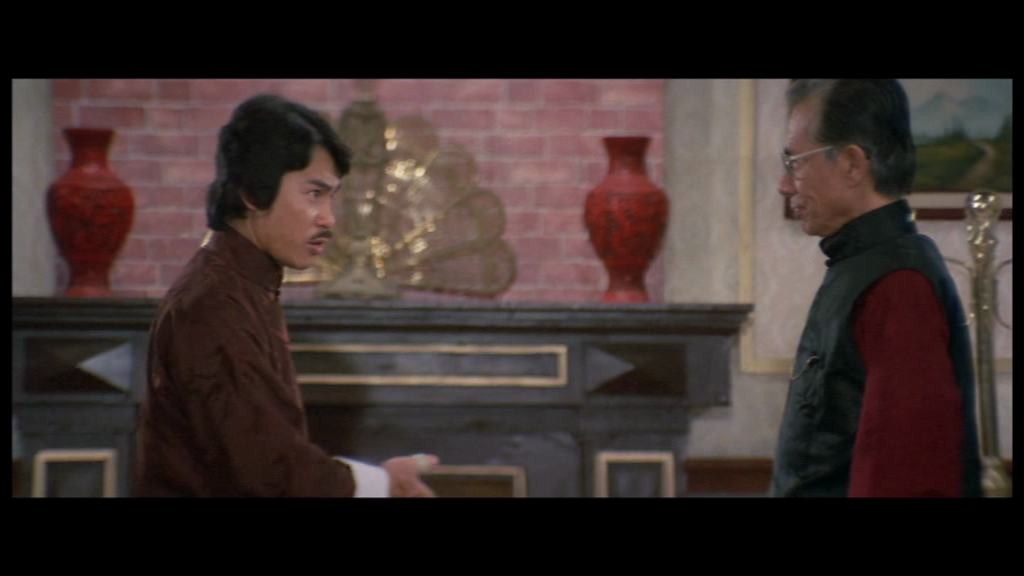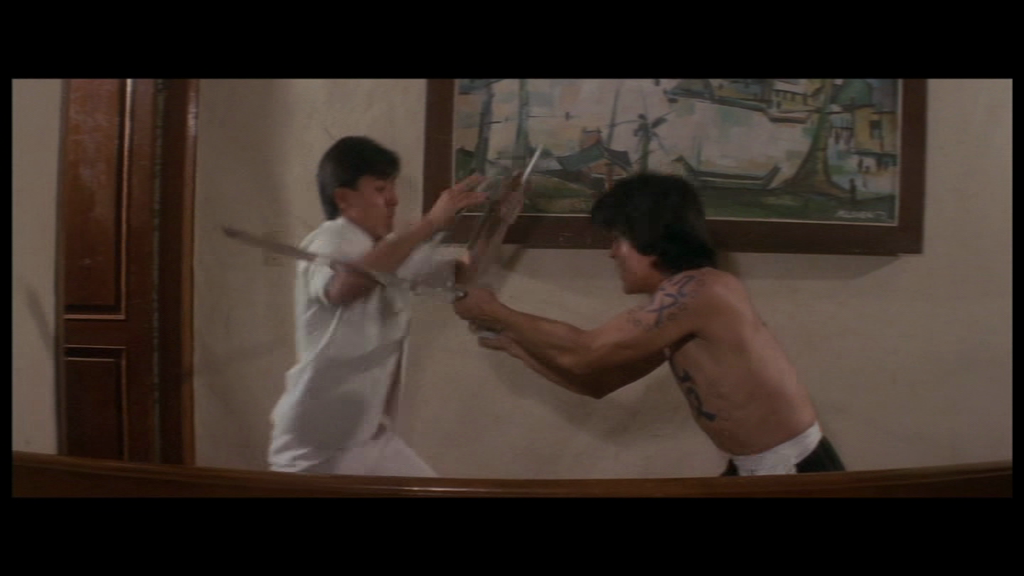 Audio


There are two audio options:
- Cantonese Dolby Digital 2.0 Dual Mono
- English Dolby Digitial 2.0 Dual Mono

For my viewing I opted for the original Cantonese language track, though I did flick to the English dub for a couple of scenes. The opening scene does suffer from some loud background hiss, but this does die down for the rest of the film (though never really disappears). There are a couple of small pops in the audio too, though to be fair, they are barely noticeable. Unfortunately, at 78:55 we experience a complete drop out of sound which lasts for roughly a second, though thankfully not during dialogue. Speech does sound quite flat, and although the English dub has a bit more punch, it tends to feel exaggerated in comparison to the effects and score. There are no major issues that make the film unwatchable, and I imagine the problems are all related to the source material.

Optional English subtitles are included, but they do contain some grammatical errors.

Extras


The first extra here, is an interview with actor Sonny Yu (8:36). Yu talks about how he studied basic martial arts with his Uncle in his early teens, and then started to study Shaolin Hung Fist style with Chen Kwai. He also tells us about tournaments he took part in, in Taipei, his general fitness and how kung fu has helped him maintain a high level of fitness, how he got into the movie business, how he trained for certain scenes, Chang Cheh and much more. There is a slight ringing sound in the background, and the subtitles aren't great, but this is certainly worth a listen.

Next up, we have another interview, this time with actor Lu Feng (6:06). Smoking a hookah throughout the interview, Feng talks about joining the Peking Opera Company at a young age, how Chang Cheh used to bring new talent through his established stars - planning the stars for his future movies in advance, the style of fighting in "Five Venoms", why "Shaolin Rescuers" is his favourite film he starred in, and adapting his style when fighting with certain people. Feng is certainly more lively than Yu, but he could have done with a little WD40 on his squeaky chair! Again, the subtitles have some errors, but are still adequate.

The rest of the extras are self-explanatory.
"About Terracotta" text (1 page)
Stills Gallery (2:08)
Bonus Trailers:
- "Crocodile" (1:14)
- "Breathless" (1:57)
- "Gyo: Tokyo Fish Attack" (0:37)
- "Revenge: A Love Story" (1:14)
Start-up Trailers:
- "Fairy Tale Killer" (1:55)
- "Moebius" (1:13)
- "Shackled" (2:16)
- "Hero of Shaolin" (1:16)

Overall


I always find it difficult to review the A/V of a kung-fu film fairly. The A/V here is very far from being reference quality material, and in the grand scheme of all genres and releases, is quite middling. However, the genre has a history and reputation for being one of the most poorly looked after types of films, and there are so many poor low budget grey market releases, that when a company does a pretty commendable job, it needs to be mentioned. Genre fans will be very happy with this release, as they usually expect the worst. Again, whilst I may have scored the A/V as middle-of-the-road, it is above average for this type of movie, and I find myself looking forward to the next release in the range.

| | | | | |
| --- | --- | --- | --- | --- |
| The Film: B | Video: C+ | Audio: C | Extras: D+ | Overall: C+ |